Phra Nakhon Khiri Historical Park in Phetchaburi
This scenic hilltop overlooking Phetchaburi is a nice place for Thai culture and history
If you are visiting Phetchaburi Province and you are looking for a nice activity in the city, Phra Nakhon Khiri Historical Park (อุทยานประวัติศาสตร์พระนครคีรี) is definitely worth a visit. This complex was finished in 1860 and was constructed as a summer palace for the royal family by King Rama IV. It has been a historical park since 1979 and it houses a branch of the Thai National Museum.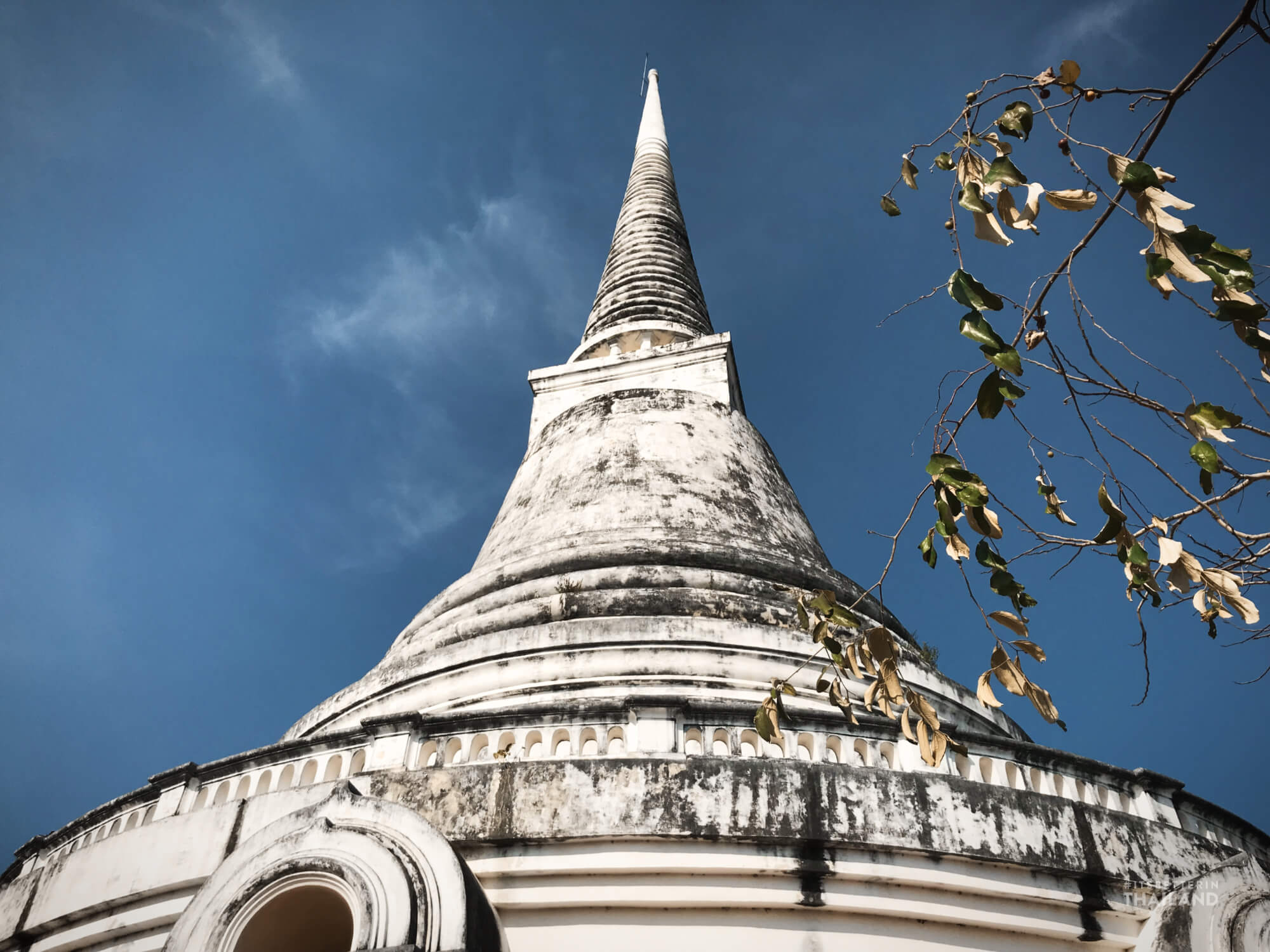 Getting to Phra Nakhon Khiri
Phra Nakhon Khiri is located right in the center of Phetchaburi city. You can get there easily by tuk-tuk, or by driving on your own. There are also hotels within walking distance. The historical park is located at the top of a somewhat high hill. You can choose to either walk up from the east side on the path that begins opposite the park that holds the city pillar. Or you can head around to the west side and take a cable car up. You can find the cable car at this location, and there's plenty of parking there.
Phra Nakhon Khiri entrance price and hours
Phra Nakhon Khiri historical park has dual pricing for Thais and foreigners with no exceptions made for people who live and work in Thailand. Tickets cost 150 Baht if you walk up from the east, and 200 Baht if to take the cable car which includes the trip back down. Entrance with the cable car trip is 70 Baht for Thais. The park is open every day from 8:30 am until 4 pm, but the museum doesn't open until 9 am.
What to do at the Phetchaburi historical park
When the park closes at 4 it's still quite hot outside, so if possible we recommend a morning visit. Once you're up at the top, there are basically three areas to explore. You'll first come to the area around the palace which is now a museum. You could save this for last, as it's fully in the shade and it starts getting hot quickly. Instead, though, I'd recommend going in right when it opens at 9 am. I did it this way and had the museum to myself, and when I got back to this area later there were more people including some groups of young school kids.
You'll need to take your shoes off to enter the museum. Inside you'll get an idea of what a 19th Century mansion looked like. The design and furnishings are quite beautiful and are all a blend of Thai, Chinese, and European design. Once you finish walking through and have your shoes back on, there is a nice little stupa around the back and a sort of fort lookout point that's worth a quick look around.
Mind the monkeys
Important: There are a lot of macaque monkeys that live up here. As in a lot of places in Thailand, they have adapted to humans by always looking for a food handout. When they don't get one they can become aggressive. Do not carry any food or drinks in your hands up here. You should also probably avoid carrying any plastic bags that might look like they have food inside. During our visit, we didn't see any on the hilltop, but on the way down there were some at the bottom of the cable car track. There were also dozens of them along the road at the bottom of the path that leads up the east side.
Pagodas and temples
From the museum area, you'll be able to see the pagodas that mark the other two areas. They look far away but are really just about a five-minute walk. The whole hilltop is covered in a forest of blooming Frangipani trees which don't give much shade but do have a lovely smell. You'll first reach the towering white Phra That Chom Phet pagoda which is visible from most parts of the city below. You can walk around this pagoda and enter the inside through a tunnel.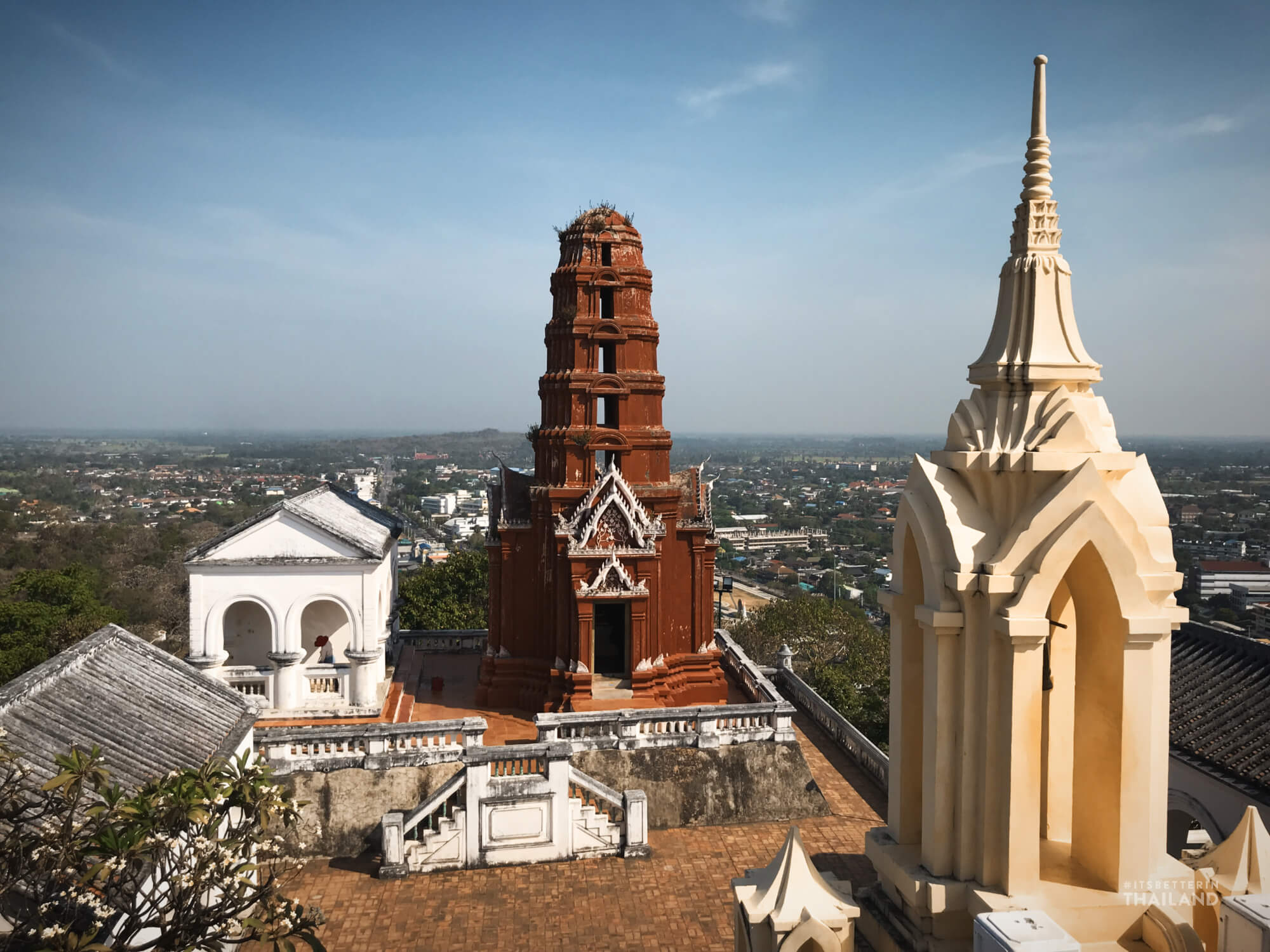 From the pagoda, you can walk a few more minutes to Wat Phra Kaew Noi, so called because it looks like a small replica of Wat Phra Kaew at Bangkok's Grand Palace. Opposite this is Phra Prang Daeng, a red Khmer style prang. You probably won't need more than a few minutes at any of these temples and pagodas, but they are all pretty and quite photogenic so it's worth going. Once you are done there, head back toward the area of the museum and either take the cable car back down or walk down the east side.
Photo gallery