The Grand Canyon Chiang Mai Waterpark [2020 Guide]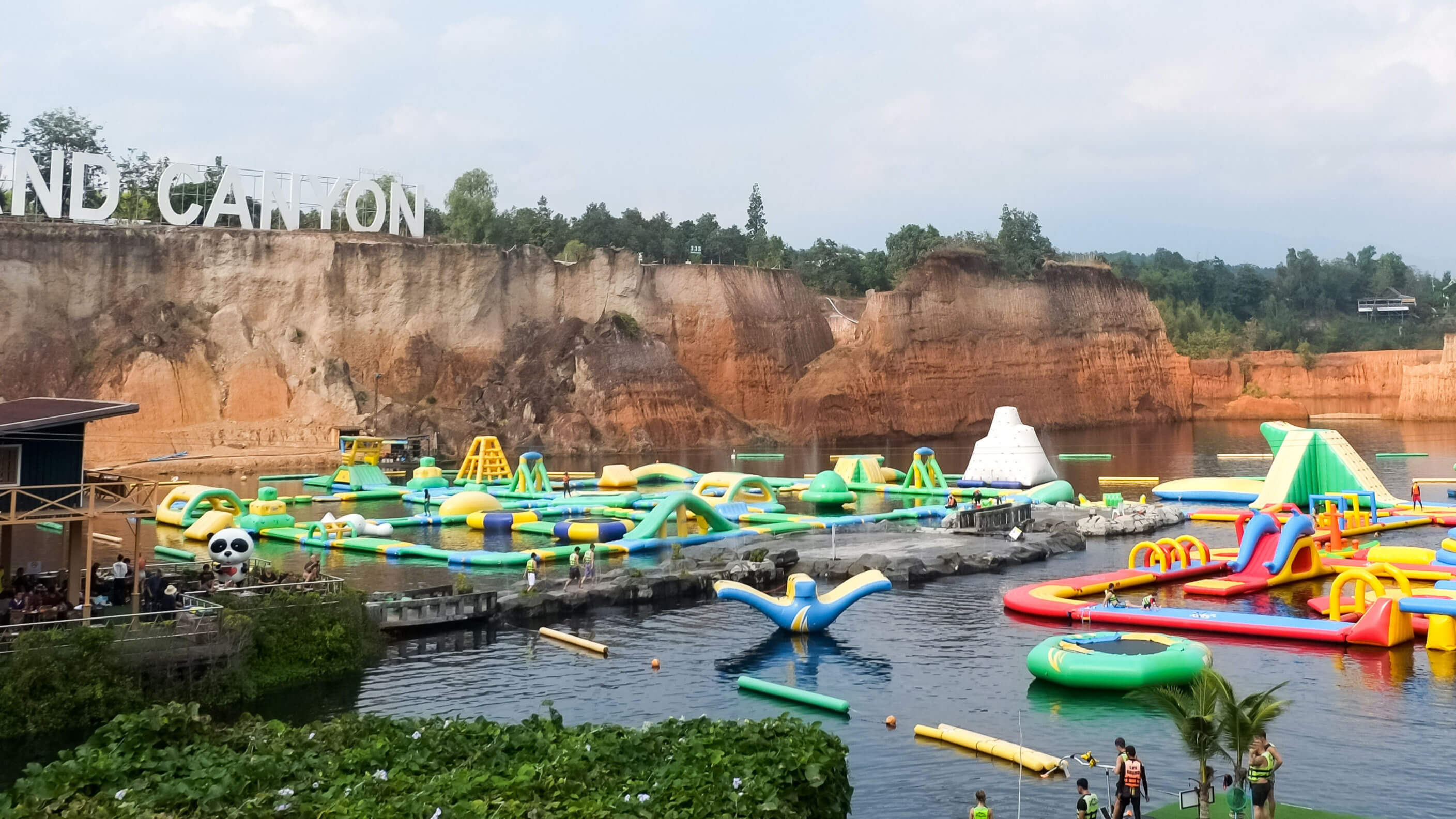 Credit: Grand Canyon Waterpark
The most unique waterpark we've ever been to, and an insanely fun way to stay cool in Chiang Mai
The Grand Canyon Chiang Mai is an old flooded quarry where people used to swim and cliff jump. It's now been turned into a full-on waterpark, and it's a seriously fun place that we highly recommend.
There's a lot of bad information floating around about the Chiang Mai Grand Canyon. Some of this is just due to misinformation, but it's also confused by the fact that there are two businesses there both calling themselves "Grand Canyon". They've also been investing a lot of money in the place each year which has meant regular price increases. This guide has all the current information you need to visit, and we will keep it that way. Keep reading to find out about the waterpark, prices and discounts, how to get there, services and amenities, and our top tips for staying safe and having a blast.
Important: Note that there are two different businesses operating here but only one is the waterpark. The other one costs just 100 Baht but only has a restaurant, swimming, and a small cliff jumping area. If you pay to enter there, you'll probably be in the wrong place, and they won't refund your money once you've realized your mistake. If you want the full-on waterpark, you will have to pay the 650 Baht (~$22 USD) to enter the correct place. If you only want to swim, you can go to the cheaper place.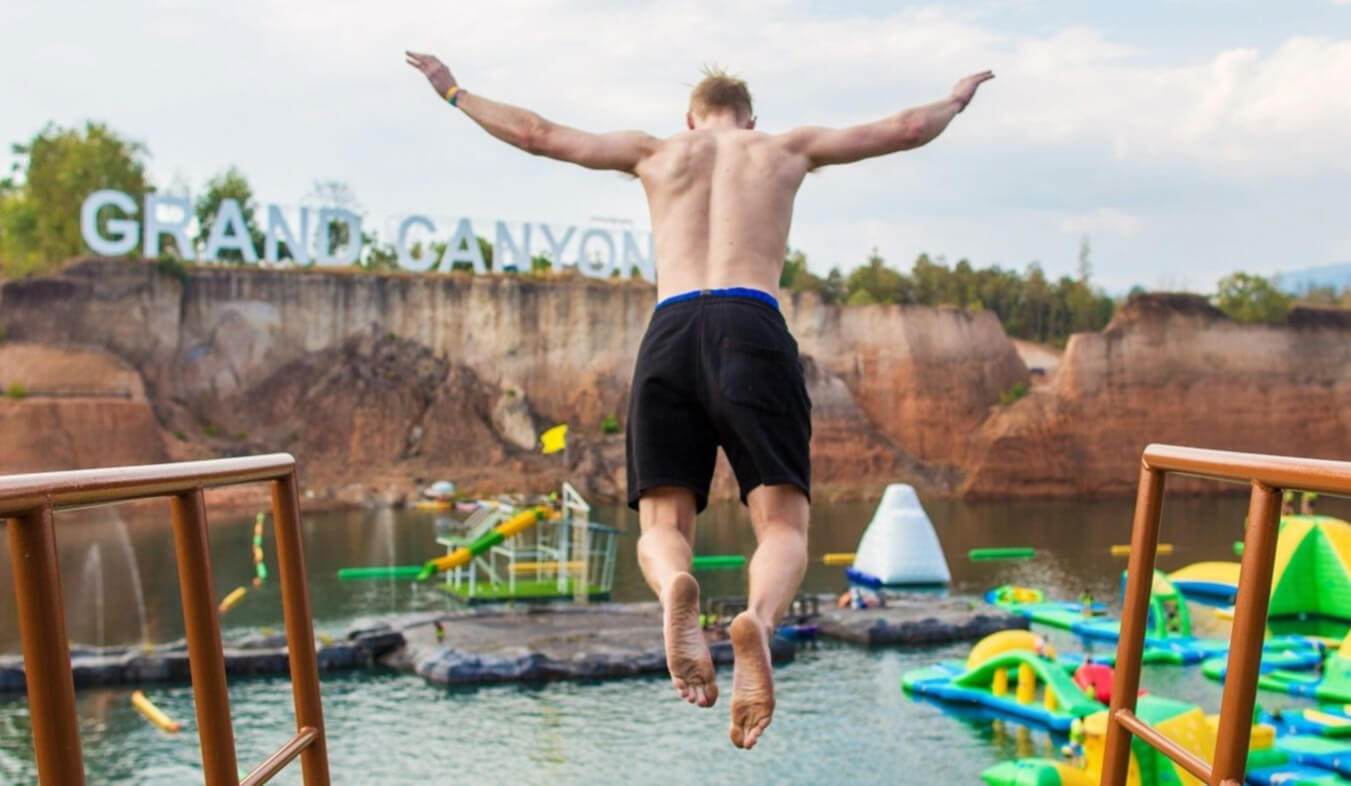 About the park
Most other websites call this an old limestone quarry, but that is incorrect. This where the dirt for most roads around Chiang Mai was dug up from. I guess you could call it a clay and sand quarry. The water is said to be around 50 meters deep. Up until about 2012 or so, there was nothing here except the flooded quarry, and a few locals used it as a place to swim and cliff jump. As it grew more popular, a small entrance fee was added by the landowner. Little by little over the years, amenities were added, beginning with bathrooms and a few bamboo rafts, then a coffee shop, climbing wall, and then all the waterpark amenities and ziplines you'll find there today.
Each year the price has increased as the owners have poured more and more money in. Due to a few accidents and one death, most of the cliff jump spots have been blocked off, but there is still one designated area available. There did use to be one jump you could do here that was about 16 meters high, and it was the highest jump I ever personally did… pretty scary! In Thai the waterpark is called แกรนด์แคนยอนสวนน้ําเชียงใหม่ Grand Canyon Suan Nam Chiang Mai.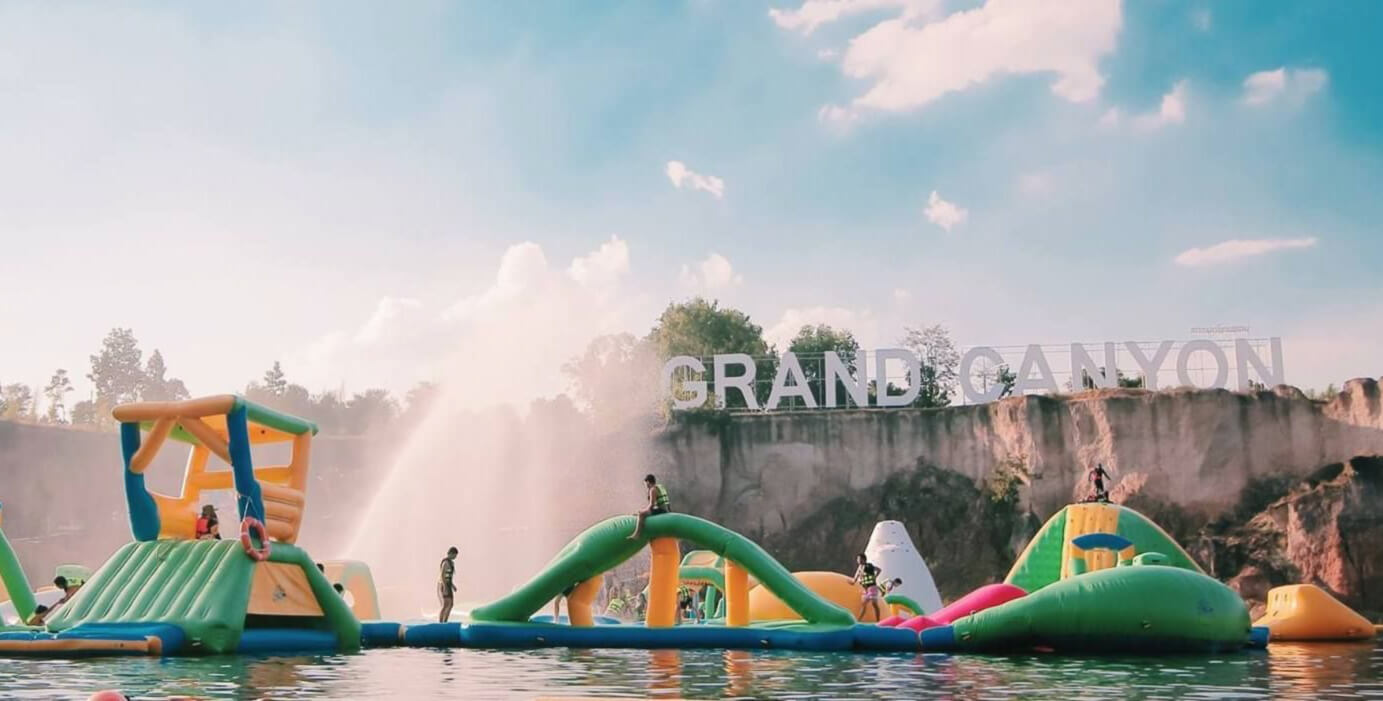 What to do at the waterpark
The central feature of the park is the inflatable obstacle course in the middle of the water. This is similar to the courses on the TV show Wipeout, and it's really fun to play on with friends. You'll climb, jump, swim, fall, and bounce your way along, and have huge smiles plastered on your faces the whole way. It's seriously tiring though, so take some breaks to eat, chill out, sunbathe, and check out the park's other amenities.
Wakeboarding – The Grand Canyon has a cable-tow wakeboarding area. You start from a platform that makes it much easier than beginning in the water behind a boat. The cable goes back and forth in a straight line, so you have to make a circle at the end around the buoy markers to basically make a 180-degree turn. It can be hard to get this at first, but it's still pretty fun to try. This costs 450-550 Baht extra (see pricing chart below). If you're okay with paying that, you'll have fun. For a better place to learn and spend a day wakeboarding for a better price, check out our guide to Taco Lake Wakeboarding in Bangkok.
Ziplining – The waterpark has two zip lines that cover a total of 400 meters across the water below. We're often distrustful of the safety of things like this in Thailand, but they seem professional here and they use quality hardware and harnesses. Included in entrance price
Kayaking – There are kayaks available if you feel like paddling around and getting a different vantage of the waterpark. Included in entrance price
Kids play area – Some shallow pools with small waterslides where kids can play safely. These are actual chlorinated swimming pools with clear water, as opposed to the murky green water of the quarry. Included in entrance price
Waterslides – The Chiang Mai Grand Canyon does have a few waterslides, the highest of which are 10 meters. Included in entrance price
Food and drink – There is a food court area here with pretty good Thai and foreign food for reasonable prices. There is also a coffee shop, and you can buy beer and alcohol as well.
Other amenities – There are also sunbathing areas, showers and toilets, lockers, shaded seating areas, and parking for cars and motorbikes.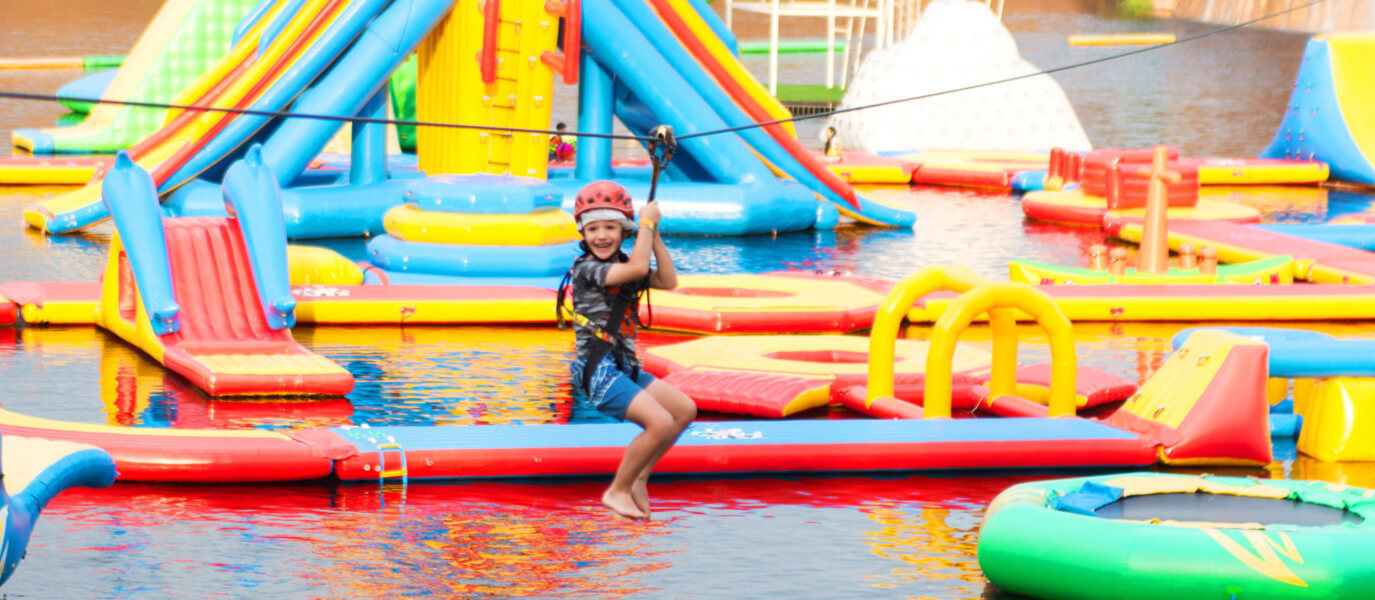 Entrance price and other fees
As we mentioned, the entry fee at the Chiang Mai Grand Canyon has been steadily increasing as they've invested more into the waterpark. Currently, the admission price is 650 Baht (~$22 USD) for adults which includes pretty much everything except wakeboarding. The full pricing table is below. We do hear people who've been coming here for a while complain about the price increases, but the owners really have done a lot of work on the place. Taken for what it is, and how much fun you can have here in a day, we think the price is pretty fair, and worth paying. Unless you only want to swim a bit and have some food and drinks, do not go into the place with the 100 Baht entrance fee.
Admission 650 Baht
Students 550
Children 91-120 cm 500
Children 90 cm and under free
Wakeboarding (if purchased once inside) 550 per hour
Admission + wakeboarding 1,100 (save 100 Baht)
Special discount: If you visit during your birth month, 30% off
Locker rental 50 Baht + refundable 100 Baht key deposit
Towel rental 70 Baht
Waterproof camera rental 600 Baht
You can buy tickets online through the Grand Canyon website, but there's no reason to. Just buy them when you arrive.
Note: They do not allow outside food and drink in here, not even a water bottle. This is pretty annoying and it can leave a bad taste in your mouth. That said, their prices for food and drink are reasonable. We recommend just not bringing anything with you to avoid the issue altogether.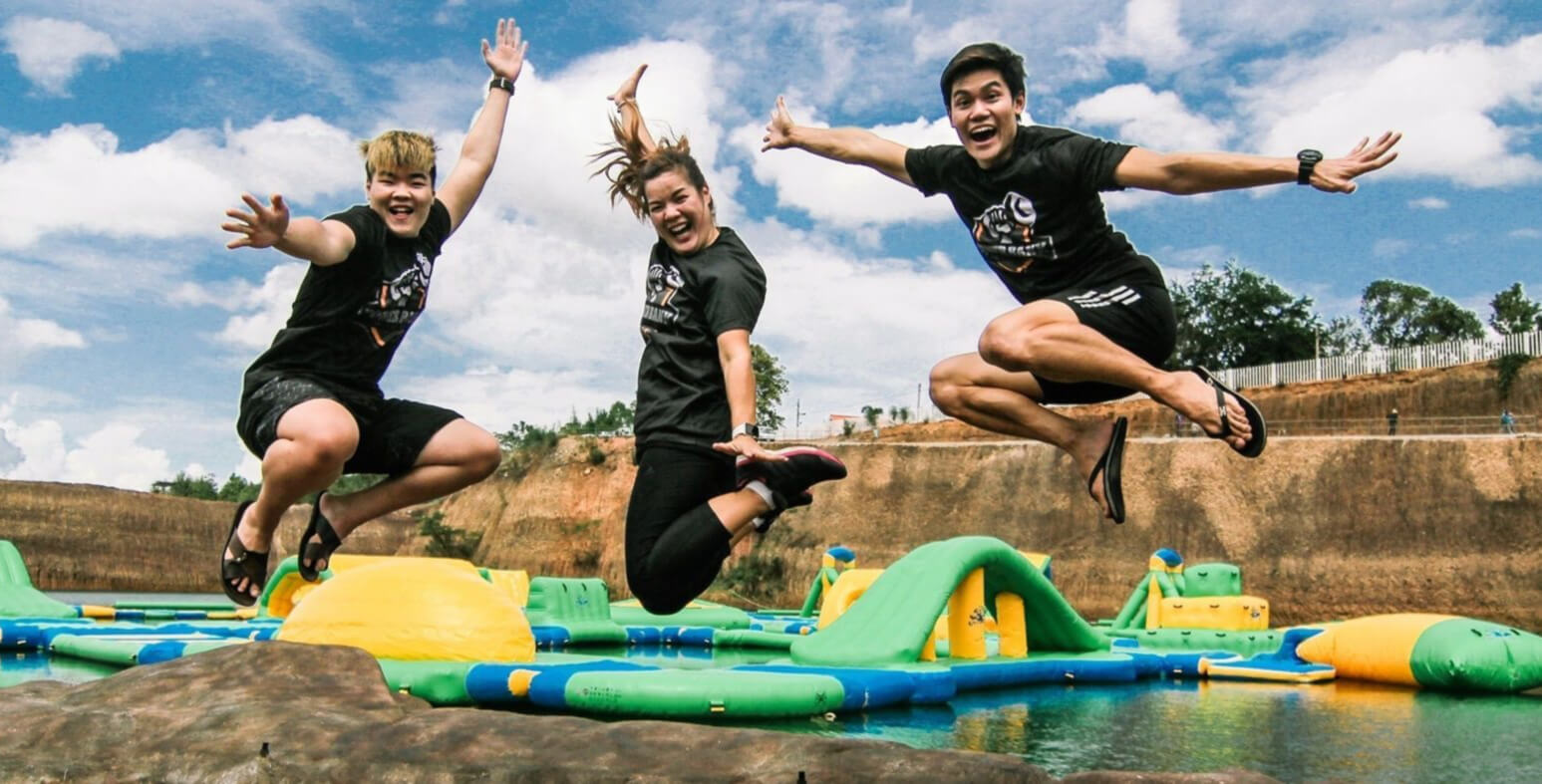 How to get there
The waterpark is in Hang Dong district (ตำบลหางดง) 25 minutes southwest of the city. It can be found at this Google Maps link. The cheapest way to get there is to drive yourself, either on a motorbike or in a car. We only recommend doing this if you are experienced and have an international driver's license with motorbike endorsement if needed.
A lot of people try to go by the red songthaew pickup truck taxis, and that can work, but the driver won't want to wait for you for a long time or will charge a lot of money to do so. You may be able to work out a deal with a driver where you set a pickup time and he comes back for you later.
What we recommend is just using the Grab App — Southeast Asia's version of Uber. This will be the easiest way to get to and from the Chiang Mai Grand Canyon. When you're leaving, you may meet other people heading back to the city to share with. There might be taxis waiting outside the waterpark, but if not just call a Grab car.
Staying Safe
The Chiang Mai Grand Canyon earned a bit of a reputation for being dangerous back when it was a cliff jumping spot with no rules. That has changed now and they have a good safety record. Everyone must wear a life jacket here while in the water, and they have lifeguards on duty at all times. For wakeboarding and ziplining, helmets are required and provided. The easiest way to get hurt is on the obstacles that have a risk of belly-flopping into the water. These are the waterslides that are raised up from the water, and "the blob" — the big inflatable cushion that you sit on one end waiting for someone else to jump onto the other and launch you up into the air. The risk is part of the fun of these, and the life jacket gives you some protection, but you should avoid these if you have a bad back.
The children's play area is safe, and as we mentioned earlier it is a pool with clear water to help parents and lifeguards keep an eye on the kids.