What visa do I need for Thailand?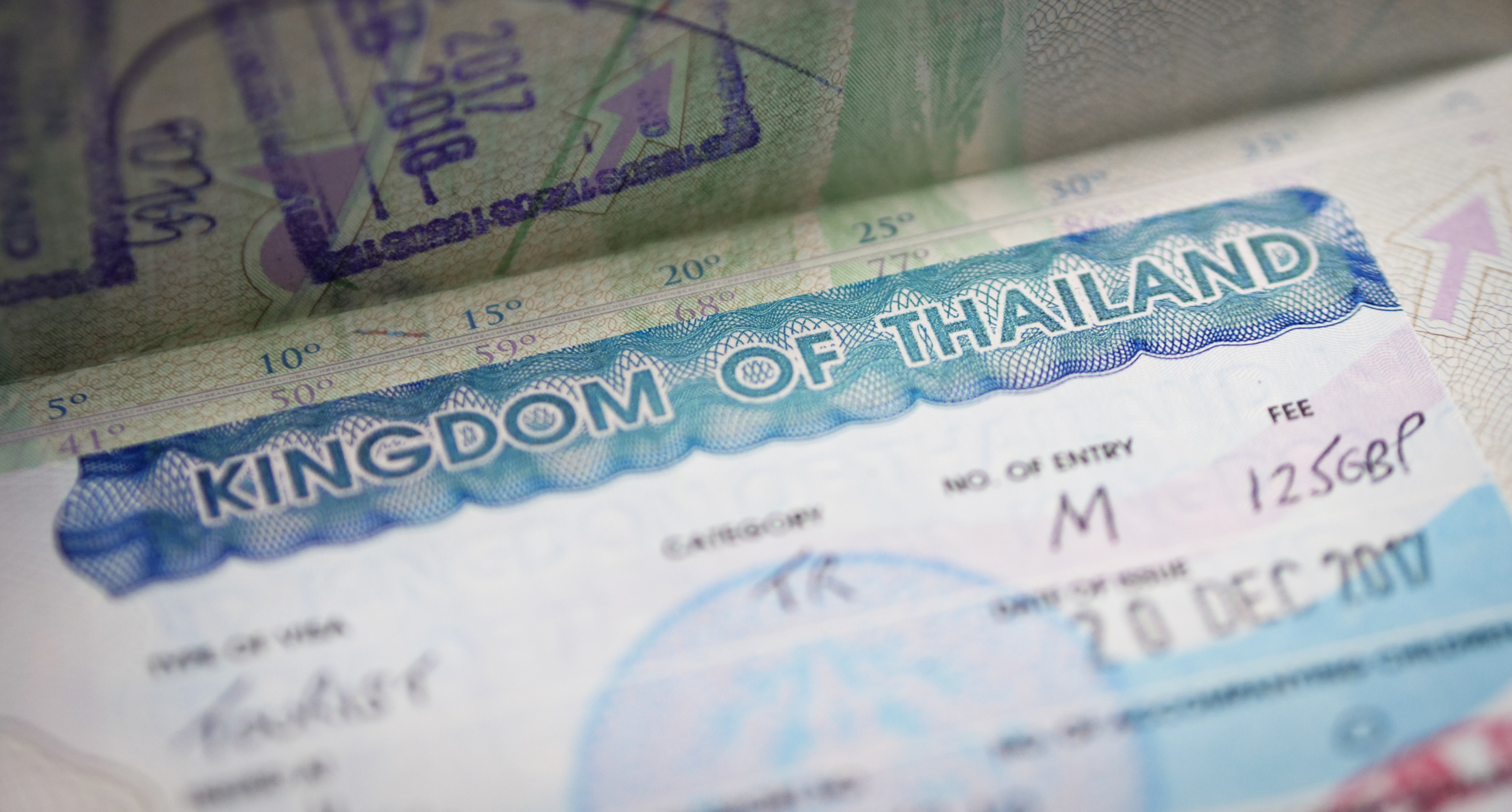 We have more than a decade of experience with the Thai visa system to share with you.
Last updated: 7th August 2019
Navigating choppy seas of visas, extensions, border runs and 90 day reports isn't always straight forward. Whether you're coming for a short holiday or you're finding the most convienent way to stay in Thailand long term, this guide should set you on the right path and clear up a lot of old myths from back when the system was a little more relaxed.
We're doing our best to keep updating this guide, but please use this as a start to your research and not a definitive guide. Rules and regulations are vast and not every scenario can be covered in one post.
---
What visa do I need?
Of course, the type of visa that you need depends on your circumstances as well as your purpose for traveling to Thailand. Here are a few popular situations:
Visiting for less than 30 days? – Start with the Visa Exemption, but remember that not all nationalities qualify.
Visiting for more than 30 days but not longer than 6-8 months? – Assuming you don't plan to work, you will need a Tourist Visa. There are several option depending on your circumstances.
Planning to retire in Thailand? – If you're over 50 years old and can meet the financial requirements, the Non-Immigrant "O-A" visa is where you should start.
Teaching English or finding other work in Thailand? – The Non-Immigrant "B" visa is what you'll need to begin the process of obtaining a work permit.
Planning to marry a Thai National and live in Thailand? – The Non-Immigrant "O" visa is the starting point for permission to stay based on marriage or being a parent of a Thai child.
---
Entry requirements
Entry requirements vary depending on your visa but it's also worth noting that airlines sometimes enforce requirements such as having a return/exit flight from your destination. This is usually if you're flying to Thailand without a visa.
Regardless of your visa, it's good practice to fly with documentation supporting your circumstances and reasons for traveling to Thailand.
Passport
Passport must have at least 6 months validity.
Passport must have between 1 and 3 empty pages depending on your visa.
Proof of funds
In our experience, proof of funds are rarely asked for. But officially the amounts are (in any currency):
Visa Exempt: Minimum of 20,000 THB per person or 40,000 THB per family.
Transit Visa: Minimum of 10,000 THB per person or 20,000 THB per family.
Tourist Visa: Minimum of 20,000 THB per person or 40,000 THB per family.
Visa On Arrival: Minimum of 10,000 THB per person or 20,000 THB per family.
Non-Immigrant Visa: Minimum of 20,000 THB per person or 40,000 THB per family.
Return / onward tickets
If you're flying to Thailand without a visa, technically you should have an outbound flight booked for 15, 30 or 90 days after your arrival (depending how long you're eligible to stay on the Visa Exemption scheme). Buses, trains and other land transportation does not qualify, the same goes for domestic flights to the border. It must be an international flight leaving Thailand.
This is an immigration requirement but in our experience this is mostly enforced by airlines from the country you are flying from. The reason being that if you are denied entry in to Thailand, it is their responsibility to fly you back home.
Some websites offer 'rental tickets' – but we wouldn't personally recommend it. Plan your trip in advance and genuinely meet requirements. Flights to bordering countries can be bought for as little as $25 with Air Asia, Nok Air, or Thai Lion Air so you can either take a cheap trip to another country or throw away the ticket.
Note: This is an immigration requirement for travelers entering without a visa. It's often the case that a consulate will require proof of an onward flight to issue you a visa, such as the Multiple Entry Tourist Visa.
As a rule you generally want to be entering Thailand with:
Proof of funds (in cash)
Proof of an onward international flight (unless you have a Non-Immigrant Visa)
Proof of accommodation (rental agreement, hotel booking confirmation, etc)
Bonus: Itinerary, bank statement, etc
Yellow Fever Vaccination
If you are flying from or have traveled through any of the following countries you need an International Health Certificate for Yellow Fever Vaccination.
Angola
Argentina
Benin
Bolivia
Brazil
Burkina Faso
Burundi
Cameroon
Central African Republic
Chad
Colombia
Congo
Côte d'Ivoire
Democratic Republic of Congo
Ecuador
Equatorial Guinea
Ethiopia
French Guiana
Gabon
Gambia
Ghana
Guinea
Guinea-Bissau
Guyana
Kenya
Liberia
Mali
Mauritania
Niger
Nigeria
Panama
Paraguay
Peru
Rwanda
Sao Tome and Principe
Senegal
Sierra Leone
Somalia
Sudan
Suriname
Tanzania
Togo
Trinidad and Tobago
Uganda
Venezuela
Visit mfa.go.th for more information.
---
Visa Exemption
Commonly mistaken for a Visa on Arrival or Tourist Visa. The Visa Exemption stamp is not a visa, but a stamp on entry granting you a 30 or 90 day stay depending on your nationality. If you're taking a short trip to Thailand and you don't have a long history of entries in to the country, this really is an easy way to visit Thailand with little requirements.
If you plan to stay longer than 30 or 90 days, it can work out cheaper and more convenient to get a Tourist Visa ahead of time.
In the past, people used the Visa Exemption stamps to stay in Thailand for long periods of time. There is now an official rule of 2 land entries (crossing the land borders) every calendar year. This may or may not be enforced depending on your circumstances. There is no official rule for number of entries by air but people do get turned away for abusing this as a way to stay in Thailand without an appropriate visa.
You can extend your visa exemption once by an additional 30 days. See the Extensions section.
90 day exemption
The following countries are eligible for a 90 day entry stamp without a visa.
Argentina
Brazil
Chile
South Korea
Peru
30 day exemption
The following countries are eligible for a 30 day entry stamp without a visa.
Andorra
Australia
Austria
Bahrain
Belgium
Brunei
Canada
Czech Republic
Denmark
Estonia
Finland
France
Germany
Greece
Hungary
Iceland
Indonesia
Ireland
Israel
Italy
Japan
Kuwait
Latvia
Liechtenstein
Lithuania
Luxembourg
Malaysia
Maldives
Mauritius
Monaco
Netherlands
New Zealand
Norway
Oman
Philippines
Poland
Portugal
Qatar
San Marino
Singapore
Slovakia
Slovenia
South Africa
Spain
Sweden
Switzerland
Turkey
Ukraine
United Arab Emirates
United Kingdom
United States of America
---
Visa categories
This is not a definitive list. There are dozens of visas for: diplomats, journalists, investors, permanent residents, athletes, researchers, etc. Below are the relevant visas for the majority of people looking to visit Thailand for tourism or become an expat.
Tourist visas
Before discussing the different types of Tourist Visas, it's worth noting that with either visa the longest you can stay in the country at any one time is 60 days. At which point you can either make a 'border run' by leaving and returning to the country, or by extending your entry at an immigration office to further your stay by 30 days, then you have no choice but to do a border run.
These dates are fairly easy to manage, they're stamped in to your passport when you enter.
Pro tip: Always check your stamp immediately, a fairly common mistake is being stamped in for a 30 day Visa Exemption instead of 60 days for your Tourist Visa
Example of long stay: If you wish to travel in Thailand for 6 months, you could enter with 60 days, make an extension for another 30 days, leave and come back, receive another 60 days and then make a final 30 day extension, bringing you to a total of 6 months with one border run. It does take some practice to time the dates correctly with flights and you have to be careful of national holidays which would mean immigration offices are closed. You cannot make an extension after the date has passed and you will go in to overstay.
Requirements may very depending on your country, check your local consulate website.
Single entry (SETV)
The Single Entry Tourist Visa is the easiest option to make an extended trip to Thailand. The requirements are much lower than the 180 day Multiple Entry Tourist Visa.
The SETV can be applied for in your home country (recommended), as well as at a Thai Consulate in many other countries.
The SETV is valid for 3 months (you must use your single entry before this date) and will allow you to stay in the country for 60 days at a time. You can stay a further 30 days with an extension at an immigration centre for 1900 THB. You must enter Thailand within the validity date. You cannot leave and re-enter Thailand on a SETV unless you apply for a Re-entry Permit
Multiple entry (METV)
The METV is a fairly new addition to the system, replacing the old double entry Tourist Visas. Using this visa you'll be able to stay in Thailand for 6-8 months at a time, with 'border runs' every 60-90 days. The METV should be applied for in your home country and has stricter requirements.
Advantages of the METV compared to SETV:
Leave and re-enter Thailand as many times as you want
Using extensions you can stay for almost 9 months
Tougher requirements mean less scrutiny at the immigration checkpoint (in theory)
Much more affordable than some other longer stay options
Disadvantages of the METV compared to SETV:
Financial requirements are quite high for a tourist visa
Must prove employment or occupation in your home country
Can only be obtained in your home country
There is a validity date on each visa which begins from the date of issue. If you're trying to squeeze an 8 or 9 month stay from the 6 month METV then we recommend not applying too long before your trip begins. You will want to exit and re-enter Thailand very close to the end of your validity date so you can get the last 60 day entry + 30 day extension.
To give a better example, if your visa validity expires on the 10th May, you could exit and return on the 9th, activating a final 60 day stay which can be extended by 30 days. The validity of the visa is only important for your entry, after that the date you need to be concerned with is stamped in your passport.
Tourist visa on arrival & eVisa
If you're planning a short trip and don't quality for a Visa Exemption, the next thing to check is eligibility for a Tourist Visa on Arrival. It is available at some land borders or at the airport once you arrive. It currently costs 1000 THB / $30 USD (this has varied in the past) and is valid for 15 days.
You can extend the Tourist Visa on Arrival at an immigration office before the 15 days expires.
If you use a land border which does not supply Visa On Arrival, you will be turned away.
Requirements:
Passport photo
Minimum of 10,000 THB per person or 20,000 THB per family (or equivalent in other currency).
Confirmed hotel booking
Applies to:
Andorra
Bhutan
Bulgaria
China
Cyprus
Ethiopia
India
Kazakhstan
Latvia
Lithuania
Maldives
Malta
Mauritius
Romania
San Marino
Saudi Arabia
Taiwan
Ukraine
Uzbekistan
Non-immigrant visas
Business ("B")
If you plan to start a business or find employment in Thailand, the first step is to apply for a Non-Immigrant "B" visa. There is a 90 day single entry and a 1 year multiple entry visa. Which one you qualify for depends on your business and the consulate you use to apply for your visa.
This visa can be quite complicated if you don't have an employer or you're setting up your own business. Help is usually sought from local accountants and lawyers to handle paperwork and accounts.
You cannot work in Thailand with a Non-Immigrant "B" visa alone. In order to work you will need to apply for a Work Permit within the country during your initial 90 days and then extend your visa.
See the Thai Embassy (non official) website for more information on working in Thailand.
Retirement ("O-A")
The Retirement Visa is valid for 1 year and may be the easiest way to stay in Thailand long term (assuming you can meet the financial requirements and you are 50 years old or above).
The retirement visa is quite straight forward but:
You must be 50 years or older
Able to show 800,000 THB ($25,000) in a Thai bank account (transferred from your home country) or A monthly recurring income of 65,000 THB or more
You must carry health insurance from an approved provider. You can see a list of these insurers here.
Report your address every 90 days
Marriage & Family ("O")
To apply for a Non-Immigrant Visa based on marriage you must be legally married to a Thai national or have Thai children.
Initially valid for 90 days. You can extend for 1 year at your local immigration if you meet the requirements.
Education ("ED")
This visa has been, and still is being used to stay long term in Thailand. We suggest only applying for this visa if you genuinely plan to study. The most popular education is learning Thai, but other options exist such as learning Muay Thai. We've personally used the education visa system to learn Thai and it's certainly not hassle free.
If you're joining a legitimate school, you will be expected to attend most, or every class and if you're learning Thai, there will be tests.
You are able to stay for 3-12 months with extensions and usually your school will handle most of the paperwork. If you are applying from your home country, make sure to apply at minimum 4-6 weeks before you plan to travel as the school will need to send paperwork to your home country, where you'll need to apply for a Non-Immigrant Visa at your local consulate.
If applying from Thailand, make sure you have at least 30 days left on your current entry. After paying the school they'll prepare documents and you'll need to leave to a neighbouring country to apply for the visa (Laos seems the most popular).
School fees range from 25,000 THB to 50,000+ depending on the length of the course and the school.
As with other Non-Immigrant Visas, it is initially valid for 90 days. The Education Visa must be extended every 90 days at your local immigration office, which in our opinion was the biggest inconvenience.
Elite visa
The Thailand Elite Visa is an option for visitors who either don't qualify for the other visa categories or would prefer to pay for convenience with a some extra benefits.
Read our full Thailand Elite Visa Review and Guide
The Elite Visa is technically a 'special' kind of Tourist Visa. You'll be granted an extendable one year entry on each visit for a maximum of 20 years. If you're not old enough for a retirement visa, you don't want to work in Thailand, and you're not married to a Thai national, this is a good option – assuming you have some spare cash to spend.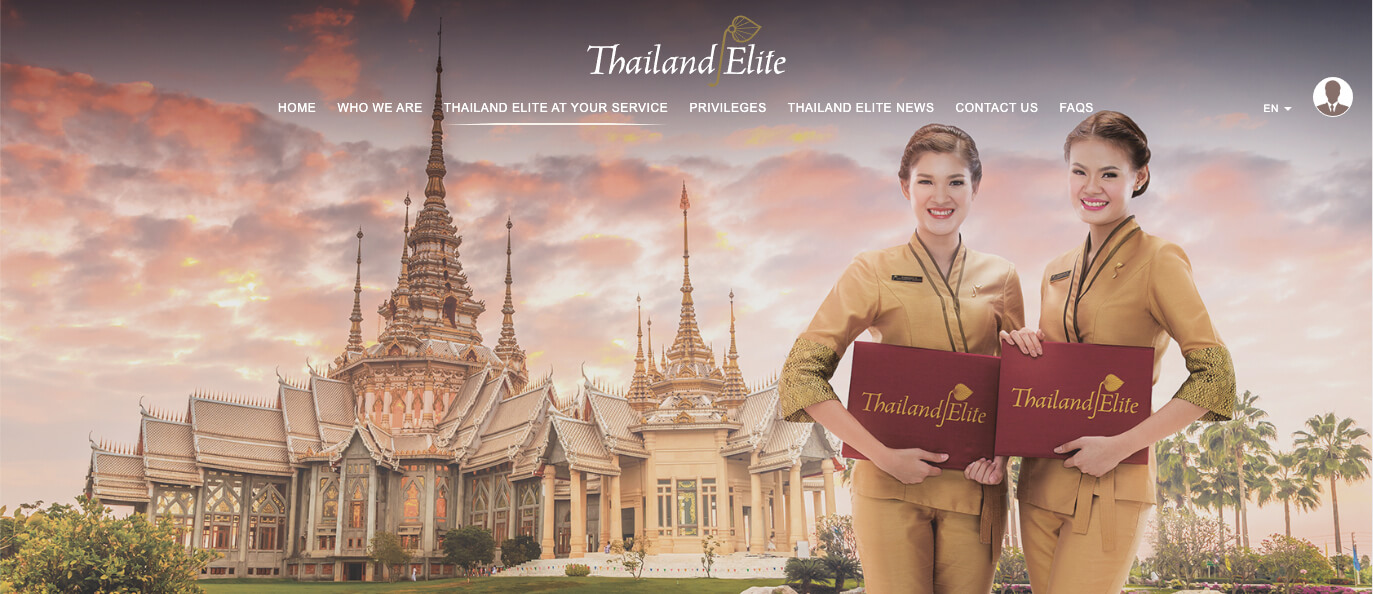 The Thailand Elite Visa ranges from 600,000 THB for 5 years, to 2 million THB for 20 years with all privileges.
Advantages:
Arguably the only hassle-free way to stay in Thailand long term
Unlike Tourist Visas you do not need to do 'border runs' or leave the country
Arrival escort and priority immigration queue
Free transfer to your accommodation from the airport
Some packages include benefits such as free health and spa treatments
Assistance opening bank accounts, getting a driving licence, etc
For convenience, here are the packages:
Single person packages
| | | |
| --- | --- | --- |
| Elite Easy Access | 5 year visa | 600,000 THB |
| Elite Privilege Access | 10 year visa | 1 million THB |
| Elite Superiority Extension | 20 year visa | 1 million THB |
| Elite Ultimate Privilege | 20 year visa | 2 million THB |
Family packages
| | | |
| --- | --- | --- |
| Elite Family Excursion | 5 years | 800,000 THB (2 persons) |
| Elite Family Alternative | 10 years | 800,000 THB |
| Elite Family Premium | Unknown length | 1 million THB |
Find out more about the Thai Elite Visa on their website.
---
Extending your visa
Extending your stay by 30 days is fairly convenient if you're close to an immigration office. Chang Watthana in Bangkok will be your closest if you are in Bangkok.
You must do the extension before the date stamped in to your passport. Do not leave it until the last day, only to find out the office is closed for the weekend or a national holiday. Then you will be forced to leave the country on that day or go in to overstay.
Our friend Mark wrote a post about extending your visa.
---
Re-entry permits
In short, if you have a single entryvisa and plan to leave and return to the country within its validity, you will need a re-entry permit so that your visa isn't cancelled when you leave.
You cannot use this service for Visa Exemption or Visa On Arrival.
The price for the re-entry permit is 1,000 THB for a single re-entry or 3,800 baht for a multiple re-entry stamp. They do not accept credit or debit cards.
You will need:
Passport (of course)
Photocopies of Passport photo page, visa page and departure cart (white slip given to you on arrival)
Copy of current entry stamp
A pen – always travel with a pen
Filled out application form, known as TM.8 (will be provided)
1,000 or 3,800 THB in cash
At the airport: You can apply at the airport on the day of departure. The office or booth is after security but before immigration. You want the permit before you stamp out. It only takes 5-15 minutes.
At an immigration office: You can apply for a re-entry permit in advance at an immigration office. The process is the same but if the office is busy it'll take much longer.
If you forget to apply for a re-entry permit on a single entry visa, the visa will be cancelled when you leave and you will have to re-apply for another visa.
---
Overstaying
Overstaying your entry in Thailand results in a maximum fine of 20,000 baht, the possibility of deportation, and being blacklisted. The penalties for overstaying is not as lenient as it once was. Overstaying should never be considered.
In the past overstaying your visa wasn't a huge problem. You had the option to pay a fine and life was great again. Those days are gone however and overstaying will usually result in a fine plus deportation and a place on the blacklist.
Overstaying by 1 or 2 days is quite common. Travelers often make mistakes aligning their flights with their visa and they're let off.
The worst outcome is a longer overstay and being caught by the police. If you are caught, you will be blacklisted.
---
Don't read horror stories on Facebook Groups or the Thai Visa Forum and scare yourself. Many of us have been guilty of this but their stories are not verified and everyone is in a unique situation. If you're visiting with a genuine purpose and not abusing your visa category you will be fine.
Visa rules change often and it's quite difficult to cover every aspect of every visa. Please leave a comment for us below if you have any questions, or if you find any outdated or missing information. Thank you!