Wise: The best way to send money into Thailand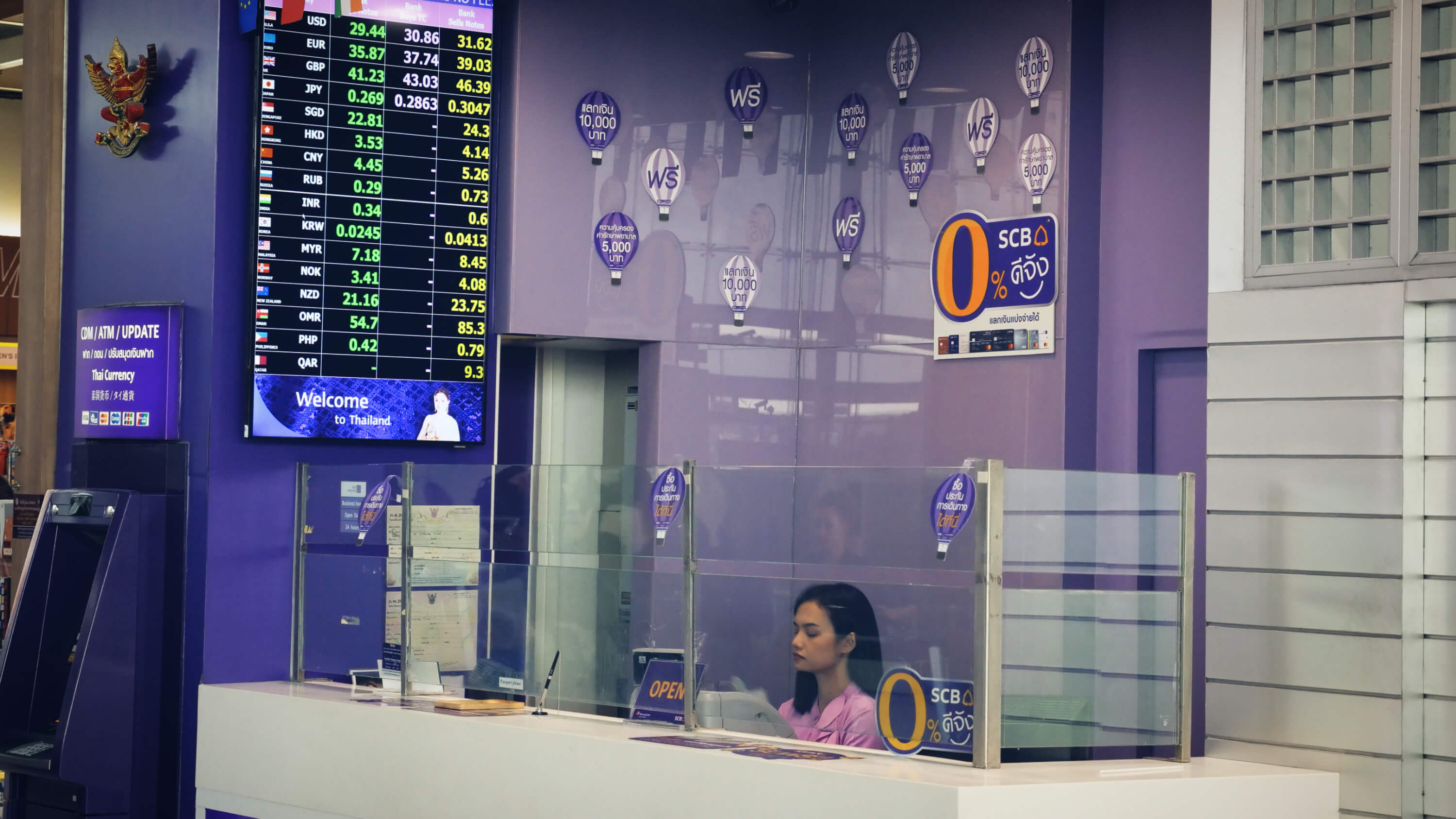 Wise (formerly TransferWise) has finally provided a convenient and inexpensive way to move money into Thailand. Here's how it works and everything you need to know to start
Whether you want to fund your own Thai bank account to save on ATM fees, or you need to transfer money to family, a girlfriend, or for business, we recommend Wise as the best service to use. Use these step-by-step instructions to transfer money to Thailand in just a few minutes.
Read on to find out how to use Wise and why we think it's the best, or use the tool below to get started.

The amount of Baht shown in this tool for your given amount and currency is final. No hidden fees will show up later.
Sending money internationally has pretty much always been difficult and expensive. The fees seem small at first, but then more and more of them stack up until you are usually paying enough to cover a decent bottle of scotch. Finally, some startups are beginning to disrupt the scam that the banks and Western Union have been running for decades. There are a few of them doing it, including Wise, WorldRemit, Remitly, and Azimo. Of these, we find that Wise is the cheapest and easiest to use to remit money to Thailand, whether to yourself or another person.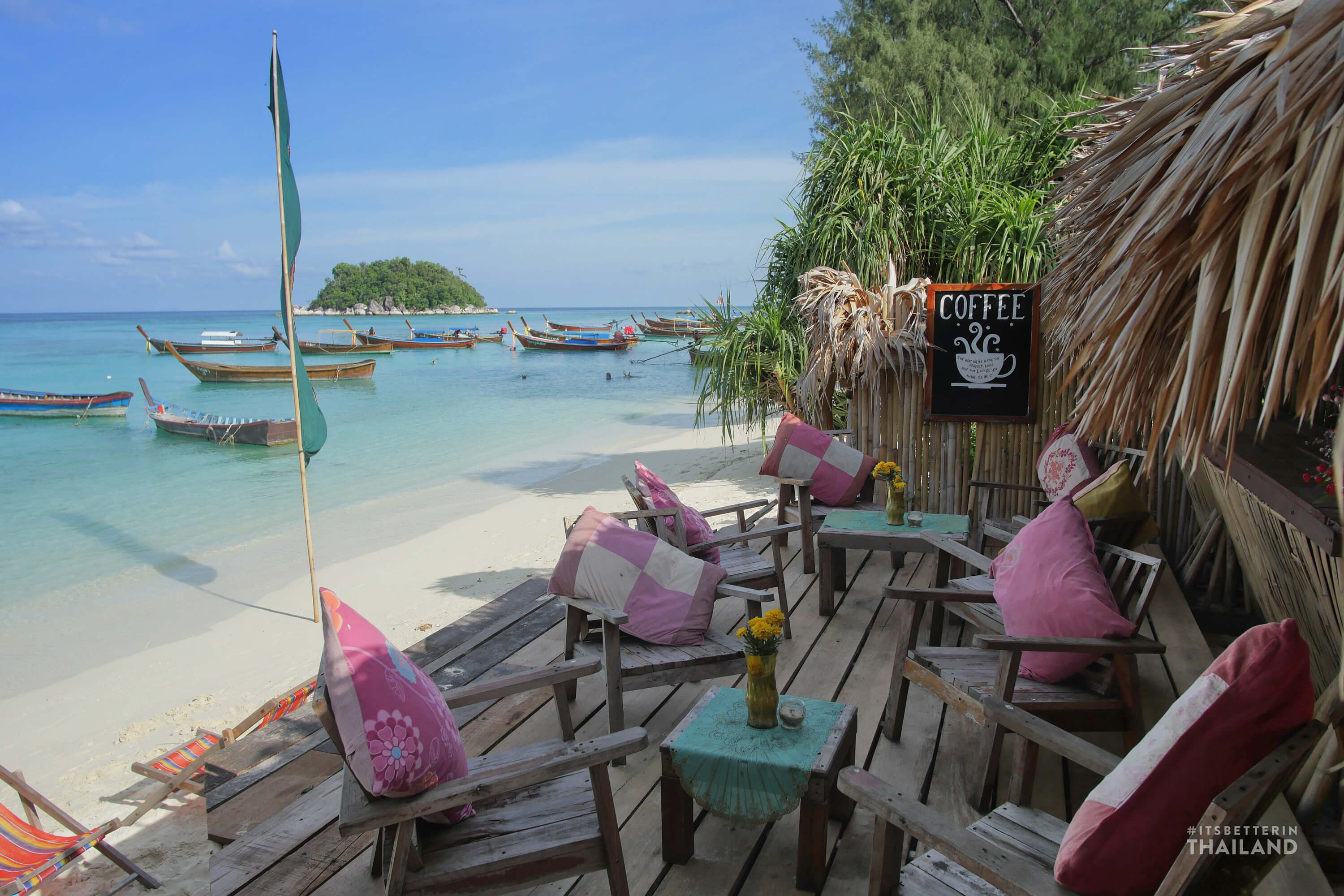 Why you should use it
Why should anyone use Wise? It's simply the most convenient service that almost always has the best rates. Banks charge fees at either end, then rub salt in the wound by taking a fat cut off of the exchange rate. Money Gram and Western Union aren't any better. Wise keeps cash reserves in each currency so they're not moving small amounts of money with each transaction. By letting money flow back and forth between currencies, and by consolidating transfers into larger corrections where needed, they are able to save on transfer fees. The company passes those savings along to customers.
Wise gives you the midmarket rate, something no banks would ever do. They make their money with a small commission of under 1%, which again is just unheard of from banks. A typical transfer of $1,000 USD from a US account to a Thai bank account with this service will cost around $10, where traditional banks and wire transfer companies might charge $40 or more once you've added up all the fees and factored in the terrible exchange rate they give you.
Pro tip: Wise is obviously great for sending money to people in Thailand, but for anyone who makes repeated trips to the Land of Smiles, you can also keep a local bank account, fund it through these transfers, and save on all those 220 Baht ($7 USD) ATM fees that can really start to add up.
What you need to get set up
Getting set up with Wise to send money to Thailand is fast and easy. If you're good with this type of thing, you can just click over and get started. We do go through the whole process below as well so if you're unsure you can follow that. Before you start though, here's the list of everything you'll need to get going — we know how annoying it is starting something like this and then getting stuck because you didn't realize you needed to know something like the recipient's home address.
Your own personal information
The information for the owner of the Thai receiving account, including full name, email address, home address, bank account number, and name of the bank (there are no routing numbers or SWIFT codes needed)
For citizens of certain countries, or for transfer amounts of over €1000, you will need photos of your passport or driver's license. This can take 2-3 days to verify but recently took me under an hour with a US driver's license.
For transfers from US banks, you will need your online banking login credentials. You do not need that if using a US debit card, although the fee is slightly higher.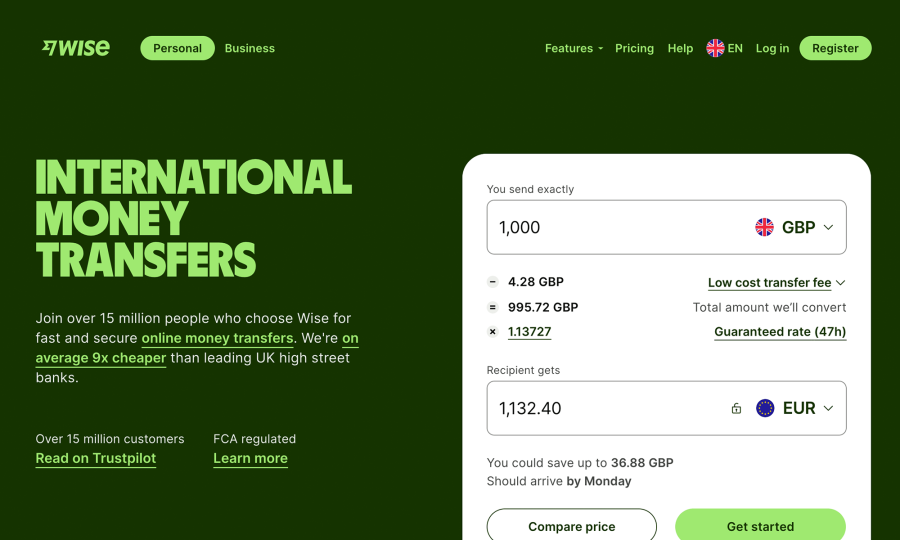 How to register
Setting up an account and making your first transfer is pretty straightforward, but there are a few things that can trip you up. Here's our step-by-step guide to setting it up and making a transfer.
First, head to Wise and register with your email address and a good password.
Next, click on the member icon in the top right corner and select 'create a personal profile'. You'll need to enter your full name, date of birth, phone number, and address.
If you'll be sending over €1000 per transfer, click the member icon in the top right again and select 'verification'. You'll need to upload photos of your ID or passport.
Next, over on the left, click on 'Recipients', and then click 'Add your bank account'. When prompted, add your account details.
When your account info is in, click 'Add a recipient'
Switch the recipient currency to Thai Baht (or whatever currency of the country you're transferring to), then fill in their email address, name, full address, and their bank and account number.
You can then add another recipient if you need, or click the Wise logo in the top left, then click 'Send money'.
How to send money to Thailand with Wise
Sending money is easy, just follow these steps. (For this small test I sent $100 and you can see in the screenshots that the fees ended up just under 4%. You'll need to send more than this to get that closer to 1%, although that 4% is still cheaper than what a bank would have charged.)
1. Currency & transfer amount
From the main transfer screen, make sure the top box is set to your home currency, and the bottom one is set to Thai Baht. You can type an amount in either the send or receive box, and the other one will be adjusted.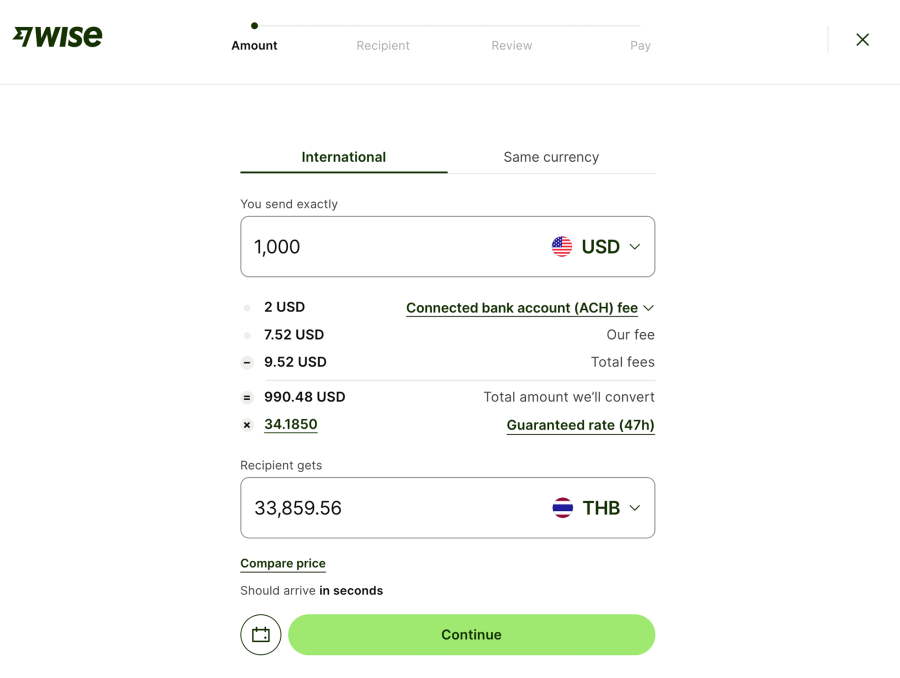 2. Check exchange rate, fees and payment method
You'll see the exchange rate on that screen. You can go to any foreign exchange website and see that you are getting a number very close to the actual midmarket rate. You'll see the fee you will be charged as one number, and if you click 'See calculation' it will expand and you can see the charges that make up the fee. You can also use the dropdown box to see the different fees for paying by bank debit (ACH), debit card, wire transfer, or credit card. What's really nice is this number won't change. No surprise fees are added later.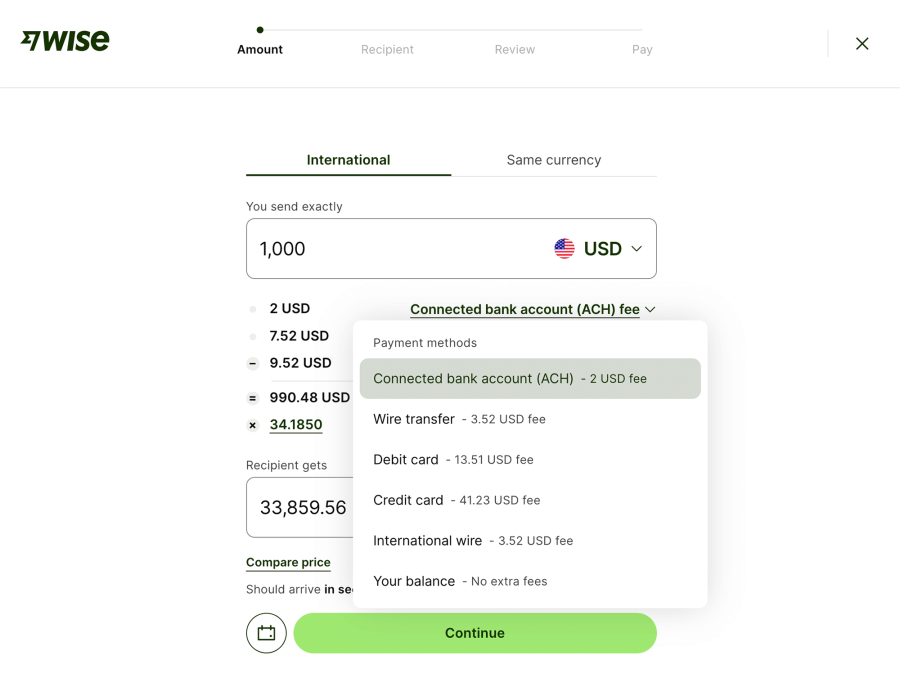 3. Recipient
Create a new recipient, or use an existing one if this isn't a new account.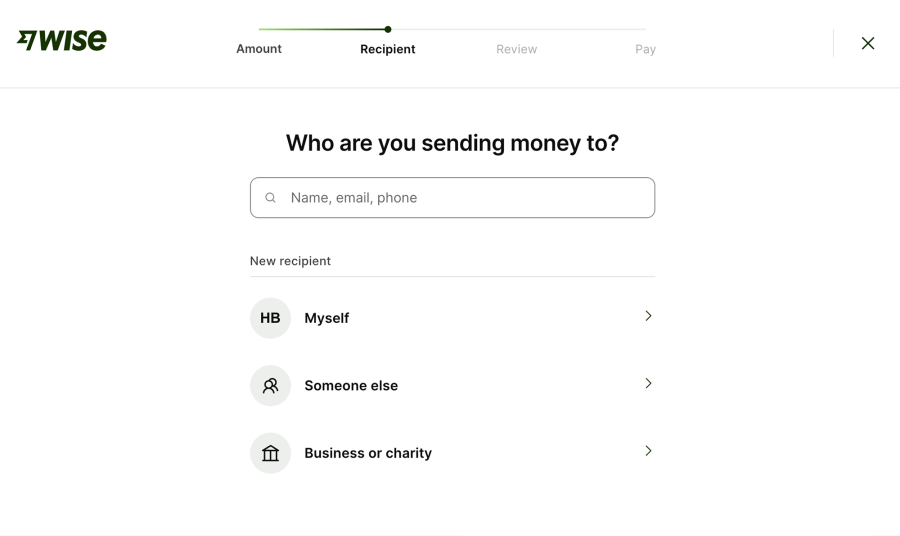 4. Reason for transfer
Wise is required by law to ask for this information.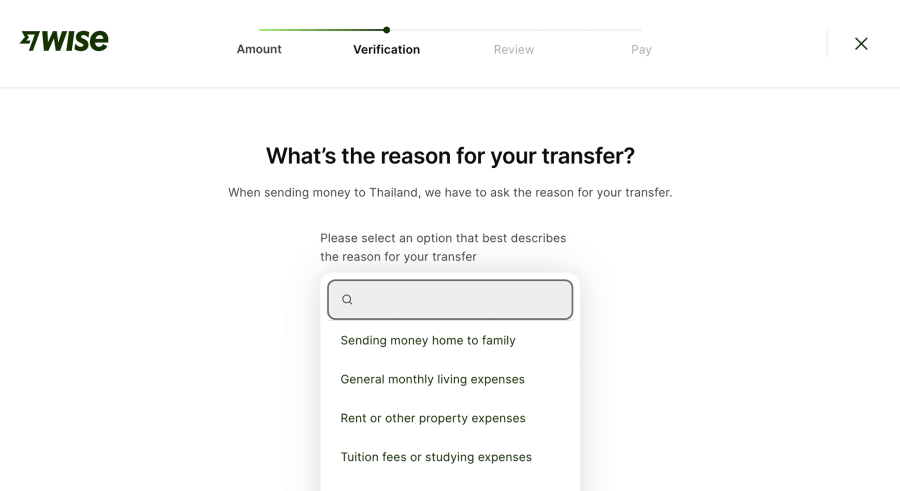 5. Review transfer details
Review the details of the transfer, add a memo if you wish, and tick the box to accept the terms, then click 'Confirm and continue'.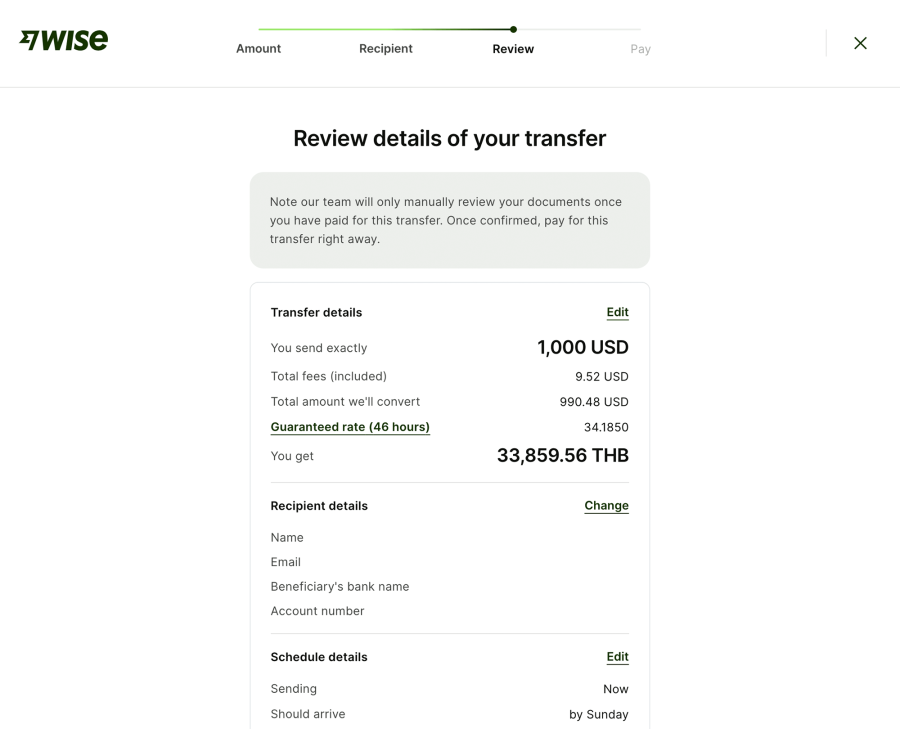 6. Pay for your transfer
On the payment screen, select the option you wish to use. Bank Debit should be the cheapest. During this test, there was an issue logging into my US bank so I was stuck. This wasn't an issue with Wise but US account holders could possibly run into this issue if they use any smaller banks. I simply switched the payment method to a debit card and paid about $0.70 extra. On a $1000 transfer, it would have cost about $5 extra.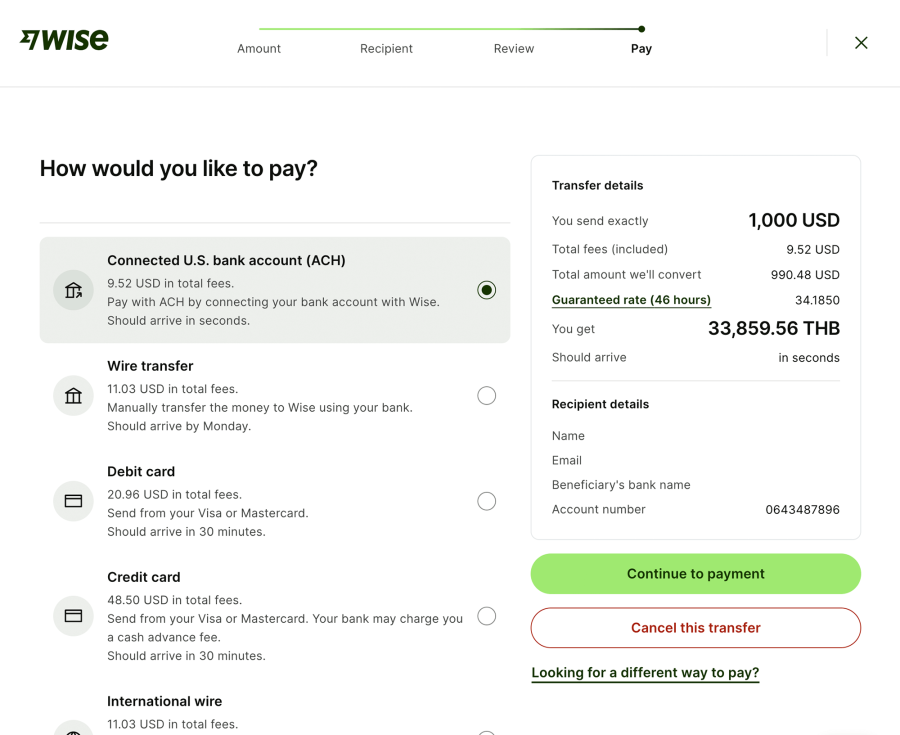 7. Confirmation
Click 'pay' and you should get the in-progress screen, and then the success screen. That's it!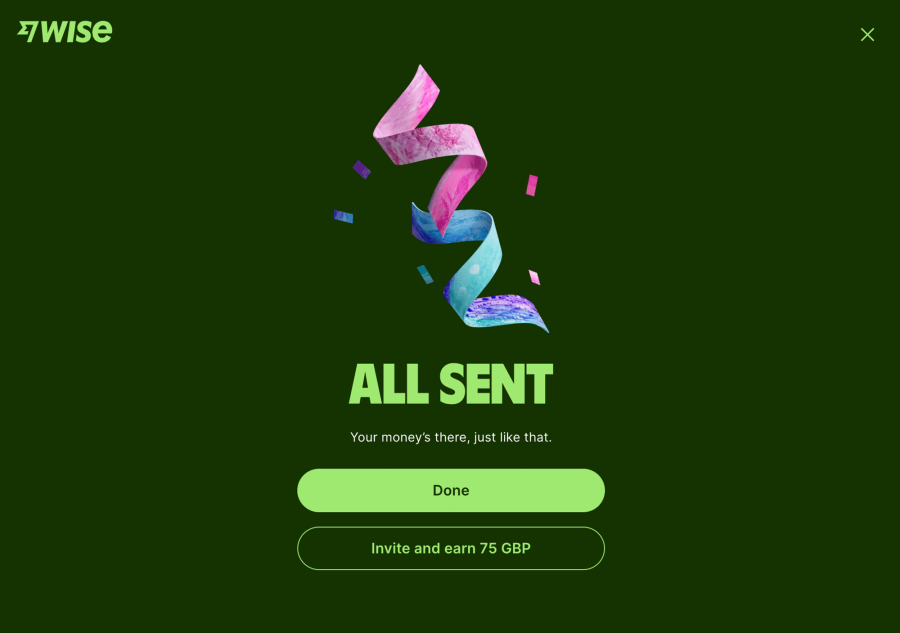 How long will the transfer take?
The transfer can take 24-48 hours, and in some circumstances longer. Instant transfers require a service like Western Union and so are still expensive, so make sure to plan ahead. If you have any questions or updates to this information, leave us a comment below or contact us.
If you found this guide helpful and plan to give Wise a try, we'd like to ask you to consider using any of the links on this page which helps us out with a small commission. It's totally free for you and it helps us out a lot.
---
Disclosure: This page has some affiliate links. If you click one of these links and make a purchase or booking, we will earn a small commission. This is 100% free for you and it helps us to continue creating great Thailand content that we can offer to you for free.