Wat Roi Phra Putthabat Phu Manorom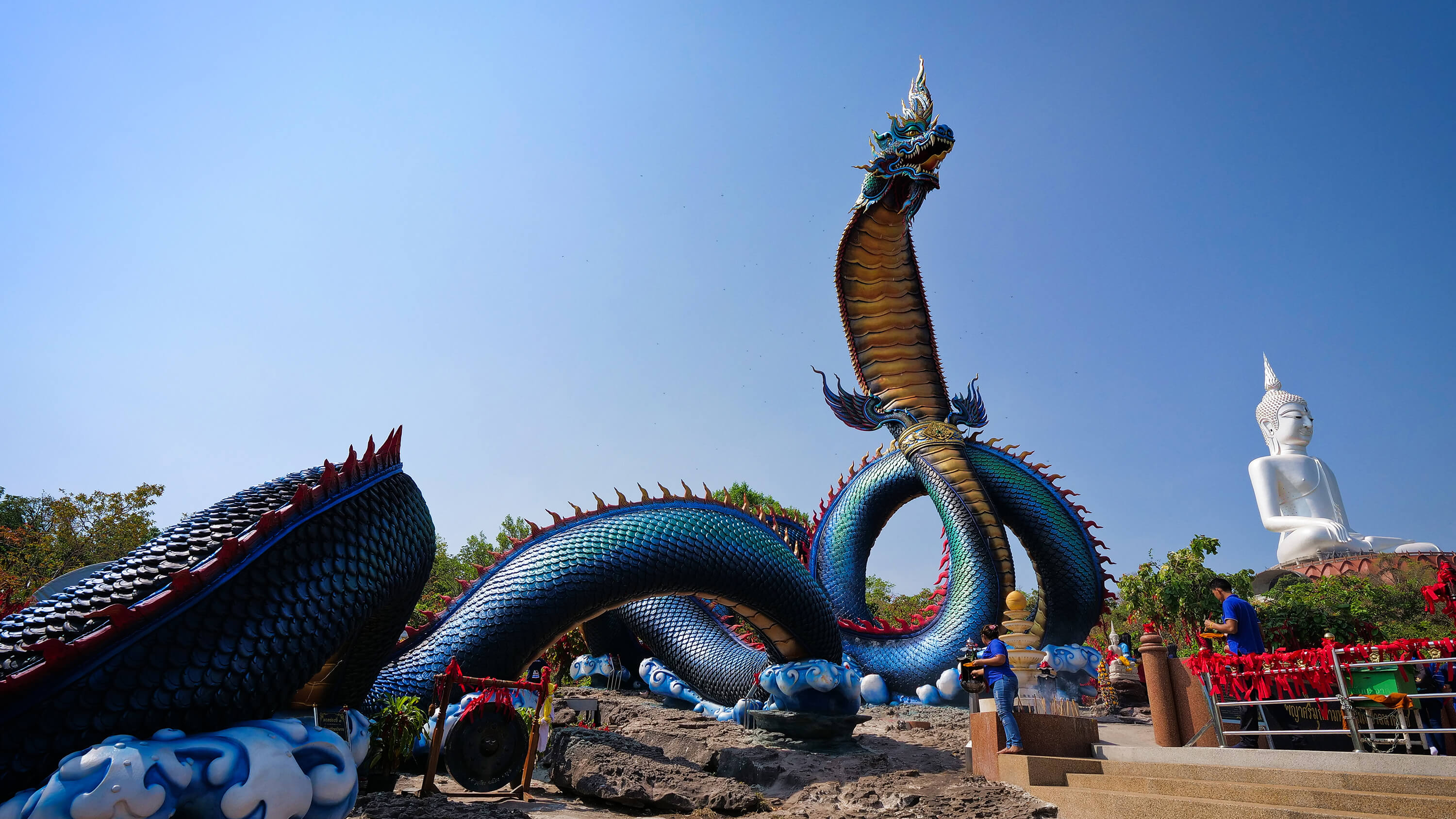 A lot of people head to Mukdahan to continue into Laos but while passing through, it is worth a visit to Wat Roi Phra Putthabat Phu Manorom (วัดรอยพระพุทธบาทภูมโนรมย์), a temple high up in the hillside.
There is a huge 84 meter Buddha statue soaring high, looking out across the Mekong River and Laos. But to make this temple even more interesting, a 120-meter long naga sits to the left, poking its head up through the trees.
Opening times: 6am to 6pm.
The first thing you will see as you approach the temple is the Buddha. It is quite fascinating to see this massive statue reaching out above the trees. You can walk inside the Buddha statue, which has four floors, including a rooftop with a fascinating panoramic view of Mukdahan, Laos and the Mekong River. You can also see the Friendship Bridge from here.
When we visited, there was nothing else inside the statue, but there was a lot of construction happening and it looks like they have some big plans.
Naga – This serpent is a real eye pleaser. From here, you can get a view of the naga with the Buddha statue in the background. This makes for some great photo opportunities. Buddhist will perform a ritual here where they pray and walk around the naga, hitting a gong along the way before tieing a piece of red ribbon to a tree.
Buddha footprint – The word putthabat (พุทธบาท) means Buddha footprint. There is a small replica within the temple grounds.
A garden – The whole temple grounds are beautiful. The garden hosts some lovely greenery and a nice water fountain. There is also a viewing platform to get some great photos.
The view – One of the reasons people come here is for the view. Close to the car park is a view point that looks out across Laos, but the most impressive view is from the top of the Buddha statue. This is a great place to watch the sunset.
Getting there
The temple sits on the opposite side of the national park but you do not actually go in the park. There is a road that curves up the mountain to the temple. Drive this yourself or take a taxi. We visited here in the evening when it was quiet and were able to drive all the way to the main carpark. When we went again the next morning, we had to park in a carpark further down the road and take a songtaew the rest of the way. The fee for this is a temple donation, 20 baht per person is a good donation.
It will be pretty easy to see which roads to take but here is the GPS location if you wish to follow your satnav.
How much does it cost?
The temple is free, the only cost may be the songtaew as mentioned before.
Photo gallery