Wat Phra That Nong Bua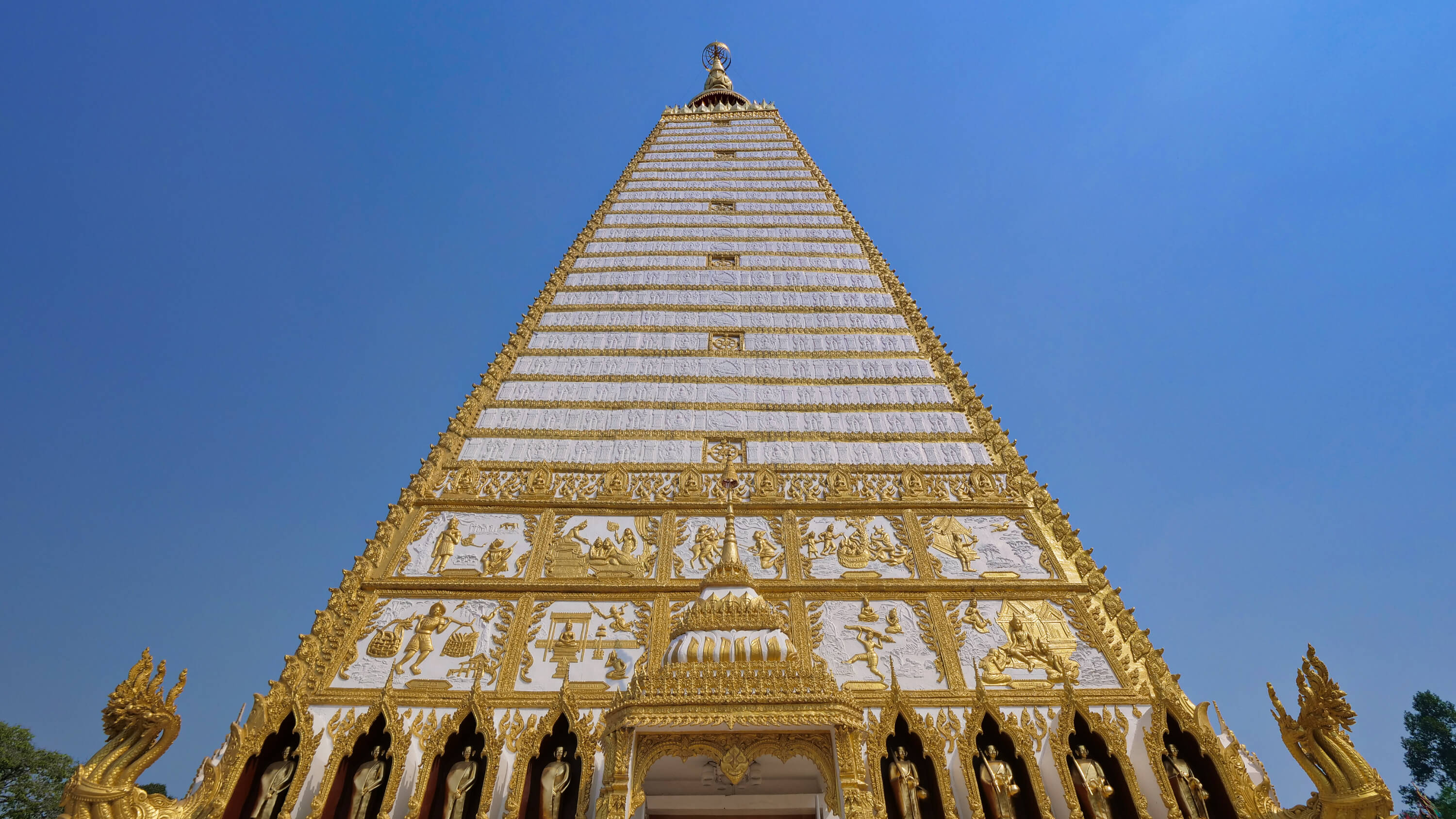 Ubon Ratchathani has many activities and some great nightlife, but if you enjoy visiting temples, there's quite a few to choose from just in the town center. Wat Phra That Nong Bua (วัดพระธาตุหนองบัว) is the most unique and impressive.
Chedi – Standing in the middle of the temple grounds is a 56-meter high pagoda called 'Sri Maha Pho Chedi'. It is unique in the fact that it has a square base and shaped like a pyramid. Its design was inspired by the Mahabodhi temple in Bodh Gaya, India, where the Buddha is claimed to have reached enlightenment.
It has an enchanting white and gold design and the architecture inside is just as fascinating. In the middle of the chedi, the original one sits with a Buddha statue meditating on each of the four sides.
Outside, there are four smaller stupas by each corner of the main chedi, also painted in white and gold.
Wiharn – Inside the ubosot or ordination hall, a reclining Buddha lays on a high platform with eight smaller Buddha statues meditating below. This building is also designed using intricate architecture with detailed golden leaves on the pillars.
Naga – Just outside the main grounds is this green and red naga serpent which adds to the charm of the temple.
Be respectful at the temple
As with any temple in Thailand, it is important to be respectful. Before you walk past the wall that surrounds the grounds of the stupa, take off your shoes. If you are unsure, look for where others have left theirs. Remember to dress appropriately.
To find out more about temple etiquette, we have these two useful guides: 'What should I wear to a temple?' and 'Etiquette & Thai culture'.
Entrance fee and opening times
Admission price: free
Opening times: 5 a.m – 7 p.m
How to get to the temple
The temple is situated on the outskirts of the town center, not too far from the airport. Ask your hotel to book you a taxi or hail one down yourself. Alternatively, you could take a Grab taxi.
If you are driving yourself, it is a very short journey. Follow this GPS location in your satnav. There is free parking inside the temple.
Gallery