Visiting Bua Tong Sticky Waterfall in Chiang Mai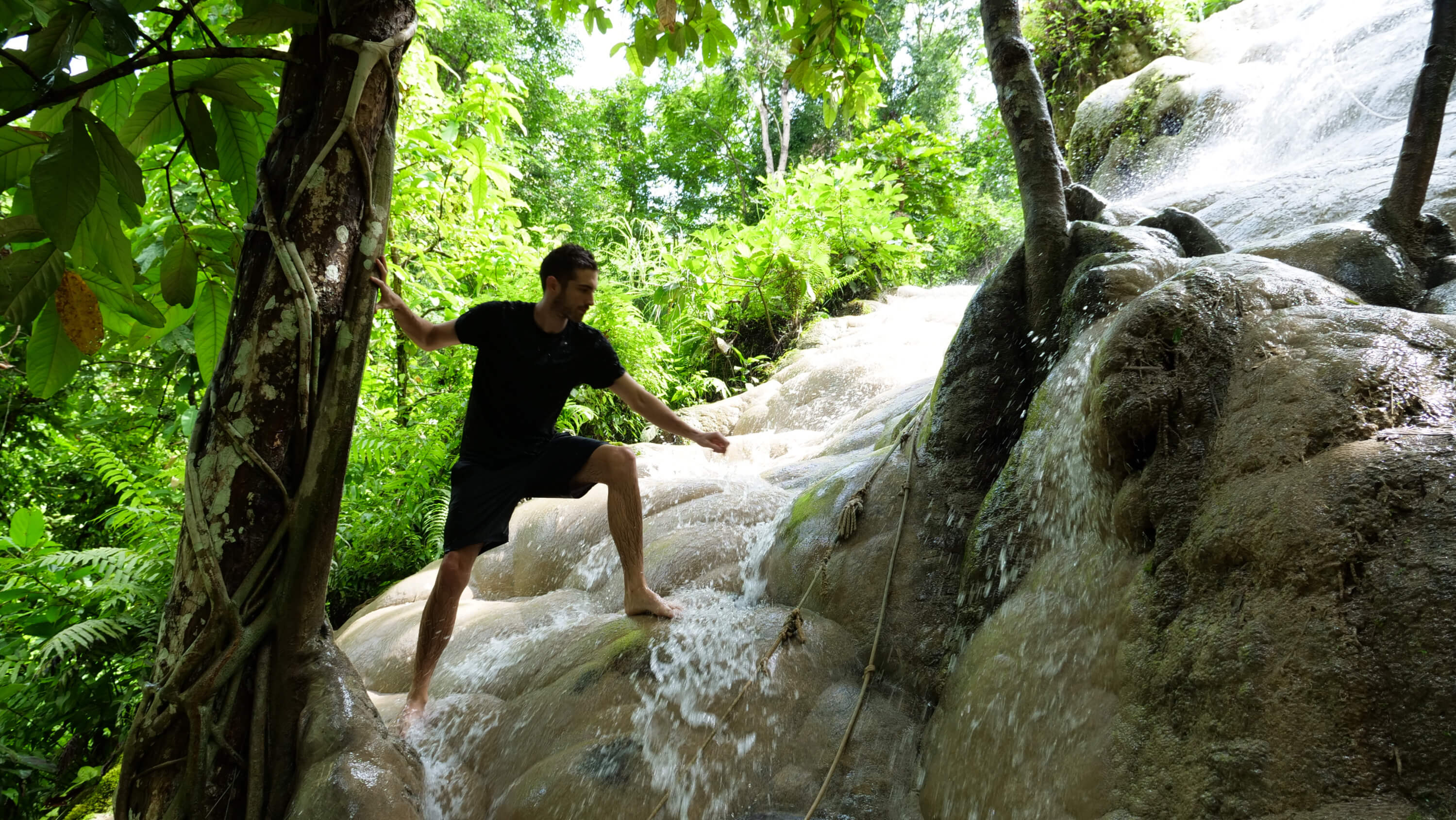 This unique waterfall near Chiang Mai has high-traction rock surfaces that are fun to play on and make for epic photos
Nam Tok Bua Tong (น้ําตกบัวตอง) aka the Sticky Waterfall, is an incredibly cool place to check out when you're in Chiang Mai. The water here bubbles up from a natural spring, and it has such high levels of dissolved minerals that it coats the rocks and tree roots it flows over in high-traction limestone. They call it the "Sticky Falls" because the stone has so much grip. It's a waterfall and it looks like it should be slippery, so your eyes can't quite believe it when you see people easily walking on the steep rocks. You can climb all over the waterfall here and go wherever you want to go. It's crazy fun here, and a great place to get some really cool photos.
The Chiang Mai Sticky Waterfall is located under an hour and a half from the city making it a popular half-day trip, and it's really worth the journey. The Chiang Mai sticky falls used to be fairly unknown but can get a bit crowded these days.
Keep reading to find out
How to get to the Sticky Waterfalls
The cost of going on your own vs taxi vs tour
When to go
Best things to do at Bua Thong Falls
How you can have the place completely to yourself
Also, check out our video for a little taste of why the Sticky Falls are so worth visiting.

How to get there
The Sticky Waterfall can be found at this location and Google Maps can guide you there easily. It's around an hour-and-twenty-minute drive from Chiang Mai and the roads are in good condition the whole way. There are three ways to get to Bua Thong Falls:
Drive yourself – If you're an experienced rider, it's pretty easy to get there on a motorbike which can be rented all over Chiang Mai. This option will be by far the most budget-friendly. You can also drive yourself if you rent a car which will end up costing roughly the same amount as a taxi. A car or bike obviously gives you much more freedom, but we only recommend this if you are comfortable with driving in Thailand.
Note: Police sometimes setup a checkpoint on this road. If they're out and you don't have a Thai or international license (with motorbike endorsement if you're riding), you will be fined 500-1000 Baht.
By taxi – Chiang Mai is full of red songthaews – basically pickup trucks with two rows of benches in the back. These operate as a sort of bus system in the city, but many of them can also be rented as private taxis. You should negotiate before the trip how long you would like to stay at the falls, but an hour is the norm. We recommend pushing for an hour and a half. The price should be between 1000 and 1500 Baht (~$30-$45 USD) so it's nice if you can get a few people together to share it.
On a tour – If you're not trying to stick to a tight budget, booking a tour is a great way to get to the Sticky Waterfall without having to worry about driving or negotiating with taxi drivers. If you're on an itinerary with a tight schedule, it is also nice being able to book in advance so your schedule is set. The best tours are listed below.
Sticky Waterfall tours
We almost always travel independently in Thailand and try to help other people do the same. At the same time, we understand there are some circumstances when it just makes sense to book a tour. Plus, the best tours get to places you almost definitely would have missed had you been on your own. We recommend the company Take Me Tour which operates similar to Airbnb Experiences; a local guide creates and runs the tours, and the company handles booking and payment. The company protects you from any scams, and the guides rely on maintaining a great rating so the tours almost always go above and beyond. Here are the three best Bua Thong Waterfall tours:
Just the waterfall – A simple tour that leaves Chiang Mai in the morning, returns in the afternoon, and gets you great Northern Thai food along the way.
The falls plus an ethical elephant sanctuary – A nice tour that combines the falls with something that's on a lot of people's Thailand bucket list. This tour visits the waterfall in the morning, then heads to an elephant sanctuary with a no bullhooks and no riding policy.
Sticky Falls plus jungle trek to the secret waterfall – The water obviously keeps flowing beyond the Sticky Falls, and there are more similar waterfalls deeper into the jungle. We wish we could be telling you how to do this on your own, but this guide has special permission from the park to take people in here. This is a very cool tour that gets you to a secret second Sticky Waterfall in the middle of the jungle.


When to visit

Because the water comes from a natural spring, the Sticky Waterfall flows year-round, and there is no off-season. If you want to have the Sticky Falls all to yourself, you should get there early in the morning. You either do this by leaving very early from Chiang Mai, or by going the day before and staying overnight in the area. We did this and were the only ones there from 8 AM when it opened, until around 9 when the first people started showing up. We stayed at a nice resort nearby with rooms for under 1000 Baht. You can see that resort here on Booking.com, and if you open that link and click the map view, you can also find other accommodation in the area, some for a bit less money, and some more luxurious options as well. There isn't too much else to do in the area, but it's quiet and the countryside is quite beautiful. If you're not a morning person, after 4:30 PM is also a good time to avoid the crowds.

Sticky Falls entrance fee

Incredibly, the Sticky Waterfall is and always has been totally free to visit. We keep waiting for someone to get greedy and start cashing in, yet it keeps being free. Yay!

What to do at the falls

When you arrive you'll park at a large grassy area with a few restaurants and toilets where you can change. From here, there is one level above you where the water emerges from the spring, and three levels below you. To keep this easy to understand, I'll call the highest level the spring, and the bottom levels will be levels one, two, and three. level three is the bottom.

You can start climbing down the waterfall from the parking area, but we prefer walking down the trail on the right, and climbing back up. You can climb up from level two to level one, and from there back to the parking. To get from level two down to level three and back up, you should take the path. A lot of people seem to skip the bottom but it's worth checking out. It is steeper so there is less opportunity for walking on the grippy rocks, but there's a proper vertical waterfall and it's really beautiful. The most fun part, and where most people spend the majority of their time here is along the top two levels. Climbing from level two back up to the parking area is very fun.

The spring up above the parking lot is worth checking out if you have time. In Thai they call it the seven colors spring (น้ำพุเจ็ดสี), although it mostly looked green and blue to me. If you go up, look at the bottom and watch how the black sand shifts around as the water pushes up through it. It's actually pretty cool to think that all the water flowing down the falls comes up out of the ground right at this spot.

Staying safe

While most of the rock here is very grippy, there are a few areas that are extremely slippery. These are mostly around the top near the parking area, but there are others as well. Move slowly and always check the grip of the next step you take before you put all your weight down. There are some ropes tied which help, but they aren't looked after that well so use them to help you balance, but don't trust them with your life

The Sticky Waterfall is one of our top things to do in Chiang Mai. Below is one more video we made the first time we visited, and below that a small photo gallery. Please let us know in a comment if anything has changed or if you have any good tips to add.


Photo gallery

---

Disclosure: This page has some affiliate links. If you click one of these links and make a purchase or booking, we will earn a small commission. This is 100% free for you and it helps us to continue creating great Thailand content that we can offer to you for free.