Complete guide to scuba diving from Rawai & Chalong – Phuket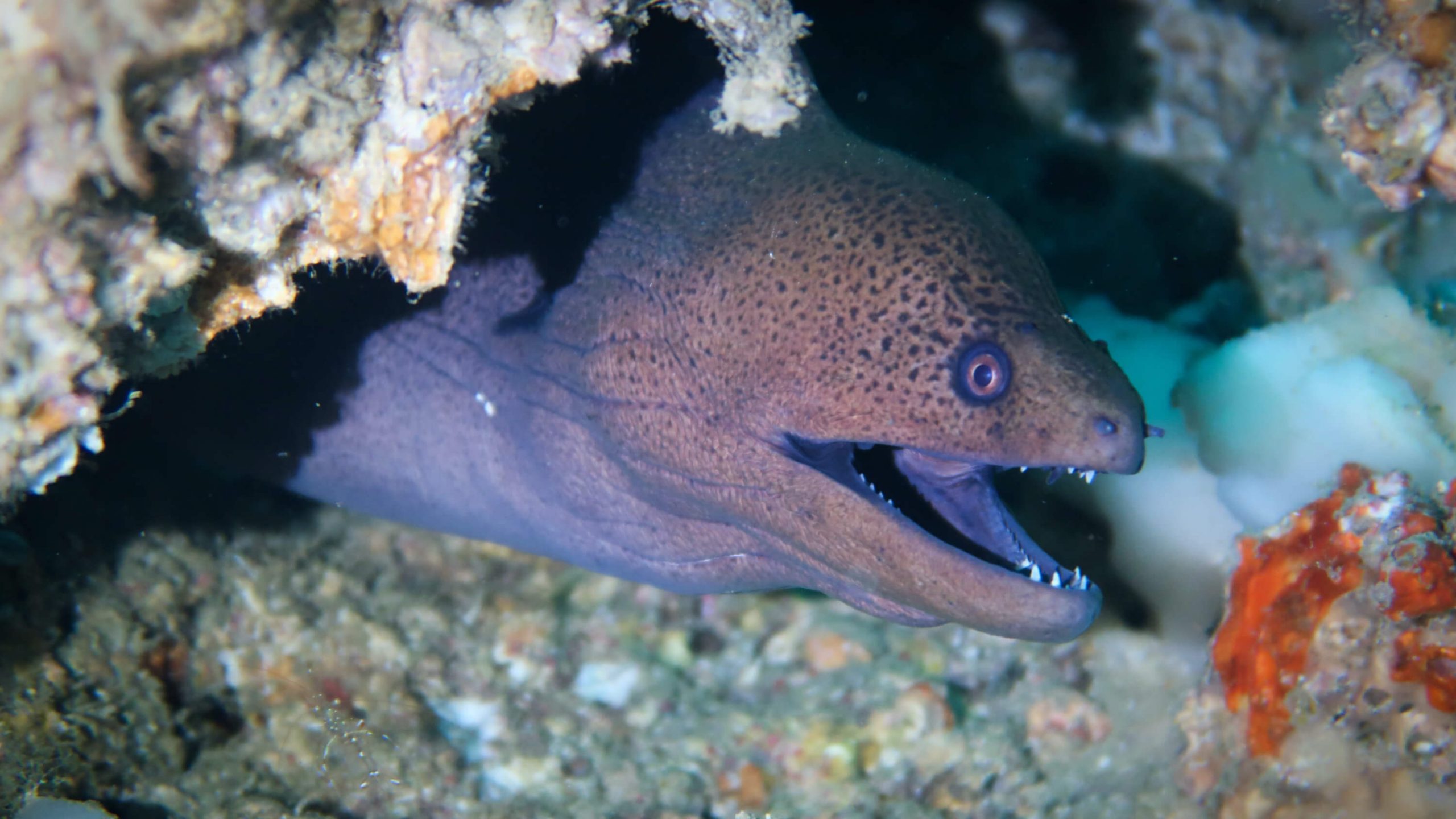 The best part of Phuket for local diving. Read our complete guide to the best dive shops and dive sites in Southern Phuket
Rawai District is the southernmost part of Phuket, and our personal favorite part of the island. Nearby Chalong District has no nice beaches of its own and so is a bit less touristy, but is the center of the diving scene in Phuket.
Diving in Phuket is mostly based here because Chalong Pier is the closest pier to the diving to the south and east of Phuket. If you book diving along the island's west coast (Kata, Karon, Patong etc.), you will most likely dive the nearby offshore reefs there, or be transported to Chalong Pier.
This guide will cover our favorite local dive companies in the area, and the different southern and eastern Phuket dive sites you might visit.
About Phuket Scuba Diving
Like a lot of things, diving in Phuket tends to be more expensive when compared with other dive destinations in Thailand, especially places like Koh Tao.
If you're on a budget and you will be traveling to lots of other islands, you might think about skipping dives in Phuket. A day on the boat with two dives and gear typically runs about 4000 Baht ($130 USD) and up in Phuket. In Koh Tao you could pay as little as half that.
With that said, there is some really excellent diving around Phuket. Within easy reaching distance you'll find wrecks, caves, walls, and both limestone and granite islands and pinnacles that host huge gardens of hard and soft corals.
Large pellagic species like manta rays and whale sharks are becoming increasingly common sightings. In spots like Koh Racha, the visibility is normally always stellar, even through most of the monsoon season.
Rawai & Chalong Dive Companies
We are somewhat biased as we do all of our diving in Phuket with the company Aloha Diving. With that said, we'll give a quick overview of them, as well as other shops we've heard good things about.
Aloha has its dive shop in Rawai, not far from Rawai Beach on the way toward Nai Harn. Their 16-meter boat, the MV Matchanu embarks from Chalong Pier.
What really makes Aloha stand out is the fact that the boat is limited to just 12 divers each day. Compared to a majority of the dive boat operators in Phuket taking out 30, 60, even 80 divers at once, this feels like being on a private charter.
Also, you book with Aloha and go out on the Aloha boat. Most shops contract out at least some of their diving to other dive boats.
Another thing we really like about Aloha is their enthusiasm. Too often we dive on boats where the divemasters seem bored and jaded. With Aloha, the pre-dive briefings are thorough, and the divemasters seem just as stoked as the guest divers during the post-dive "that was so cool!" wrapup sessions.
Pro tip: No matter who you dive with, we recommend going with a company that doesn't have a set schedule for each day of the week. The bigger companies tend to do this as it aligns with the needs of the tour shops and booking agents. The problem with this is it takes away the flexibility to go where the visibility will be best, where the currents will be most cooperative, where the divers on the boat actually want to go, and where the huge dive boats with dozens of divers are not.
Other dive companies
As mentioned, we have only ever been diving in Southern Phuket with Aloha and we're always so satisfied we've never even tried another company. …And yes, we do pay our way.
As the Aloha boat is limited to 12 divers per day though, we do want to provide some options in case you are not able to book with them in time. Other companies who we have heard good things about and who have good reviews online are:
Phuket Dive Sites Near Rawai & Chalong
The main South Phuket dive site destinations lie to the east (Koh Mai Ton, Koh Doc Mai, Shark Point, Anemone Point, King Cruiser Wreck), and to the south, (Koh Racha Yai, Koh Racha Noi).
Dive sites to the east of Rawai and Chalong
Koh Mai Thon
Koh Mai Thon is the closest island with great diving to Chalong Pier, about 15km out. The island features six dive sites made up of mainly hard corals, sea fans, whip corals, and barrel sponges.
Koh Mai Thon has a resident pod of dolphins, and some divers might be lucky enough to see them. Leopard sharks and eagle rays are also not uncommon here, as are turtles.
It's a great spot for macro enthusiasts with plenty of small shrimps and nudibranch. There are lots of moray eels, false clown anemonefish (Nemo!), lionfish and scorpionfish.
Koh Doc Mai
Another 7km further east from Koh Mai Thon is the beautiful island of Koh Doc Mai. Koh means island in Thai and doc mai is flower, so the name means flower island. The story we've heard is that this is due to the abundant tube corals that look like flowers when their tops are open.
The island is entirely comprised of limestone and has that familiar geology of places like Koh Phi Phi and Krabi. It is uninhabited and covered in a small but dense jungle.
A typical dive here usually means covering half the outer perimeter of the island. The western side slopes down at a 45-degree angle while the east side is a vertical wall reaching down to about 22 meters. The eastern wall has two caves that are worth a look (bring a torch!).
Currents can be strong here and the visibility is usually a bit less at Koh Doc Mai than at other spots, but it really makes up for that in the beauty of its soft corals and abundant life.
There are lots of shrimp and nudibranch, ghost pipefish, seahorses, lizard scorpionfish, moray eels, turtles, and schools of pelagic fish. There is one overhang out away from the wall where nurse sharks are often seen.
The KSA Cluster
Still to the east of southern Phuket, the so-called KSA cluster is an acronym describing a group of three neighboring dive sites. These sites are more than halfway to Koh Phi Phi and draw divers from both Phuket and Phi Phi. The dive sites are:
King Cruiser – a ferry that sank in 1997 after hitting nearby Anemone Reef
Shark Point – a limestone pinnacle protruding two meters above the surface
Anemone Reef – a limestone pinnacle reaching to within three meters below the surface
The King Cruiser Wreck
A Phuket to Koh Phi Phi passenger ferry that sunk in 1997 after hitting Anemone Reef, the King Cruiser wreck has created an artificial reef teeming with life.
The wreck is 85 meters long and 35 meters wide, and sits in 32 meters of water. Much of the diving takes place comfortably at around 20 meters. Most of the wreck is not considered safe for penetration as it is fairly unstable.
Currents here can be mild or strong, and visibility can vary widely as well, so timing is everything. In the right conditions, this can be dove by beginners to advanced divers.
King Cruiser is a magnet for large schools of fish including trevally, barracuda, and batfish. Nurse sharks can be seen, as well as octopus, lionfish, box fish, and more.
Shark Point
Shark Point emerges above the surface and is marked with a light to alert ships to the danger of this limestone pinnacle. Below the surface, the rock is covered in a garden of red and purple soft corals.
The site gets its name from the numerous leopard sharks that like to sit in the sandy bottom below the rocky pinnacle. Don't forget to look up as well though, as this is one of the better sites for spotting a rare whale shark.
Shark Point also gets pharaoh cuttlefish, turtles, blue-spotted stingrays, banded sea kraits, moray eels, plenty of types of anemone fish, seahorses, and more.
Anemone Reef
This submerged limestone pinnacle is covered in a bed of soft corals, and as the name suggests, in hundreds of anemones. This of course makes for an abundance of anemone fish and porcelain crabs.
Anemone Reef is another spot where you could get lucky and see a whale shark. You'll want to keep an eye out into the blue anyway as schools of snapper, barracuda, mackerel, trevally, and tuna are often cruising by.
Besides that, there are the usual residents — turtles, moray eels, sea snakes, seahorses, scorpionfish, lionfish, and more.
Dive sites to the south of Rawai and Chalong
Going pretty much due south from Chalong Pier, after passing all the nearby islands, you come to mostly open seas with just two islands that can be see in front of you: Koh Racha Yai, and Koh Racha Noi
These two islands are completely different from all the limestone dive sites mentioned above because they are comprised of large granite boulders, similar to the geology of the Similan Islands.
The Racha Islands have much more sandy bottom and much less coral, in particular fewer soft corals. What they lack in that area though, they make up for in water clarity. Normal days here are 20 meters+, and 30 meters is common, even during the monsoon season.
Koh Racha Yai
Racha Yai at first glance doesn't have all that much going for it beyond the clear water. There are a few intentionally sunk small boats, and even a little moped, but that attracts more divers posing for goofy pictures than it does marine life.
Still, you can have some good dives here, and there is often interesting marine life. As the waters are quite deep around the island, large pelagic fish often cruise by. Racha Yai is a good place to do your wreck diver specialty course in Phuket.
Koh Racha Noi
Racha Noi is further south, and is definitely the better of the two islands for diving. The island itself is uninhabited, but look for the wild goats that call the island home.
There are around half a dozen dive sites along the north, east, and south of the island, mostly featuring hard coral gardens interspersed with pure white sand. Keep an eye out here for octopus, stingrays, all types of moray eels, sea snakes, pipefish, frogfish, stonefish, and scorpionfish.
Turtles are seen fairly commonly, and eagle rays pass by often. Racha Yai is the best dive site in the area to see manta rays, especially at the southern tip of the island. The southern tip however is the hardest to dive as currents are very strong most of the time.
Not far out from the island, the bottom gets down to 60 meters + so a lot of large pelagic fish tend to cruise by just outside of the shallows. You'll likely see game fishing boats trolling back and forth out a bit deeper than where your dive boat moors.
Rawai Shore Diving & Nearby Islands
There is some diving closer in to Rawai, although whether or not it's worthwhile is debatable. People do dive out from Ya Nui Beach, as well as from Ao Sane Beach. There is a small dive shop at Ao Sane where you can rent gear. Visibility at either site ranges from bad to okay, and marine life is about the same.
"Buddha Island" off of Laem Promthep and the island behind it (they're actually called "Koh Kaew Yai" and "Koh Kaew Noi") have some decent reef and marine life, but visibility is generally limited to less than 10 meters.
Koh He (aka Coral Island) is a popular day trip spot 20 minutes from Rawai Beach by longtail boat. It's a popular place for tourists to try Discover Scuba Diving and isn't bad for a bit of snorkeling. If you're paying Phuket prices for a day of diving though and you are taken here, you're going to be disappointed.
Where to buy dive gear in Rawai & Chalong
All dive shops can rent you any of the gear you need, but if you want to pick up some of your own, there are a lot of options. All of the dive shops around Phuket have at least a limited retail stock of masks, snorkels, fins, and usually, a few options for small dive lights, knives, carabiners and clips, and sometimes dive computers.
For anything more than that, head to the main road going west from Chalong Roundabout (the pier is due east from here). There are a few larger dive supply centers along here including Dive Supply (Google Maps location), the biggest and best with locations all around Thailand.
Note that Thailand has high import duties on many items not manufactured in Thailand. Because of this, most items in dive shops will cost more than they would in many other countries.
Photo Gallery
Read our guide to Scuba Diving in Koh Chang if you'll be in that part of the country. Koh Chang has Thailand's best wreck dive.