Koh Lanta Scuba Diving – Everything you need to know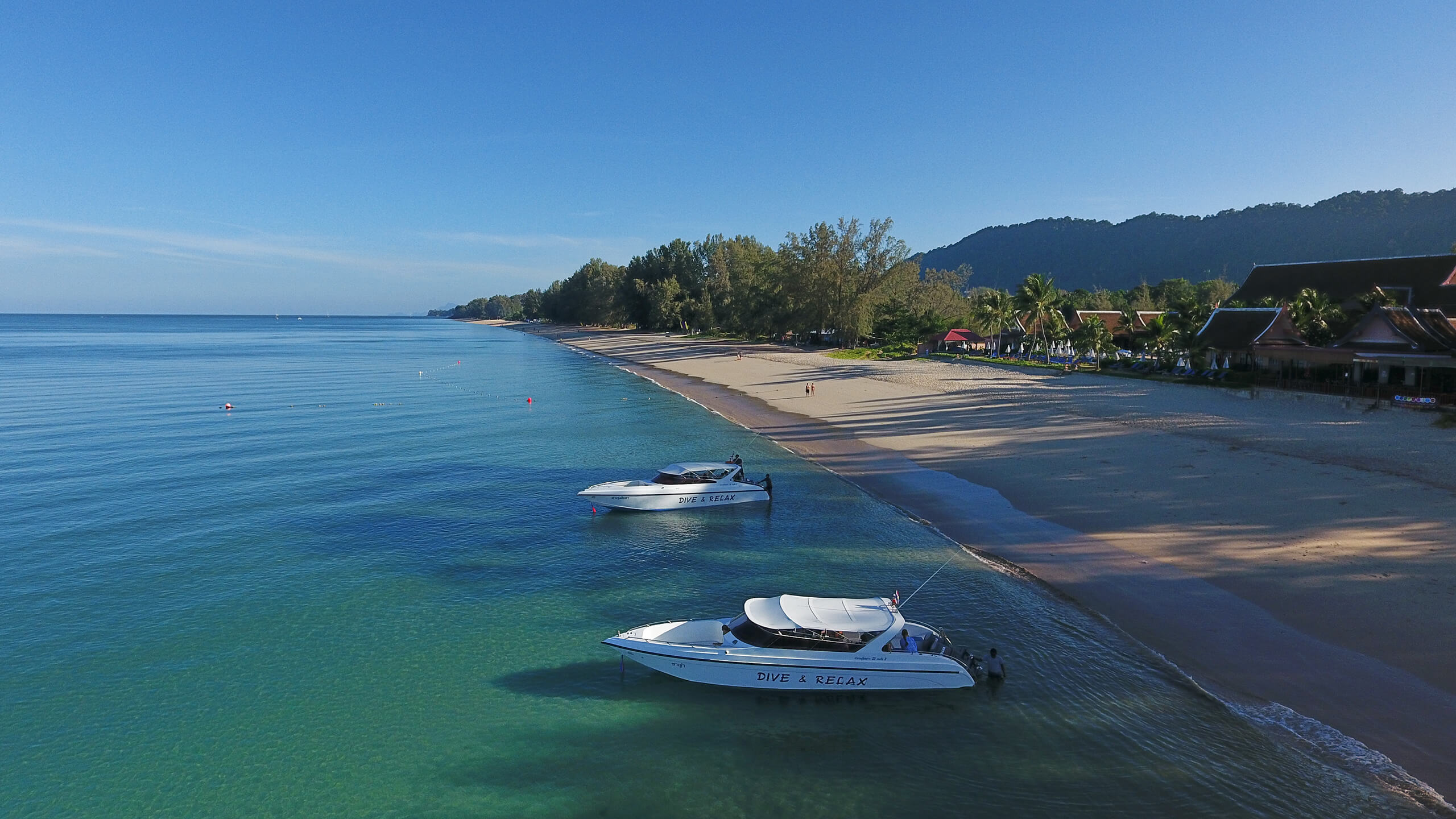 Credit: Dive & Relax
The Andaman Sea has some of the best diving in the world, so if you've already dived the Gulf, you're in for a treat.
Whether you're planning to dive for the first time, as part of another trip, or you're planning a dive drip combining multiple destinations – Koh Lanta is a great choice for diving, beaches and relaxed island vibes.
The Andaman Sea has some of the best diving in the world, so if you've already dived the Gulf, you're in for a treat.
Getting to Koh Lanta
Departing from Bangkok, you should fly to Krabi Airport (1 hour inexpensive flight), which is the closest airport to Koh Lanta. Driving from Bangkok takes approximately 12-15 hours and an overnight bus even longer, but the bus is technically the cheapest option.
After arriving at Krabi airport, you can rent a car and make the 2 hour drive by yourself (our choice), take a shared mini van (cheapest option), a private taxi, or the fastest option is a minivan to the coast and a 20 minute speedboat ride to the island.
Before booking flights, keep in mind that although there's a bridge being constructed to Koh Lanta, it still requires a passenger boat to cross a narrow stretch of water to get on to the island, which makes it more difficult for evening flights.
If you're already in the South, and/or coastal, such as Phuket, Phi Phi or Ao Nang, there are many options to arrive in Koh Lanta, including dozens of passenger ferries as well as minivans and big buses heading through Krabi town.
For more detailed directions and travel options, visit our Koh Lanta travel guide.
Why Koh Lanta?
The first consideration may be comparing the Gulf of Thailand and the Andaman Sea. The Andaman Sea is well known for great diving and our hundreds of dives here, most of the 'big stuff' we've come across including manta and dolphins were in the Andaman Sea. That's not to say the Gulf can't compete though.
Our dive trips are usually focused on two areas, put simply the East and West sides of the Phang Nga bay (see pic below). The West is the Similan Islands which you can access from Phuket or Khao Lak and the East contains some great dive sites accessible from Ao Nang, Phi Phi and Koh Lanta. In our opinion if you only want to stay in one location, Koh Lanta is a good choice for beaches, travel, chilled vibes and island life. Phi Phi is quite crowded with tourists, less culture, and more parties. Ao Nang is a good destination, close to famous Ton Sai and Railay Bay but it's quite touristy and in terms of a beach destination, easily loses to Koh Lanta.
What to bring
In Thailand rental equipment is usually included in the price for a day of fun dives or the course you're taking, including weights and tanks/air. In cases where the boat is out for several hours or more, food and drinks have always been included too. usually with some fruits on the way back to the beach.
Here are some ideas of other things to bring:
Motion sickness pills – always a must for me. I've ruined, and seen ruined, too many days of diving in the boat toilet. Buy the pills for 5 baht from 7-11 so you can take them 30 minutes before you get onboard.
Dive gear – If traveling with a full set of dive gear, you're due a discount. This doesn't include your tanks/air or weights/weight belt, they're included in the price you paid for fun dives or your course.
Reef safe sunscreen – Most experienced divers know this already but chemicals in your sunscreen harm our corals. It may be easier and cheaper to purchase before your trip.
Snacks – Less essential if you're on a speedboat, but if you're on a big slow boat, snacks are great for the ride back.
When to go
Diving conditions are never certain but November to April has usually given the best conditions with calmer water and cooler weather. For the best conditions we'd recommend diving during this time. However conditions can be good in any month, so diving is not out of the question if you happen to be in Thailand during the low season.
If you are in Thailand during low season, contact your dive centre to check their schedule. They can tell you how the conditions have been recently, what dive sites are likely available, and what their schedule should be like.
Tip: Don't ask a dive centre to predict future weather or visibility 😉
Typical conditions
We all want to know where to find 30 degree water with 30 meters of visibility. Koh Lanta has it, but it varies throughout the year. Visibility can be as low as 5-10 meters after stormy weather and upwards of 30 meters during a good season.
Weather and currents will always be unpredictable though and can bring plankton at any time of year, which reduces visibility and makes the water green. The good news is that with more plankton you're more likely to see the big stuff, like manta ray and whale sharks.
Throughout Thailand, temperatures vary between approximately 26 and 30 degrees. If you're bringing your own wetsuit, 3mm would be ideal. Many divers also dive in just shorts and a rash guard.
Where to stay
Dive centres will provide pick-up and drop-off in the morning and afternoon if you're not too far away. The West and specifically North West of the island on Phra Ae or Laem Kho Kwang beach would be perfect as the beaches are very nice, clean, and quiet.
We stayed quite central at N.T Lanta Resort on Phra Ae beach, directly next to our dive centre Dive & Relax.
Choosing a dive center
We always start my search for a new dive centre on Google Maps by finding my hotel location then simply searching for 'dive centre'. Then we pick out all of the places with the best reviews, check out their boat, facilities, and finally, price.
For Koh Lanta, we found Dive & Relax. They had over 100 reviews and a really high score of 4.9/5. We really liked their website so in this case booked my hotel close to the dive shop instead of the other way around.
They also have a speedboat so we were able to arrive at dive sites and get in to the water before anyone else. By speedboat you can easily dive and be back on the beach 3 hours faster than big dive boats if you're looking further afield than just local dive sites.
All of the dive companies we found when researching had great reviews, so you can't pick wrong, but we can recommend Dive & Relax for professionalism, the speedboat, and how much effort they put in to getting to dive sites we wanted to see.
Dive sites
There are enough dive sites accessible from Koh Lanta by speedboat to keep you diving every day. Having the speedboat available was perfect because I wanted to dive at Phi Phi but also wanted to stay in the more relaxed vibe of Koh Lanta.
Our favourite dive site was Koh Haa and specifically The Cathedral. Not to be missed for more experienced divers.
Hin Daeng & Hin Muang
Hin Daeng (Red Rock) and Hin Muang (Purple Rock) are two beautiful, pinnacles and famous dive spots situated in the open sea around 1 hour from shore and is ideal for experienced divers. Both pinnacles (around 100m apart) can be subject to strong currents, bad visibility and rough surface conditions.
Dive here between November and March for the best chance to see Mantas and Whale Sharks.
Visibility: 10m – 30m+
Level of Diving: Experienced Divers
Snorkeling: No
Depth: 0m – 60m+
Journey time:60 minutes (speedboat)
Koh Bida & Hin Bida
The Bida Islands Dive Sites (Koh Bida Nok, Koh Bida Nai & Hin Bida) are part of the Mu Koh Phi Phi Marine National Park. They are well known dive sites in the region with good coral coverage and marine life. We had bad visibility on the day but you can expect 25m+ when conditions are good.
Visibility: 10m – 25m
Level of Diving: Experienced Divers
Snorkeling: Yes
Depth: 0m – 30m+
Journey time:45 minutes (speedboat)
Koh Haa
Koh Haa (meaning 5 islands) is actually an archipelago of 6 islands. Laying only 25km off the coast of Koh Lanta, Koh Haa is a must see for both divers and snorkelers. If you have time, it would be perfect for multiple days of diving as there are at least 12 dive sites. The most popular site "The Cathedral" is a small cave and a must see for experienced divers.
Visibility: 10m – 35m
Level of Diving: All
Snorkeling: Yes
Depth: 0m – 35m+
Journey time:30 minutes (speedboat)
Koh Rok
Koh Rok Islands, comprised of two famous southern islands in the Mu Koh Lanta Marine Park (Koh Rok Nok and Koh Kok Nai). The Koh Rok Islands are perfect for divers and snorkelers and a great spot to see a beach which has probably featured on many postcards. This is also a stopover spot for lunch, which is just perfect…
Visibility: 10m – 25m
Level of Diving: All
Snorkeling: Yes
Depth: 0m – 25m
Journey time:50 minutes (speedboat)
Shark Point & Anemone Reef
Located between Koh Phi Phi and Phuke. A speedboat is ideal if visiting from Koh Lanta – travel time is around 1 hour. Shark Point & Anemone Reef has been a Marine Sanctuary since 1992 due to the diverse soft corals and extensive marine life. Keep an eye out for leopard sharks (harmless).
Located 1 mile from Shark Point and Anemone Reef is also the King Cruiser Wreck. Originally a ferry between Phi Phi and Phuket, it stuck Anemone Reef and became a dive site in 1997.
Visibility: 10m – 25m
Level of Diving: Medium
Snorkeling: No
Depth: 3m – 30m+
Journey time:50-60 minutes (speedboat)
Koh Phi Phi
Koh Phi Phi needs no introduction. Possibly one of the most popular destinations in Thailand, it's a must on most travelers to-see lists. Phi Phi doesn't just have the most beautiful limestone cliffs, white sandy beaches and Instagram-worthy viewpoints, it also has some of the best dive sites.
Because it is such a spectacular destination, the island and beaches do get quite crowded. That's why we thought it was a bonus being able to dive there from the relatively peaceful Koh Lanta.
Visibility: 5m – 25m
Level of Diving: Beginner & Medium
Snorkeling: Yes
Depth: 1m – 27m
Journey time:30-40 minutes (speedboat)
Pricing
Prices vary a small amount depending on the type of boat, equipment discount and whether or not you dive nitrox. We averaged approx 3500 baht per day for 2 dives including lunch on the speed boat with Dive & Relax (see their pricing). We thought it was a fair price for 2 dives per day including lunch and more of a premium dive experience than we are used to.
National Park fees: Unfortunately National Park fees are 600 baht per day for adults and 400 baht for children, but that is unrelated to your dive centre.
Courses: If you're diving for the first time, a PADI Open Water Course will cost approx 13,000 baht.
Where to dive next?
If you're putting together a dive trip and want to string multiple destinations together as we did, Koh Lanta is perfect.
If you've finished diving in Koh Lanta, Phi Phi and Ao Nang which share many of the same dive sites, as well as having their own, then head to Khao Lak for a short live aboard trip or day trips at the Similan Islands (the live aboard is a must though).
Already dived the Similan Islands? Transfer from Koh Lanta to Krabi and catch a relatively short 2.5 hour bus to Surat Thani (heading to Koh Phangan or Koh Tao). Diving in the gulf is totally different and Koh Tao is one of the most famous dive destinations in the world. It's also very affordable compared to other diving in Thailand.