Sanctuary of Truth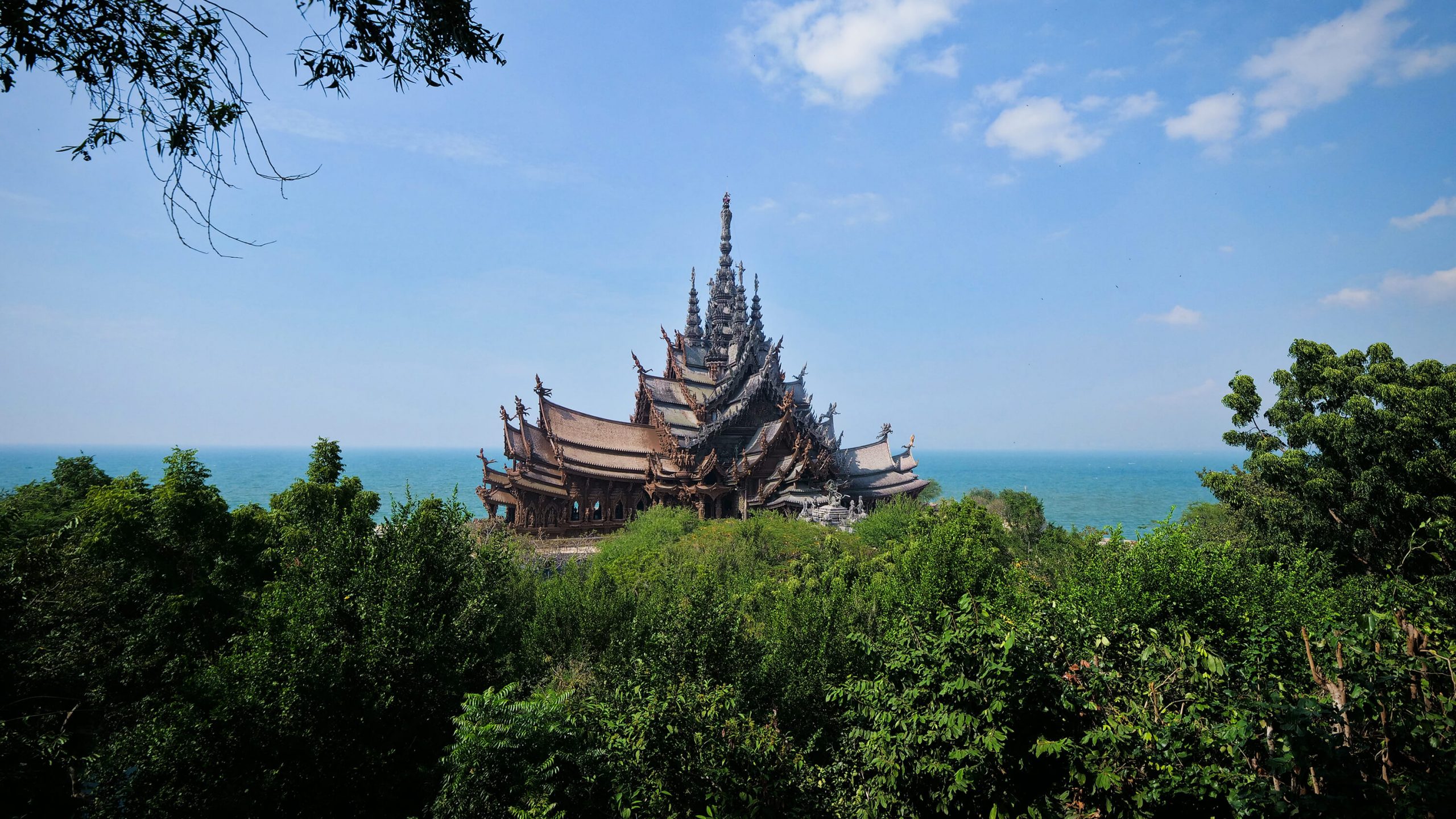 Learn about life and the convergence of cultures at the Sanctuary of Truth - a 100m tall museum built entirely out of wood.
The Sanctuary of Truth is a must see if you're planning on doing anything other than partying in walking street and lazing on the beach all day. In our opinion it's the best cultural attraction in the area, visited by both foreigners and locals.
Technically a museum, built entirely out of wood, this masterpiece has been in construction since 1981. Nobody knows exactly when it will be finished, but I was told it could take anywhere between another 20-30 years. That seems like a long time but when you see the amount of detail in the wooden carvings, both on the outside, and the inside, covering the pillars, the walls and the ceiling, it's easy to see why it might take so long.
I won't give you any spoilers for the tour, but the concept and the history of the museum is humbling. The different guides I've had explained the concept differently, but the idea is to show how we can all live together in peace, regardless of religion or background.
Set aside at least 2-3 hours to visit.
Entrance fee is 500 baht for both foreigners and locals and includes a guided tour of the museum in English or Thai.
Disabled access is available.
So is it worth visiting?

I spent almost 9 years in Thailand with countless trips to Pattaya, always seeing this iconic structure on post cards and banners but I'd never been. During my last trip to Pattaya, my friends really wanted to visit and so I reluctantly joined them. I expected a small temple on the side of the road with dual pricing, but what I found instead was a pleasant surprise, and hardly a hidden gem.
Just to the side of the carpark, there's a ticket office to buy your tickets before entering the grounds (FYI – Visa/Mastercard is accepted). A short 3-4 minute walk from the entrance you arrive at a coffee shop / restaurant / viewpoint where you can wait until your tour time/guide is ready (During the pandemic, only a certain number of people are allowed inside).
Plan time to grab a cheap 50 baht latte or espresso looking over the viewpoint.
When you're called for the English/Thai speaking guide, you'll follow your guide down some steps to grab your protective helmet (because the museum is always under construction) and walk through a lovely forested area, past a small lake and to the museum.
On my first visit I was too late (5pm) and my tour didn't include watching the craftsmen and women carving the new sections of the museum. I recommend visiting a little earlier (3pm latest?) before the workers go home so you can actually see the workers who live on the grounds building the next sections – it's truly amazing work and they'll even let you try carving some pieces yourself.
Getting there
The Sanctuary of Truth is located in North Pattaya. For reference, it's a 20 minute drive from Walking Street and 25-30 minutes from Jomtien Beach.

The easiest way to get there is to take your own car or motorcycle (lots of parking). Otherwise take a taxi using the Grab app, or, use the Grab app to get a reference price from your location and negotiate a lower price with a local taxi.