Phu Thok Mountain – sunrise in Chiang Khan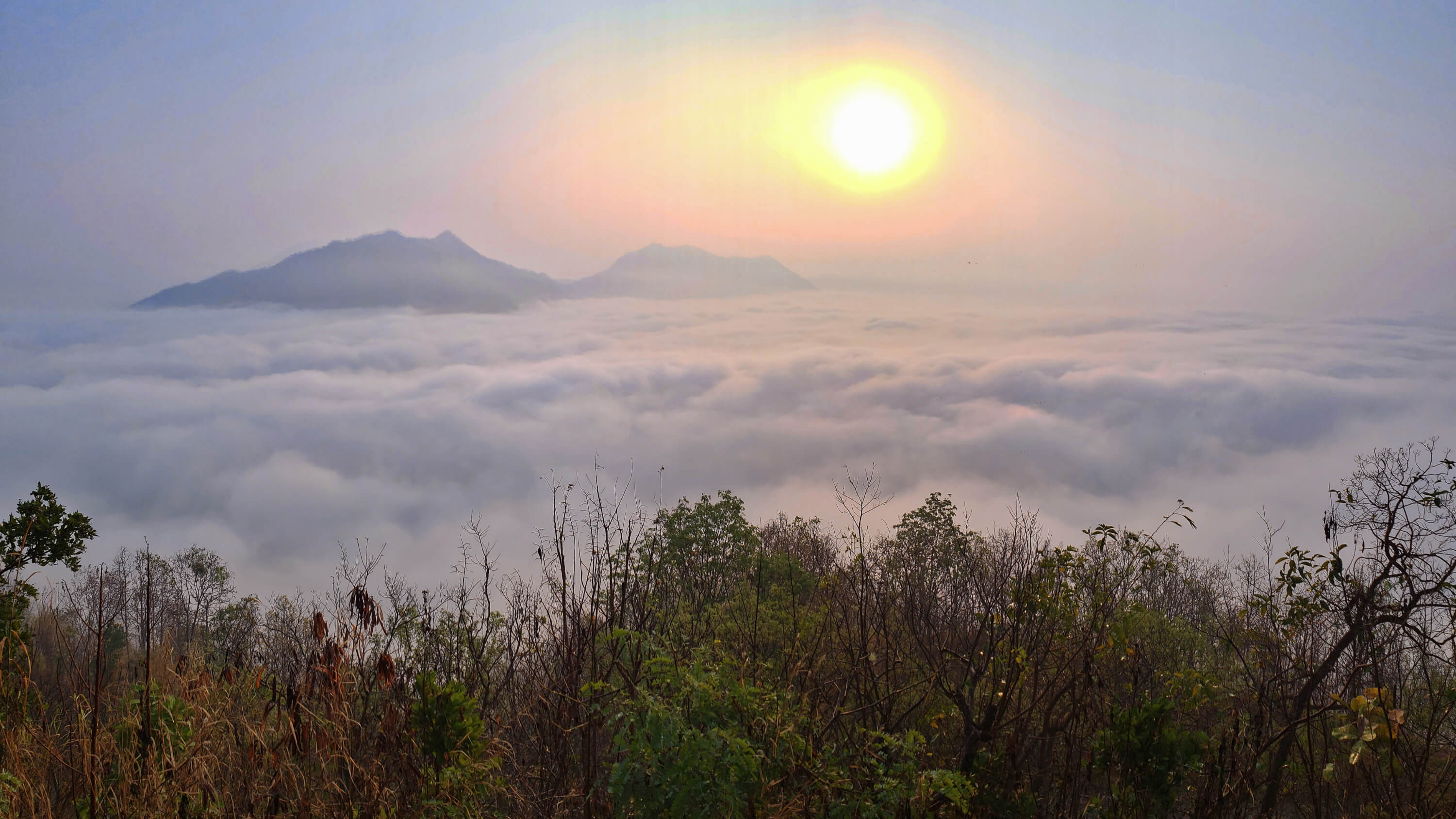 See the sunrise over a sea of mist in Chiang Khan, Loei Province
Chiang Khan is a beautiful town and one we strongly recommend to travelers looking for a very Thai experience. The sunsets on the Mekong river here are truly magical, but because of thick fog that forms during cold nights most of the year, sunrises are almost impossible to see. The way you can actually see a sunrise in Chiang Khan is to get above the clouds, and you can do that at Phu Thok Mountain (ภูทอก). Phu Thok (sometimes spelled Phu Tok and pronounced poo-tok) is just a ten-minute drive from Chiang Khan so we recommend it for pretty much any visitor.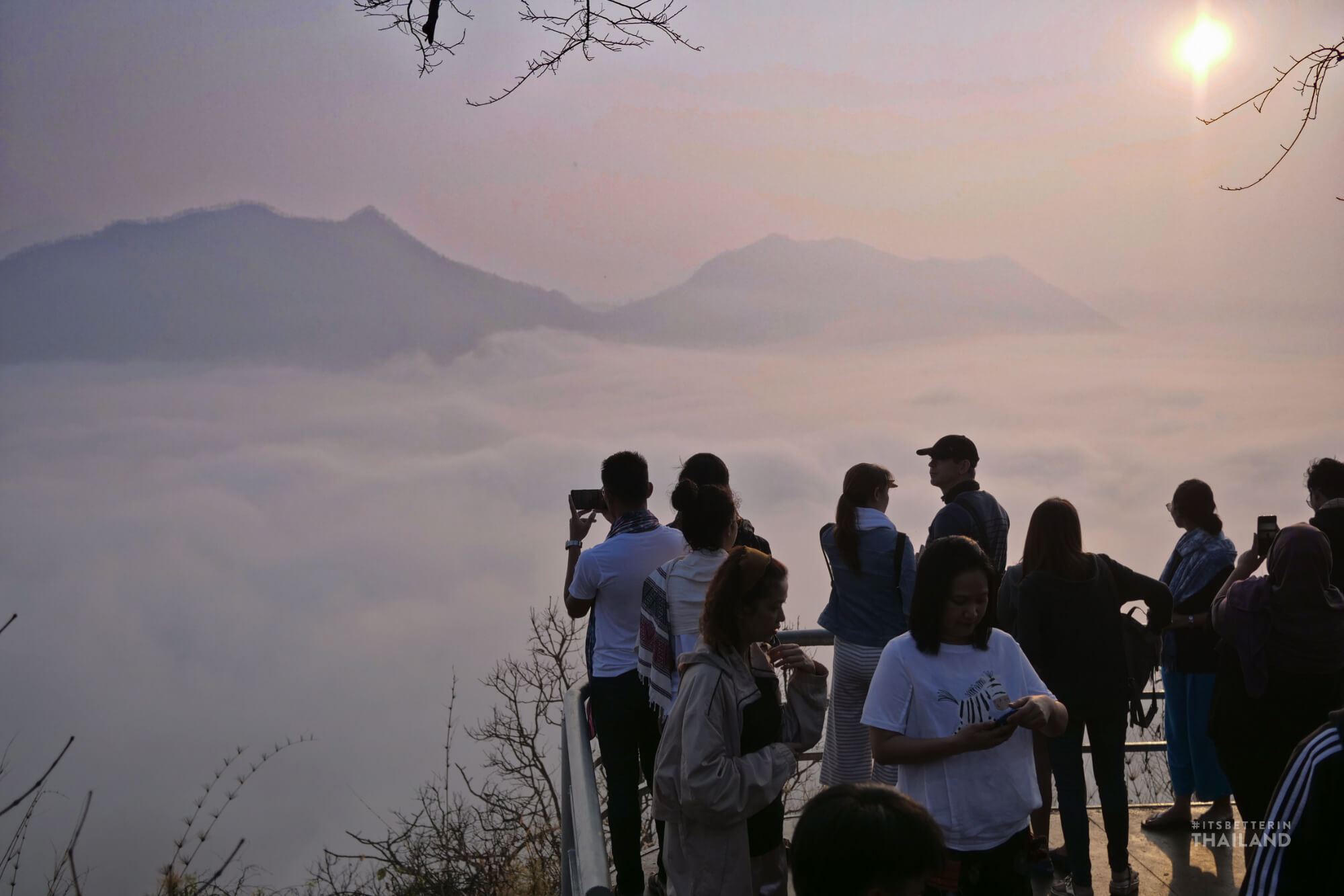 To call it a mountain may be being a bit generous, depending on where you're from. It's not all that high and the drive up only takes 5-7 minutes. Still, it's high enough to get above the fog, and that's all you need. It seems they put a cell phone tower and station up here, and later developed a tourist attraction around that.
Phu Thok mountain price
To keep the flow of people moving up and down the mountain steady, no private vehicles are allowed up. Instead, everybody parks at the base and goes up in shared transport. This is pretty efficient and definitely beats the alternative. The Google Maps location here is correct, and Phu Thok Mountain is well signposted from town. Once you arrive, you'll see people waving you into a few different parking lots. None are far from where you need to go, so park in any of them. Parking costs 20 Baht in all the lots.
Tip: There are plenty of snacks to be bought at the bottom but none at the top. If you're feeling hungry, grab something to take up.
Follow the crowds to where you see the place to buy tickets and get yours. The songthaew (pickup trucks with two rows of benches in the back) costs 25 Baht return, and you only need to give your ticket at the bottom. If there is a queue it should move quickly, and before you know it you'll be at the top.
When to go to Phu Thok
Phu Thok Mountain is all about the sunrise, and we recommend you go just before, or a bit after sunrise. One of Chiang Khan's other highlights also takes place at sunrise, so you may have to plan it right. The Chiang Khan alms ceremony sees the community and the mostly Thai tourists make merit by giving food to the monks as they make their daily walk through the town. If you have two days, you could see both in their entirety. You can also do what we did and see the alms giving, then go up to Phu Thok just after sunrise. You don't get to see the full sunrise, but it's still quite beautiful.
Tip: It gets cold up here, and driving through the mist in an open pickup truck can be cold and damp. Dress warm and bring an outer shell layer if you have it.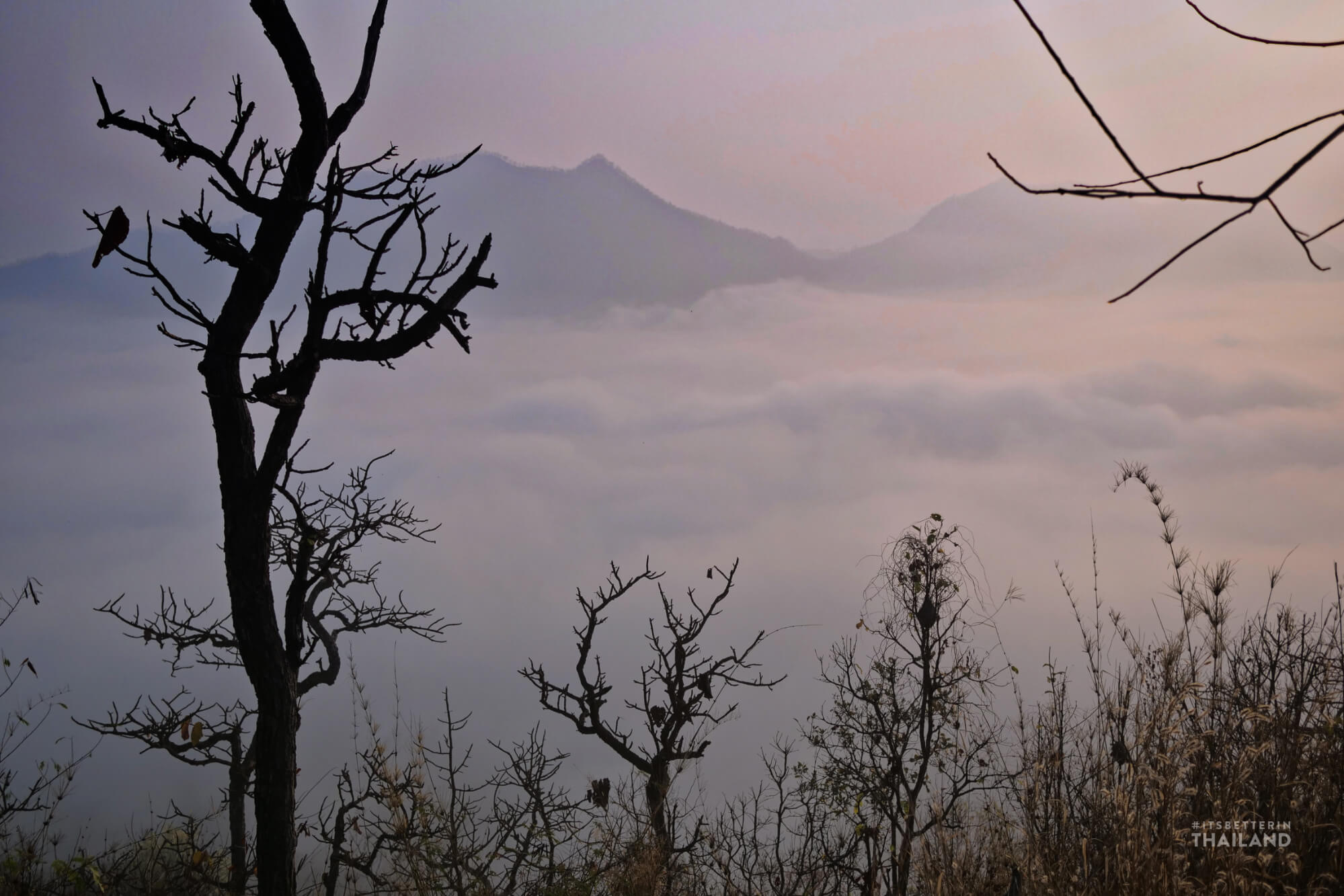 The morning fog occurs most throughout most of the rainy season (June-October) and the cold season (November-January). During the hot season, it can be hit or miss. There also is sometimes burning during that time which can make the views a bit hazy and lower the air quality. We visited mid-February and got the sea of fog but as you can see in the photos, a bit of smoke as well. You can check air quality at the Air Visual website.
The top of the mountain
There's not all that much to do up at the top except walk around and enjoy the view. There is a Buddha statue and a few signs and backdrops you can use to pose for photos with. There is a path that leads around the fenced-in mobile phone tower and walking around that gets you the 360-degree pano view. We found about 20 minutes up there to be enough, but as mentioned, we got there at the end of the sunrise.
Check out our guide to Chiang Khan activities for more great things to do here. For more around the province, see our guide to the top activities in Loei.