Phu Chi Fa – Sunrise & the sea of fog in Chiang Rai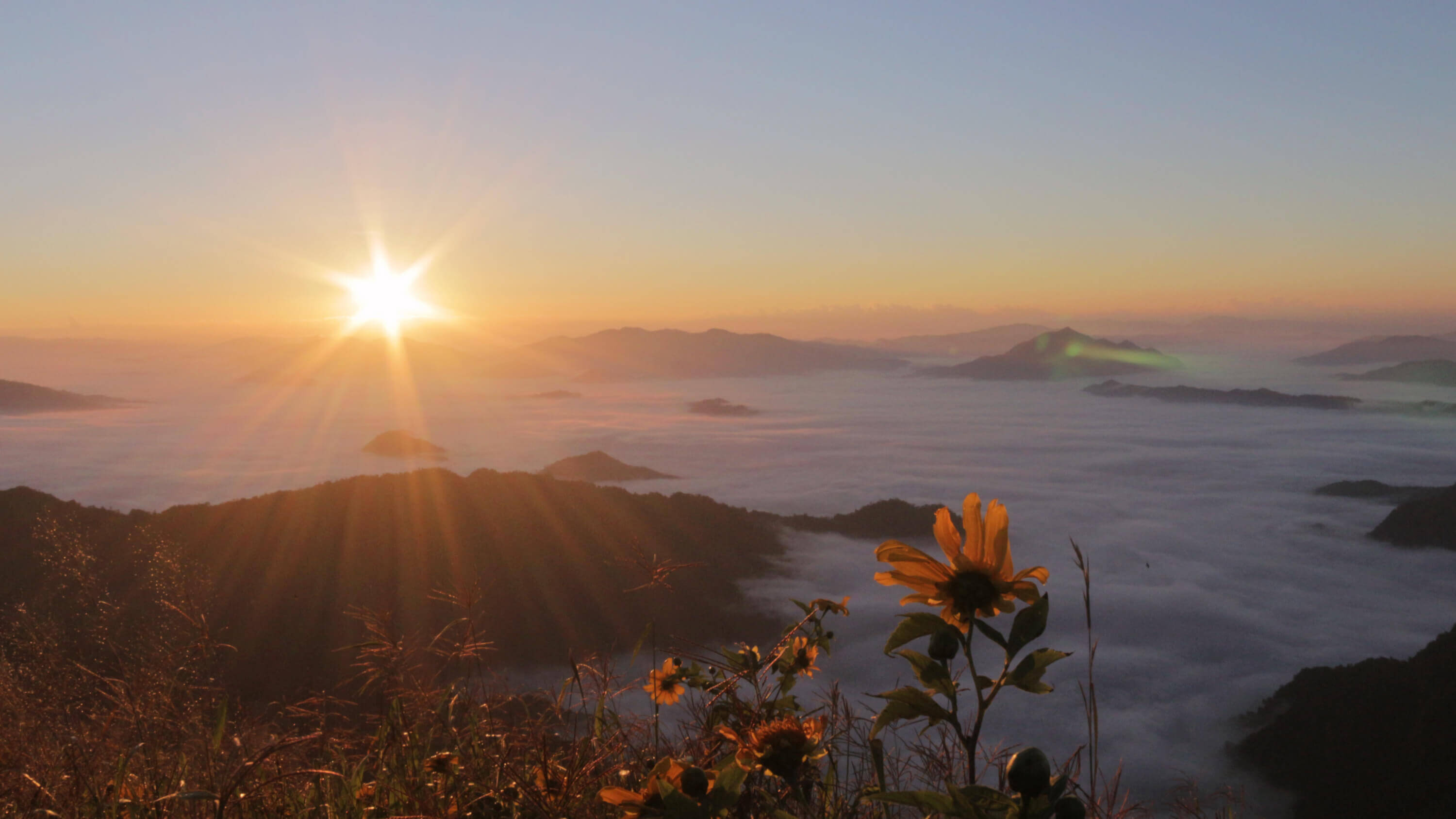 Phu Chi Fa in Chiang Rai might have the best sunrise in all of Thailand.
One of our favorite destinations in Northern Thailand is a place that's still off the radar of most foreign travelers. Phu Chi Fa (ภูชี้ฟ้า) at the Lao border in Chiang Rai is a really stunning place. It's popular with Thai tourists, so you should try to avoid it on weekends and public holiday. Go mid-week though and it's fairly quiet and quite easy to find a place to stay. This is our top activity in Chiang Rai for anyone who loves nature and the outdoors. Keep reading to find out how to get to Phu Chi Fa, where to stay, and our tips for avoiding crowds and getting that perfect photo!
Getting there
There are a number of ways to get to Phu Chi Fa from Chiang Rai city. If you're comfortable riding a scooter or motorcycle, it's a really great ride. You'll need a bike strong enough to get all the people and luggage up some steep hills. You'll also need to make sure you've got the breaks to get you down. Click the link for a Google Map with the directions for the route we took. The drive takes 2-3 hours. You should be at least an intermediate level driver to try this.
Another fairly easy option is to rent a car, or hire a car with a driver. A car at Chiang Rai Airport should be around 1,000 Baht per day or less. A car and driver would likely run around 3,000 depending on how long you plan to stay and your negotiating skills. Ask around in Chiang Rai.
Having your own transport for Phu Chi Fa is a big advantage as you don't have to worry about timing. At sunrise you will probably want to drive from your accommodation up to the parking lot at the trailhead (it would be a long walk). There is a car that can take you up for 30 Baht per person each way but it may not run if there aren't enough people. It may be hard to sort this out if you can't speak Thai. They also won't give you much time at the top as most people don't stay long. We recommend hanging around a while after the sunrise as you can have the place pretty much to yourself. But that's only doable if you aren't relying on someone else for your transportation.
Where to stay
Because it's mostly popular with Thai tourists, Phu Chi Fa has very little accommodation that can be booked online. However, if you take our advice and avoid weekends and holidays you can just show up and easily find a place. Most of the accommodation is on the uphill side of the road all clustered together in the main part of the small town. You can find somewhere with an unobstructed view if you stay opposite here, on the downhill side of the road. We stayed at one about 200 meters out of the town area and it was perfect.
For most places here, during the week it may be hard to find someone to show you the room. They'll all have phone numbers posted, but probably not anyone who can speak English. Try calling if a place looks nice and just say room a few times, someone should come show it to you. If you can't find anybody to show you the room, try somewhere else. Most places are pretty similar, and most run from 500-800 Baht per night. You may be able to bargain a bit during the week. Some places also allow camping and may rent tents for around 200 per night.
What to wear
Phu Chi Fa is fairly high up in the mountains and has cold temperatures at night year-round. You'll almost definitely need at least a light jacket. If you're riding a motorcycle or scooter you'll need a windproof layer as well. During cold season from November to February it can be downright frigid, going to as low as 5°C/40°F. Your home country might get much colder than that, but not a mere hours after a blazing hot afternoon. Also, your guesthouse won't have heat.
You should for sure try to go prepared, however you can easily buy warm hats, gloves, scarves and sweaters in town or in the parking area at the trailhead. Buying here helps support locals who otherwise have no way of profiting off the tourism in their area. Also feel free to ask your guesthouse for extra blankets, they will have plenty.
Don't miss the sunset
Phu Chi Fa is most famous for its sunrise, and so most people ignore the sunset. That's great, because it's stunning and you can have the summit pretty much to yourself. If you have your own transport, you can drive up to the trail in just a few minutes, and from there it's an easy ten-minute walk to the top. There are a few nice views you'll pass along the way too; the best sunset photos I got were from below the summit. If you get a clear night, stick around; the stars can be fantastic here. The trail is easy enough that even if you stay until dark, the light on your phone will be plenty to get you back down safely.
Sunrise at Phu Chi Fa
Dawn really is the most spectacular time here, and it's worth waking up early for. If you missed the stars at night and want another chance, get up well before first light. Regardless, you should get to the top before sunrise. If you're lucky, you'll see the famous sea of fog and a stunning sunrise over it. Sunrise at Phu Chi Fa is the busiest time at the summit. Even midweek when we were there, there were around 75 other people with us.
There are two iconic spots for Phu Chi Fa sunrise photos. There's the view over the fog which you can get from just about anywhere at the top. If you walk back away from the direction you came up (to your left as you face the sun), you can find a quieter area with fewer people and some trees you can use as foreground in photos. The second spot is the vertical cliff that stands in silhouette against the rising sun and the fog (pictured below). There are a couple of places to get this view from, and they're all within a minute or two's walk from the top, so you can go back and forth a couple of times as the light changes. You basically pass these places on your walk up.
Stay a while
I was amazed when I was there how early everybody left. The sun wasn't very high over the horizon and then everyone was just gone. I would say the sunrise wasn't even over yet. That's amazing because then you have the whole place to yourself. You can just stand there, watch the fog swirl, and let the sunshine warm you after the cold morning. There are a few trails up there that you can walk around. They don't seem to go anywhere special, but they're pretty nice and worth a stroll. There were a lot of wildflowers in November. Just be careful you don't accidentally wander into Laos (according to Google Maps you're actually already in Laos at the viewpoint.)
Ethical travel note: As in many places like this in Northern Thailand, you'll see a lot of young children dressed in their hilltribe costumes on the walk up. Their parents will likely be nearby selling warm clothing or instant coffee and noodles. The children will sing and try to get you to take photos with them for money. On the one hand this can feel like exploitation or child labor. On the other hand, in places like this that get quite a few tourists, most of the rewards of that tourism tend to go to those already wealthy enough to have guesthouses and restaurants on the prime real estate. There aren't many other ways to spread the money around to those who may need it more. There's no clear ethical answer of what to do. I chose to buy some items from the parents but skip the photos of the kids.
You may not want to leave Phu Chi Fa
Almost nobody stays more than a night, but we actually like it here so much we'd recommend staying another night if you have time. If you're there as a couple or with a group of friends, you could find plenty to do. The locals are friendly, the weather is great, food in the small town is quite good, and there are a number of non-touristy hilltribe villages around the area that you could go and see. And if it's rainy season and you miss the sunrise the first day, you'll get another shot the next.
However long you stay, it's almost a guarantee you'll love it here. Phu Chi Fa is one of our favorite destinations in the North of Thailand.