Khao Ngu Stone Park in Ratchaburi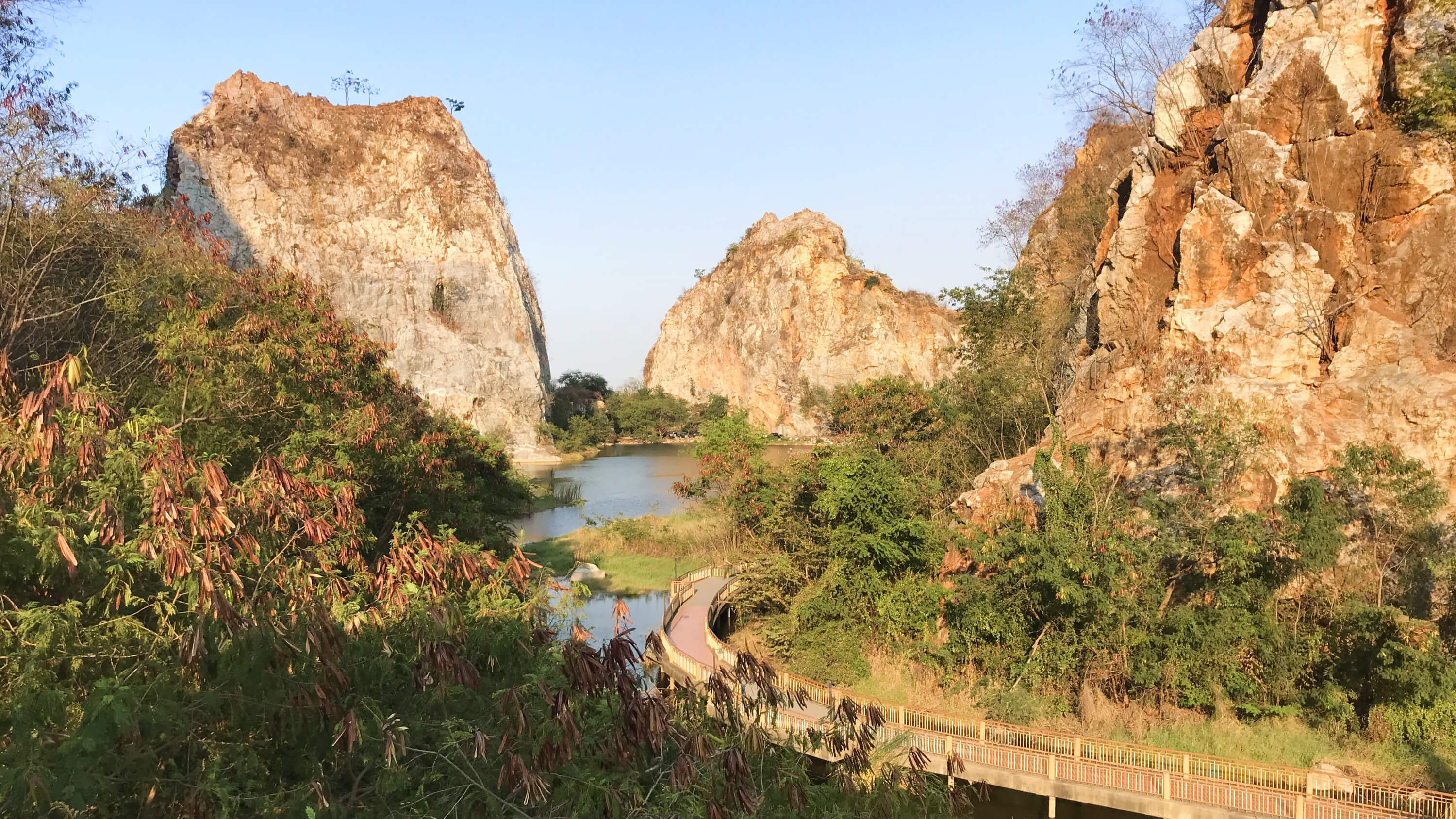 A nice activity to spend a couple of hours in Ratchaburi
Ratchaburi isn't the most exciting province in Thailand, but it has its share of nice places. One of the better ones is located just ten minutes outside of the main city. The Khao Ngu range is a series of small limestone mountains that jut up from the otherwise flat plains. The Khao Ngu Stone Park (อุทยานหินเขางู) is located in an area of the range that was previously a limestone quarry and has since been flooded with water. While not mind-blowingly beautiful, it's a nice place to come to spend an hour or two. As it's mostly popular with Thai locals and tourists, it has a nice vibe that is enjoyable if you get into the spirit of it.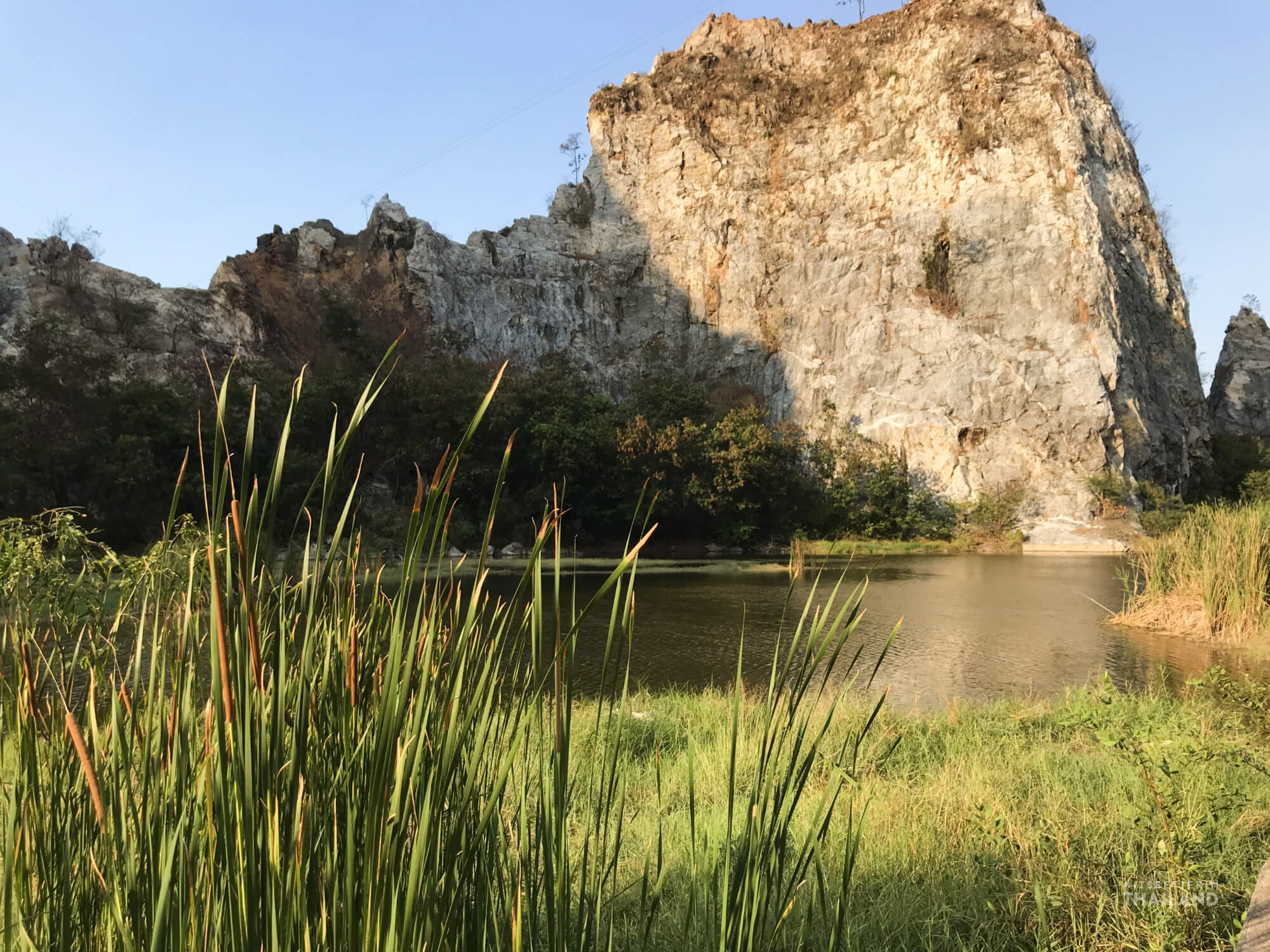 The best time to visit Khao Ngu Stone Park
As with most outdoor attractions in Thailand, you'll want to visit in the morning or late afternoon to miss the brutal heat of midday. We highly recommend pairing a visit to Khao Ngu with a trip to see the Ratchaburi flying bats spectacle just twenty minutes further out. The bats fly every day between 5:30 and 6 pm, so we recommend visiting Khao Ngu Stone Park at around 4 pm. This will leave you enough time to explore the stone park and get to the bat temple in time. If you also plan to eat or have a coffee at Khao Ngu, add on an extra half hour or so.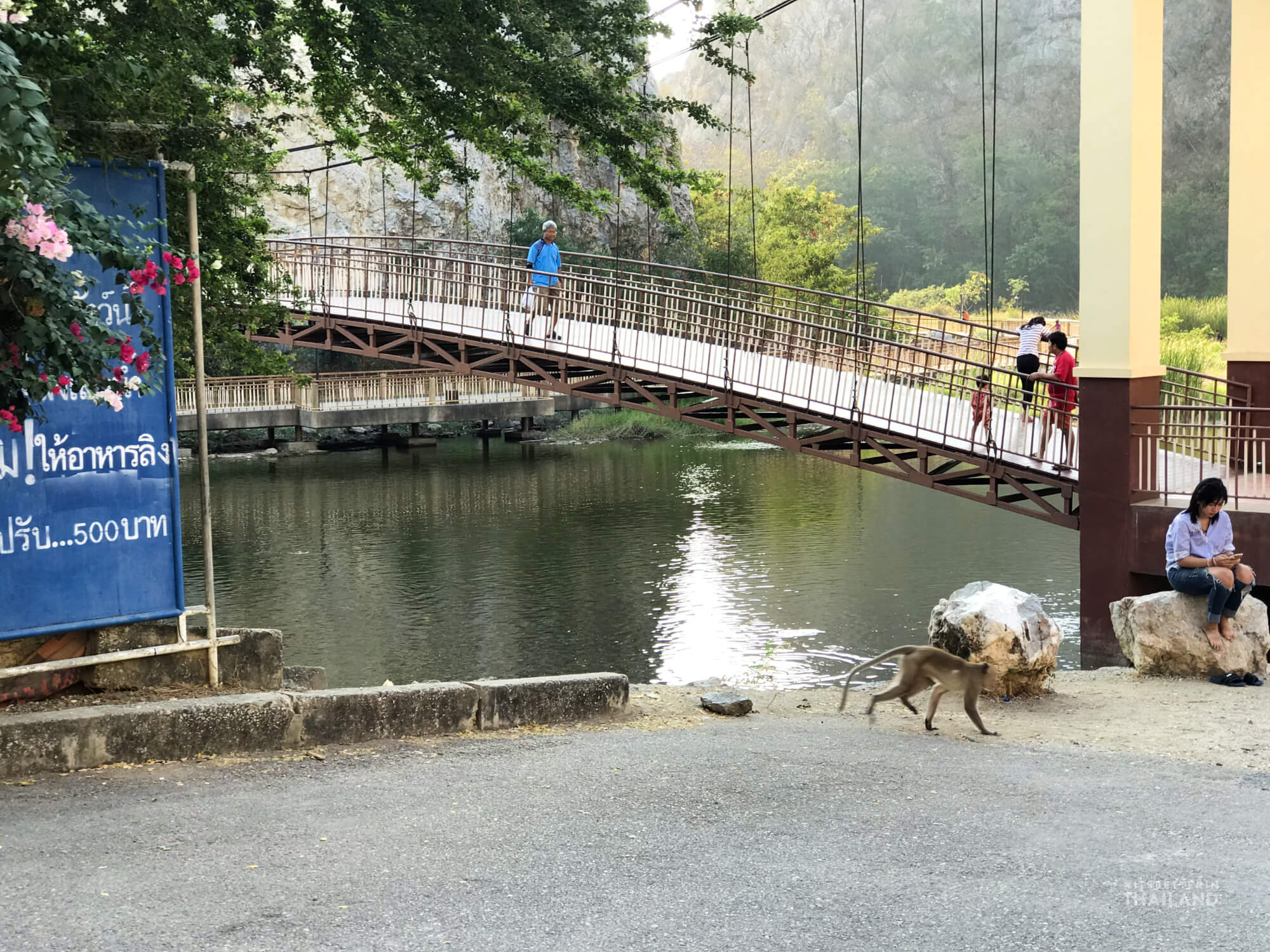 What to do at Khao Ngu, Ratchaburi
When you arrive, you'll pass a large cobra statue (Khao Ngu means 'snake mountain' in Thai) that spits out a fountain of water. There's plenty of parking just past this, then some stairs leading up. At the top of these, there are a number of small carts selling food and drinks, souvenirs, and fish food. To the left are a few restaurants. The last restaurant has some tables with very nice views over the water and the limestone cliffs.
In front of you is the water and just off to the right, there is a place to rent paddle boats. The cost per 20 minutes is 20 Baht for adults and 10 for children. They have life jackets as well. Further on to the right is a place where you can get an elevated view over the water, but you can skip this as there is a better viewpoint on the other side.
Ethical travel note: The monkeys that live in these mountains are wild. You should not feed them even if people are selling fruit for that purpose. There is a 500 Baht fine for feeding them. Also, since other people do feed them they can get aggressive and try to steal food and drinks that you're carrying. We recommend you don't bring along anything that looks like food, and especially don't let children carry anything like that, even toys.
The Nature Trail
To your left when you arrive is a small suspension bridge; this is the way to go. Cross over the bridge and you'll find a path around the edge of the water. This only goes for a minute or two so take your time and go slowly. Keep your eyes peeled as there is actually quite a bit of nature you can see. I saw monkeys, a turtle, some water birds, and a very beautiful and brightly colored kingfisher. Anywhere the path is alongside the water there will be plenty of fish waiting for people to feed them, including under the bridge.
When you get to the end of the water, there are some stairs leading up to another small parking lot. Up there, and up some more stairs to the right is a sort of gazebo. It's worth walking up to here as there are some nice views back over the water. There are also a few people selling ice cream and cold drinks over here. When you're done, just walk back the way you came.
All in all, there's not a ton to do at Khao Ngu Stone Park, but again, it's a pleasant place to spend an hour or so. A bit more if you eat or drink in the cafe.
Khao Ngu Stone Park entrance fee
As of March 2019, entrance to the stone park is free.
Getting to Khao Ngu
There are lots of signs on the road leading to Khao Ngu Stone Park, but at the final turn they seem to have forgotten to mark it. This Google Maps location is correct so just use your GPS.
Photo gallery