The incredible flight of the bats in Phitsanulok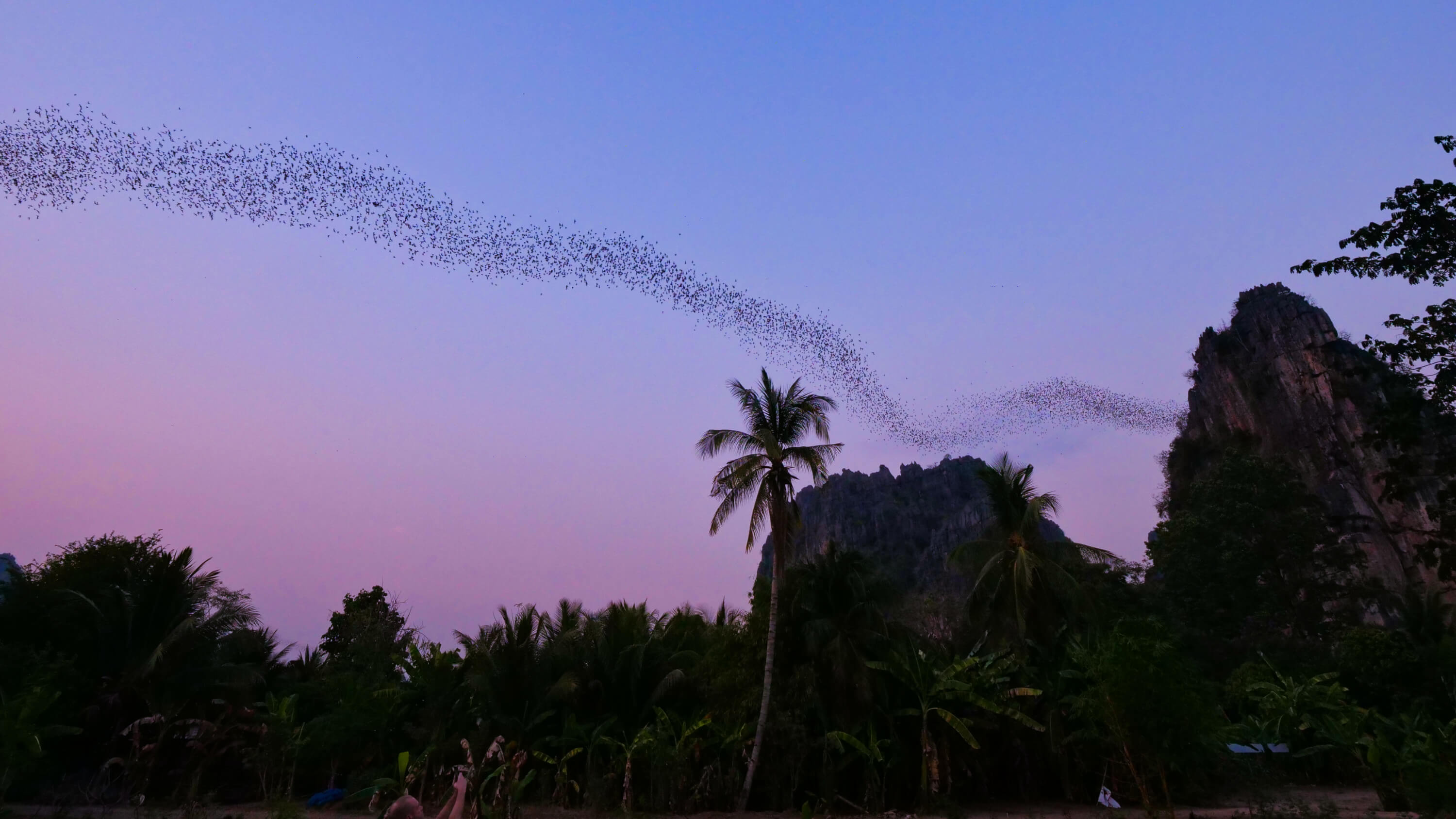 This might be the coolest place in Thailand that nobody has heard of
One thing we love about Thailand is that it can still surprise you. While hoards of tourists flock to places like Maya Bay and Erawan Falls, there are still some unbelievably beautiful spots tucked in out of the way. We just found one of those in the flight of the bats in Phitsanulok Province. This takes place every day in the town of Ban Mung (บ้านมุง) which is in Noen Maprang District (อำเภอเนินมะปราง) in Phitsanulok. The area is stunningly beautiful with limestone mountains rising up vertically from palm tree-studded farm fields. It looks like Krabi or Northern Vietnam, but there are so few other tourists here. The true highlight is during the evening when millions of bats stream out of caves in the mountains. They fly through the sky in a thin ribbon that twists, turns, and undulates in a stunning spectacle.

The area is popular with Thai tourists but not many foreigners come. As with most destinations of this type, weekends and holidays can get quite busy, but if you go during the week there are very few other people there.
Getting to Bang Mung
To see these mountains, you'll need to travel to the town of Ban Mung. This GPS location is the very center of the town where you get a great view of the mountains and is near where most people watch the bats from. There is a nice coffee shop there and a few restaurants. You'll need your own car or motorbike to go, or to hire a driver. The drive takes a bit over an hour by car from either Phitsanulok city or Phichit city. It would be much easier to hire a driver in Phitsanulok but should be possible in Phichit if you ask at your hotel. The roads are well-maintained all the way there from either city.
Seeing the bats flying at Ban Mung, Phitsanulok
According to locals we spoke with, the bats fly every day of the year, in the rainy season and the dry. They emerge from their caves just before sunset and fly for around 20 minutes. When we visited in mid-February that was around ten past six. There is a small parking area right here that was perfect for us. Most of the bats fly out from two caves which are located behind the temple. You can also go in there and see them emerging, but we didn't do that. It's not too far walking or driving from the temple into the town so you could start near the caves and catch the tail-end of the spectacle from in town. The temple location is here.
Other activities in Ban Mung, Noen Maprang
The bats may be the highlight here, but the whole area is stunningly beautiful. The best thing to do is pull up the satellite view in your maps app and just follow any road that goes along the edge of the mountains which are easy to identify in the app. If you're like us, you'll be constantly stopping to take photos of the cliffs over the fields. We were told that bicycles can be rented in town but we didn't see them. If you ask around you should be able to find them, and if it's not too hot that would be a nice way to get around.
The limestone here is pocked with caves and you can visit some of them. There are signs pointing them out, but many of these are in Thai. The Thai word for cave is ถ้ำ (pronounced like the name Tom) and it should be the first word on a sign so you may be able to identify it. There are the ones behind the temple, and some a bit further down the road you come into town on. The caves close at 4:30 or 5 pm so as not to disturb the bats.
You can find a restaurant and coffee shop with a great view at this location. They were closed when we went but a very friendly woman let us look around. They've built an elevated walkway and planted some really nice flowers. It's a great spot to take photos from. Further along down this small road, there is a waterfall but it is not overly impressive. It might be worth a look during the rainy season but not the dry season.
Accomodation in Ban Mung, Noen Maprang
It's not necessary to stay overnight to see everything the town has to offer and see the bats in Phitsanulok, but it would be quite nice if you did. Early mornings here must be beautiful, and having the day to explore the area would be great. There is a fair amount of accommodation here, unfortunately, none of it can be booked online. When Thais travel to places like this, they tend to research the trip on Pantip, a Thai website similar to Reddit. There they find the name and number of where they'd like to stay, and they call to book.
If you go plan to go on the weekend or a holiday, you should have a Thai speaker call ahead to book. During the week you can just show up and find a place, although if you can't speak Thai you'll have to play a bit of charades. The two photos below show phone numbers for two accommodation options we saw. The one on the right is a few minutes out of town and has freestanding bungalows. The place on the left is in the center of the town. At the one in town, the most basic rooms go for 300 Baht per night. They have two aircon bungalows for 800 but you'll have to use the toilet in the main house.
Photo gallery