Hat Wat Tai – A beach (kind of) in Ubon Ratchathani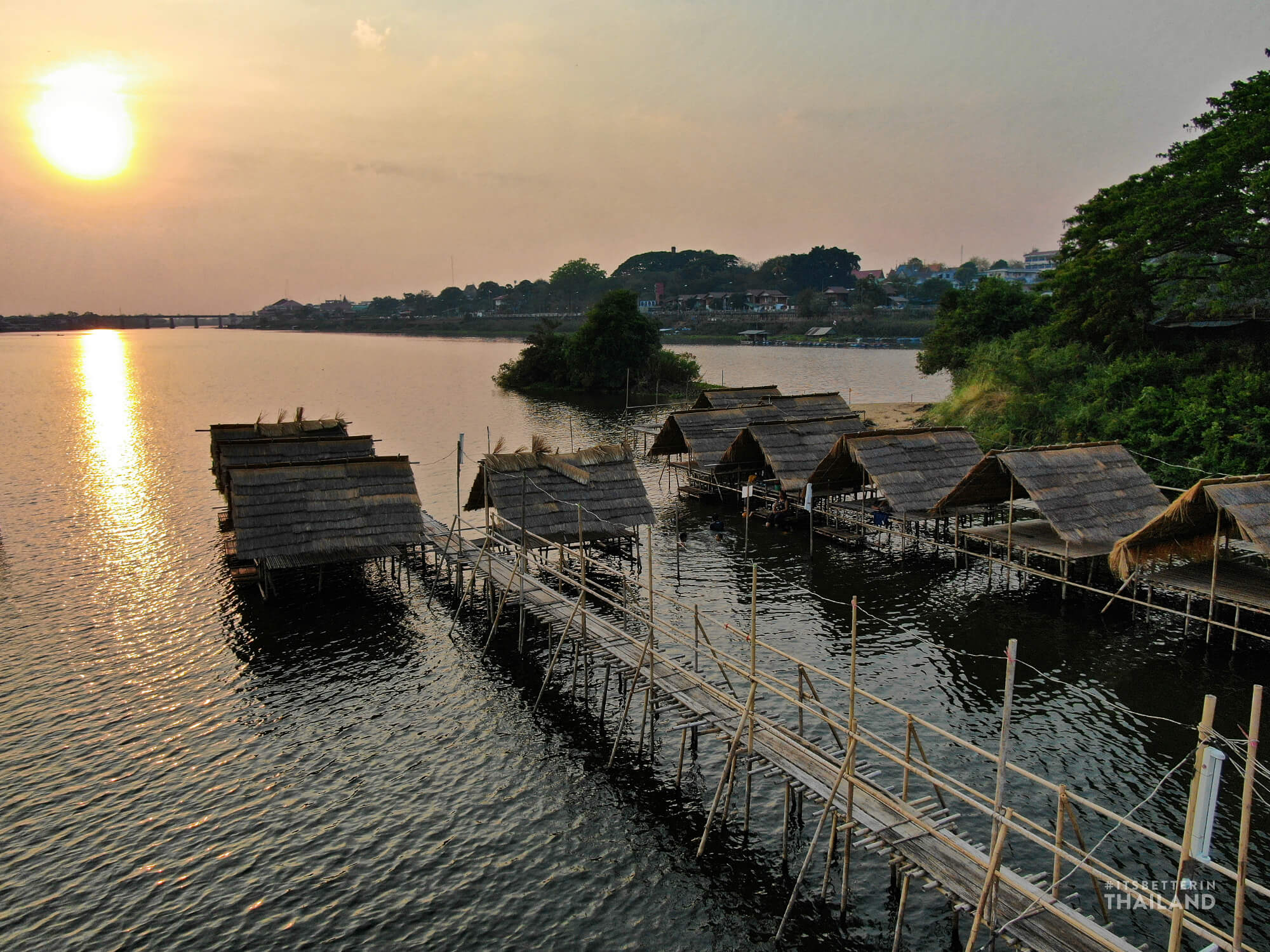 In the middle of the Mun River in Ubon Ratchathani sits a small island where locals go in the evening to unwind, eat and swim in the river. This place seems to be unknown by tourists but we were very surprised at how serene it is.
Bamboo huts sit along one side of the island and in the dry season, a small beach appears. It's not a spectacular beach but the area is definitely worth a visit.
What can you do there?
Walk across a cool bamboo bridge to get to the island. Once you get there, you will be greeted by a friendly lady who will offer you food and drink.
Dinner with a view – We highly recommend taking the lady up on her offer. We had a delicious Tom Yum (ต้มยำ) soup. We sat down in one of the bamboo huts and they bought us our food while we looked out across the Mun River as the sun went down.
The menu is only written in Thai but they have all of the usual favorites. The lady was particularly enthusiastic about the fish they'd caught in the river.
Go for a swim – You will see the locals bathing in the river. I can't promise how clean the water is but it looked okay. I went for a dip and it was very refreshing!
Watch the sunet – Grab some food or a drink and relax as the sun sets over the horizon, shining a beautiful orange glow across the river.
Perfect place to bring a date – You have just met a nice local Thai girl. Bring her here, treat her to dinner and watch the sunset together. You will definitely be in her good books!
How to get to Hat Wat Tai
There is not much information online about how to get here. It isn't even marked on Google Maps. I had to zoom in on the satellite picture and look for the footbridge to see where it starts. Head to this GPS location, which will take you to a small carpark at the foot of the bridge.
How much does it cost?
It doesn't cost anything to go onto the island but there is a parking fee. This is 20 baht for a car and 10 baht for a motorbike. You may be expected to at least buy a drink from the vendor on the island though.
Gallery