Chiang Khan Walking Street – a great night market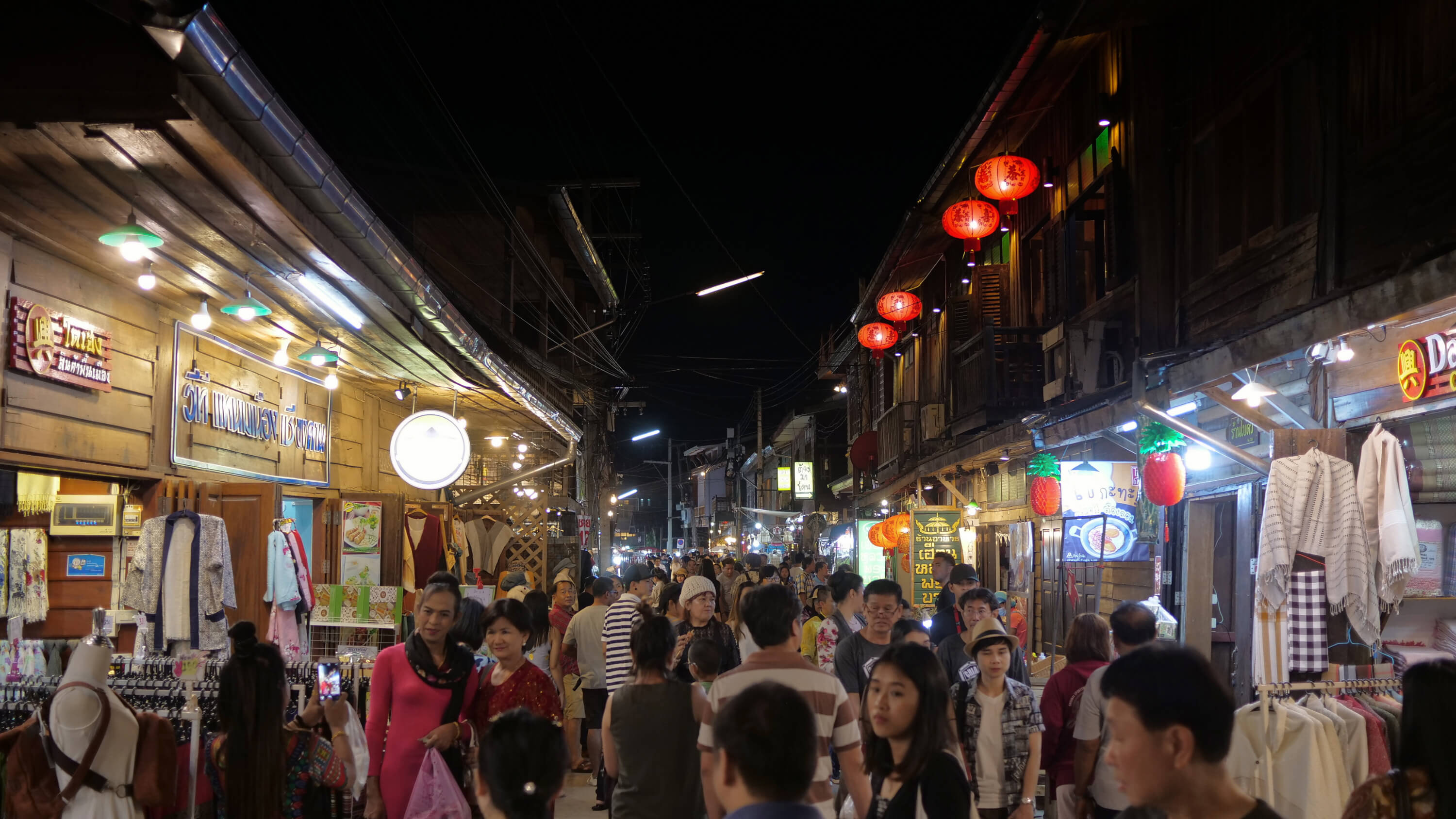 A lively night market that's definitely worth visiting
Chiang Khan is a really lovely town and one of the best things about it is its nightly walking street. Just in from the Mekong River, this road closes to traffic at night and becomes a lively market that stretches for kilometers. The look and the concept of this market is similar to the walking street in the backpacker town of Pai, but there are no backpackers and almost no foreigners here. This night market is one of our top activities in Chiang Khan and you shouldn't miss it when you're here.
What to do on the Walking Street
The main thing to do out here is pretty much the national pastime of Thailand… eat. There is a dazzling variety of food being made and sold, much of it local delicacies you can't find in other parts of Thailand. Almost everything out here is quite cheap so the best thing to do is just try a bit of everything. The main specialty is tiny shrimp and crabs skewered and grilled. Another is candied coconut and other fruit. Most food is made for takeaway and you can absolutely snack as you walk.
There are plenty of restaurants as well and it can be great to get a seat near the street and people watch. The quality of restaurants tends to be quite high as Thais have exacting standards.
Chiang Khan Walking Street bars
There are a few bars along the walking street and these are also great people watching spots. They can be a bit few and far between though so when you see one and you're thirsty, get in there. You will also see some businesses with large brown plastic barrels that spin back and forth. These are selling cold beers and other drinks for takeaway. While you can generally drink on the street in Thailand, Thais here are fairly modest with it and take them in bags that cover the label. They'll probably also give you a straw with your beer. Nobody would look twice to see a foreigner drinking a beer but if they give you the bag you may as well take it. Please skip the straw though, for many many reasons.
On the same road but a bit out of the market area,
Jo+ Beer
is a really cool craft beer bar. The owner brews really solid craft beers and has a great selection of US and European beers in bottles and cans. They are really cool guys there and we highly recommend this place. This
Google Maps location
is basically correct. You can get into the bar from the Walking Street road or the riverfront walkway.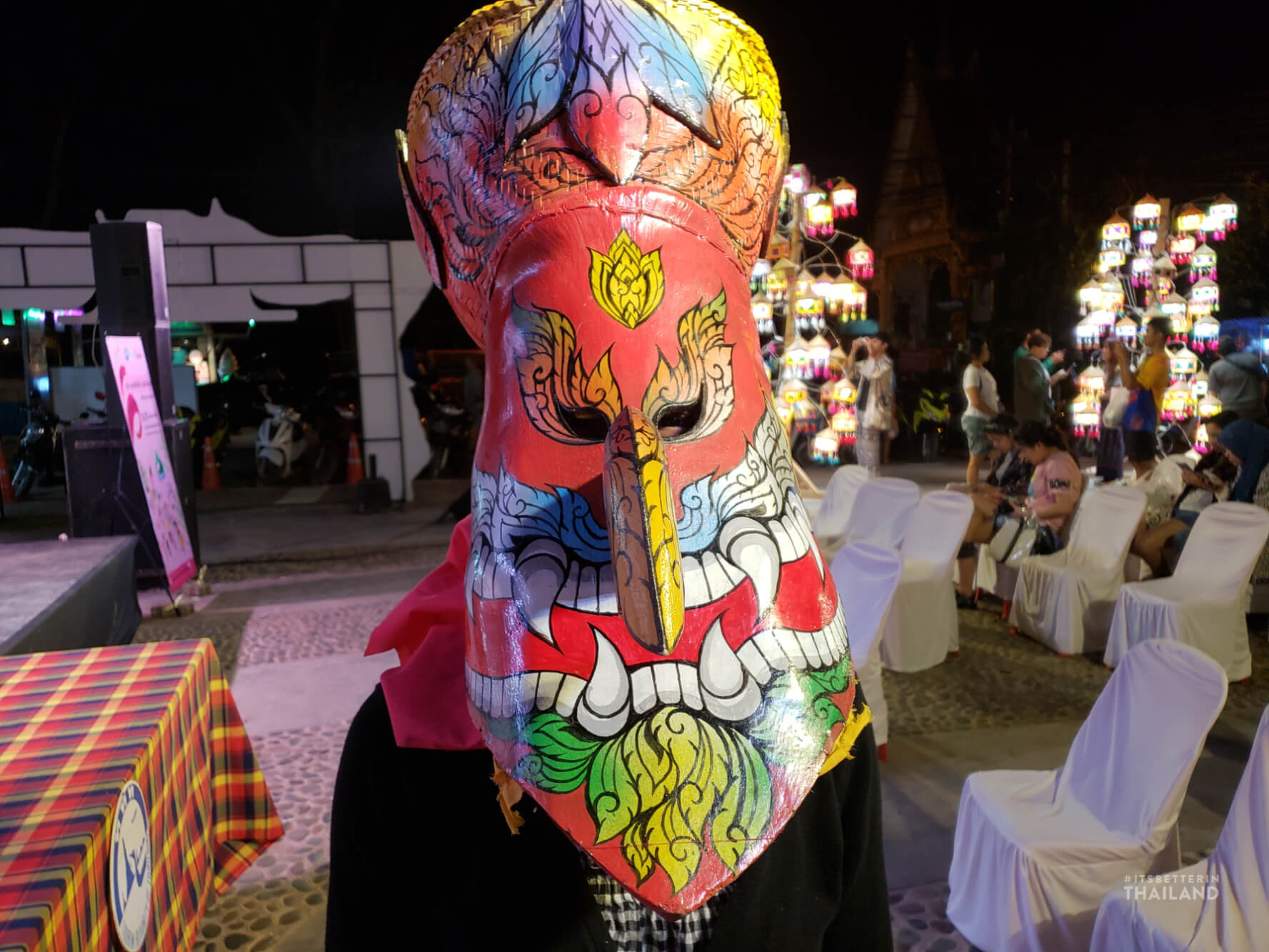 Entertainment
There are a number of street performers along Chiang Khan Walking Street. Some are musicians and a few we heard were quite good. A lot simply wear a traditional local mask that is beautiful but somewhat creepy. If you take a photo of anyone you should give some money.
Ethical travel note: Some of these street performers are children. On the one hand, this can feel like exploitation or child labor. On the other hand, in places like this that get quite a few tourists, most of the rewards of tourism tend to go to those already wealthy enough to have guesthouses and restaurants on the prime real estate. There aren't many other ways to spread the money around to those who may need it more. It's probably more likely than not that these children still do go to school, as the market takes place at night. To us, there's no clear ethical answer of what to do so you'll have to use your own judgment.
For more things to do here, check out our complete guide to Chiang Khan.