Welcome to Thailand! – Everything you need to know before & after you arrive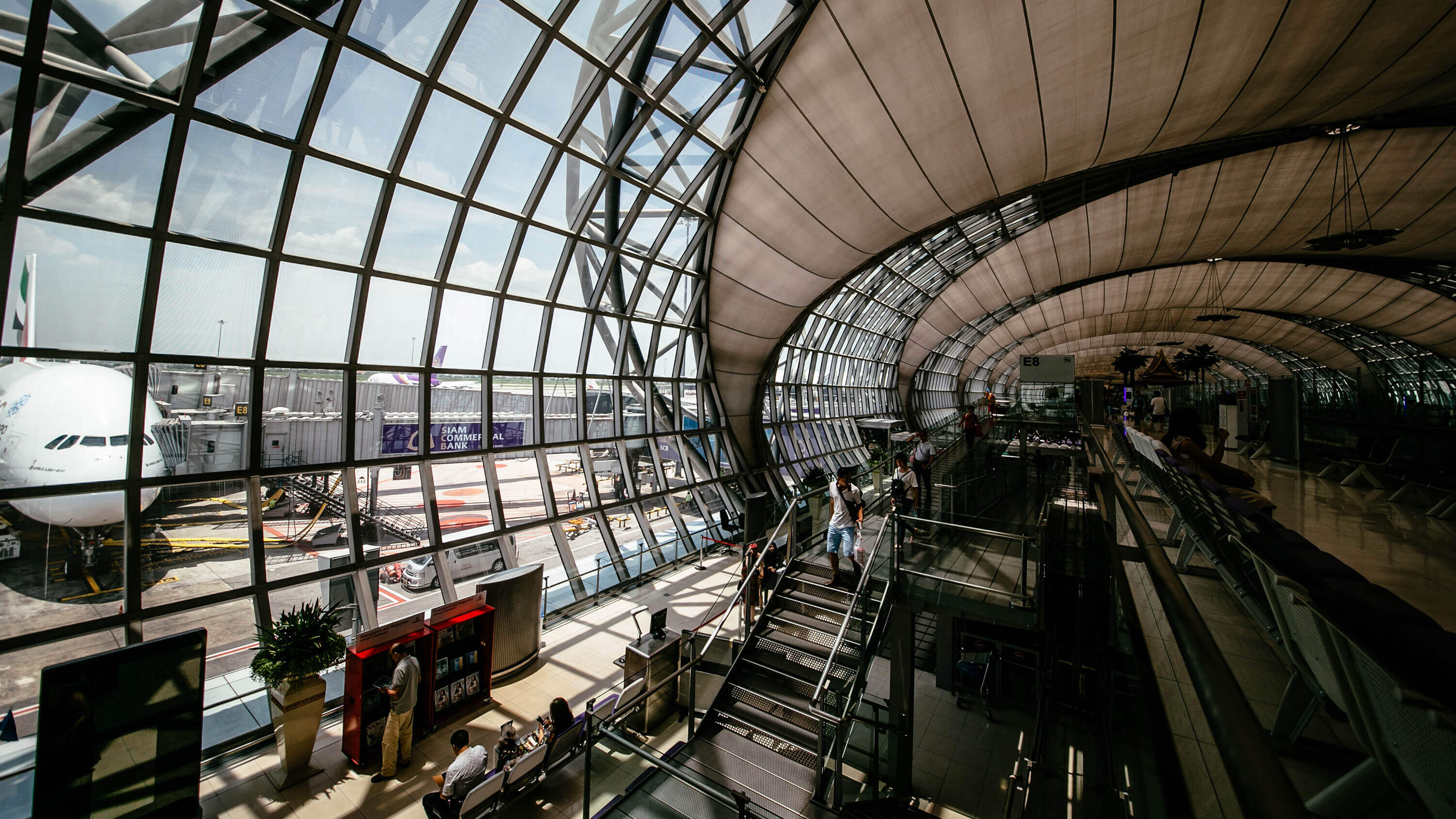 Credit: Kychan
Welcome to Thailand! This is a quick start guide to help you prepare and get all of the basics right before and after arrival.
We wrote a Thailand arrival & survival guide e-book that you can download for free. It's got all of the information in this guide, plus a lot more.
Travel is easier than ever today, and you can go most places with pretty little preparation. This is definitely true for Thailand, and for nearly all nationalities, you can basically just turn up with no plan and be just fine. With that said, a little bit of planning and know-how can save you time, money and hassle. Here's our Thailand arrival guide with everything you need to know before boarding your flight into Thailand:
Do you need a visa for Thailand?
For most nationalities, the answer to this question is no. You are either granted a grace period of between 14-90 days visa-free, or can receive a visa on arrival at the airport. Most European and East Asian nationalities (except Chinese) receive 30 days or more on a visa exempt entry. This information changes constantly but we have a full visa guide to Thailand which we keep as up to date as possible.
If you know you'll only be granted 30 days and are sure you will stay longer than that, you can apply for a single entry tourist visa at any Thai embassy or consulate. If you aren't totally sure you'll need it, don't bother. You can apply for a 30 day extension at the immigration office in any province for 1900 Baht.
Filling in your arrival card and dealing with Thai immigration
On your flight in to Thailand you'll be given an arrival and departure card by the flight attendant (or you can get one at the border if you're coming in overland). You should definitely fill this in on the plane so you can get straight into the line for immigration. Keeping a pen with you in your seat is always a good idea on international flights. The information on the form is pretty straightforward but note that you are required to provide the name of your hotel. Recently, signs have appeared at the immigration desks saying you need the address and phone number as well, though they don't seem very strict about this yet. Still it can't hurt to have it.
Make sure you fill in all the information on the arrival card. You might as well do the departure card as well, but if you don't have your outbound flight yet you'll have to leave that line blank. Once you've been stamped in, the immigration agent will give you your passport back with the departure card tucked inside. Don't lose this. Hotels need the number on this card to check you in. If you do lose your Thailand departure card it's not a huge deal. There is some information out there saying you'll be fined, but this is not true. You can pick up a new card near immigration on the way out of Thailand and fill that out. Let the officer know, and you should probably leave yourself a little extra time to get through.
Tip: When you give your passport to check in to your first hotel, ask to borrow a stapler and staple your departure card into your passport.
Do you need to carry your passport around with you?
The safest place for your passport is in a safe in your hotel room or at the hotel reception. Technically you are supposed to carry around your passport with you but even the police have said a photocopy is fine. You should be able to show the photo page, your visa (if you have one), the stamp you received when you entered, and your departure card. You will most likely be fine if you can show a photo in your phone of your passport. It's pretty rare that you'll even need to show this at all, but it does happen as police sometimes do random checks on foreigner's immigration status.
Do you need a return flight for Thailand?
Technically you need to have your travel out of Thailand booked before arriving. This is virtually never enforced by immigration officers, but since it's on the books, sometimes airlines will enforce it. If you are rejected entry, it's the airline's responsibility to fly you back out so they take those regulations seriously. Most airlines right now don't seem to mind, but it's possible they'll ask you for proof of outbound travel.
Recently we were asked by Cathay Pacific at Chicago O'Hare for this, but on showing a tourist visa were allowed to fly. A friend also had a problem with China Airlines during her layover in Taipei. There are sites like Rent a Ticket that allow you to "rent" an itinerary for a certain period of time to show as proof. Some travel booking sites allow refunds on bookings within 24 hours so you could book something right before flying and cancel it within a day. Also, it's not hard for the airline to check if your itinerary is real or photoshopped and it's probably illegal to do it so we're not recommending you do, all we're saying is we've never seen them actually check.
Getting Thai Baht on arrival
All ATMs in Thailand charge a 220 Baht ($6+) fee per withdrawal and allow you to withdraw 20k-30k per transaction. This is a bit steep, but manageable as long as your own bank doesn't gouge you too hard on the fee. (If your bank charges any percentage for foreign withdrawals, find another bank.) Because of the convenience and relatively low cost of using ATMs, we recommend taking out cash from any of the dozens of ATMs that are in the airport, and then as needed throughout your trip. (ATMs are everywhere in Thailand. It's hard to be too far from one almost anywhere, though there are exceptions). It is possible that your card will have a problem that you need to sort out with your bank so we also recommend carrying some cash in a major currency just in case.
Pro tip: Regular travelers to Thailand have a way to completely avoid almost all bank fees. You'll need to set up a Thai bank account, then create an account with TransferWise. You can transfer funds from home to that account for about 1% off the midmarket rate (that's a great deal!), then pull it out from ATMs in Thailand with little to no fees. Check out our guide how to send money to Thailand with TransferWise to learn more.
If you don't mind carrying around a lot of cash, you can save a bit on ATM fees and bring a major currency along. Change as little as possible at the airport for your taxi and small expenses since the fees are pretty bad at airports almost anywhere in the world. If you're in Bangkok, SuperRich always have the best currency conversion rates. All of their branches have good rates, but if you're changing a lot of money you should go to their main branch across Ratchadamri Road from Central World mall for the best rates. You can find their current exchange rates for all branches at the Superrich website.
Getting a taxi at airports in Bangkok
Bangkok has two international airports. The older airport is Don Mueang (DMK) and it's a bit north of the city. The newer one is Suvarnabhummi (BKK) – pronounced Soo – wan – na – poom – is 20km east of the city. Taxis are usually only between $7 and $15 USD from either airport to most places in town, so they're often the best way to get to your hotel. Both airports have a taxi queue on the ground level. Depending on when you arrive the queue can be very long. They also have a 50 Baht ($1.50) surcharge added. There is a uniformed attendant who help communicate your destination to your driver, but that's no guarantee. There's also still a good chance your driver will refuse to use the meter or otherwise try to scam you. The single easiest and most hassle-free way to get from either airport to your hotel is to use Grab.
Grab – Thailand's alternative to Uber
Grab App is the Southeast Asian version of Uber and you can call one to the airport to pick you up. Thailand's airports do have free WIFI that is pretty reliable. Grab charges a flat rate from each Bangkok airport into the city. It's usually a bit higher than a meter taxi, but the fixed price means you don't have to worry about your driver taking detours to run up a meter, or otherwise scamming you. Just call one as soon as you see your checked bag coming down, or once you've cleared immigration if you didn't check a bag. If you didn't check a bag on domestic, once you see you're close to the baggage area you can call it. The app will tell you which door number to wait at.
Pro tip: Download the Grab App before you come to Thailand. You should also check whether your hotel is listed as a destination, and if it isn't you'll need to manually select the area from the map. This takes a bit of back and forth between the app and Google Maps, so doing a test run before you arrive can't hurt. Entering the address likely will not get you to the right place as house numbers can be pretty erratic in Bangkok.
Bangkok airport taxis on the departures level
Pro travelers know at either airport that you can go up two floors to the departures level and get a taxi that has just dropped someone off. The taxi drivers here are happy to not have to wait in the queue for a passenger and will usually take you anywhere you need to go without a fuss. They'll also almost always use the meter, unless there are a lot of other people waiting
At DMK this is pretty reliable, but in the evening and early night hours there can be a lot more people waiting than taxis dropping people off, especially at the domestic terminal. You can easily walk between terminals on any floor.
At BKK it's a little harder. Taxis don't drop people right in front of the terminal. You have to cross that first road and get them at the second road. The airport tries to prevent this with a large turnstile that only turns to allow traffic from the taxis toward the airport. You can hop the barrier fairly easily, but you can also slide around the turnstile if you turn it a bit, pulling it toward yourself so that it's an x shape instead of a + shape.
Trains and busses at Bangkok's airports
Both airports have some cheap buses that can take you into town quickly. BKK also has a train that runs from 6am to midnight. This Airport Link Train is a fast and inexpensive way to get into the city regardless of traffic. It connects to the MRT at Makkasan Station, and to the BTS at Phaya Thai Station. Train lines to DMK are being built and will open in the near future.
Just outside the terminal on the arrival level at on Don Mueang (DMK), there are four official buses that can take you to various places in the city for between 30 and 50 Baht ($1-$1.50). The buses take toll roads as far as they can so they can be pretty quick. The bus lines are:
A1. This bus goes to Mo Chit where you can get the BTS Skytrain (Mo Chit Station), the MRT Subway (Chatuchak Station), and taxis. We sometimes do this when taxis are hard to find at the airport. This bus also stops at the Mochit Northern Bus Terminal.
A2. Stops at Mo Chit (near the trains, not the bus station), as well as the BTS Stations of Saphan Kwai, Ari, Sanam Pao, and Victory Monument.
A3. Goes to Ratchadamri BTS Station and Lumpini Park. From Ratchadamri it's a one stop train ride to either Siam or Silom Stations.
A4 Goes to Khao San Road.
The S1 bus goes from the ground floor of Suvarnabhumi (BKK) to Khao San Road for 60 Baht.
If you need to transfer between the two airports for a flight there is a free shuttle bus, but you need to show your itinerary to prove you have a plane to catch. Look for the free AOT Airport Transfer bus stop outside the passenger terminal at either airport, and show the attendant your itinerary.
Should you book a hotel in advance?
Unless you really like winging it, we recommend booking a place in advance. Except on major holidays, you can get away with turning up and finding a place. But online booking sites have made it so easy that there's no real reason anymore not to book ahead. We recommend Booking.com since it's what we use and find to be the best. We have no relationship with Booking.com but we can earn a commission if you book through our link. It's free for you and helps us keep creating Thailand travel guides, tips and content.
Booking.com is our go-to site for booking accommodation in Thailand. The interface is great and really easy to use, and the mobile app is as well – it's definitely worth installing during your travels. The filtering options are really useful allowing you to specify things like separate beds, and ensuring the rooms you see have the amenities you want such as air conditioning, private bathroom, a refrigerator, parking etc.

You can also filter reviews to see ones that specifically mention things like 'bedding'. This is useful if you prefer things that probably aren't in the description and you can't see in the photos, like a softer bed or good pillows. But the best part of Booking.com is the map view which allows you to choose a place in the exact location you want and see how far each property is from landmarks, the airport, train stations and more.

Agoda.com is owned by the same parent company and is just about as good. The one thing that tips the scales in favor of Booking.com for us is that the price you see up front is the price you pay, whereas on Agoda you initially don't see the added fees and taxes. When booking in small towns with few options it's worth looking on Agoda as well, but for us, 95% of the time a quick session on Booking.com is enough to get a room booked easily and painlessly.
Cellphones & sim cards in Thailand
Cell phones service is cheap in Thailand. Most cities have 4G and there's 3G nearly everywhere. You'll need an unlocked GSM sim card phone for use in Thailand. Many local shops can unlock phones, but there are usually better ways. You can get SIM cards targeted toward tourists at the airport. This will be a bit more expensive than getting it out of the airport, but it's probably worth it to get connected straight away. Otherwise, you can get a sim card nearly anywhere, but you'll need your passport. Soon you may need to give fingerprints as well. The best place to get a sim card is from one of the provider's locations, which are easiest to find in shopping malls. The three providers are True, AIS and DTAC.
Getting US phones unlocked for international use
Americans often have a lot of trouble with locked phones since most get their devices through provider contracts. If you have this issue, call your provider before you come and ask them to unlock your phone for international use. They can and should do this. This means your phone will be unlocked, but will remain locked in the US so you can't end your contract and switch carriers there. If they tell you they cannot do it, insist. Ask them if they can provide service in every country where you're going. If you need to, rattle off a list of five or ten places whether you're going or not – the more random and remote the better. If they don't have a plan that will give you service in every one of them (they won't), then they should unlock your phone. Note that if you plan on suspending your service while you're gone, you should request the unlock before you suspend.
Use this Thailand arrival guide, but don't get too caught up in doing everything right
It can be nice having everything in order, especially if you're someone who loves being organized. But most of these things are not that important; they just make things a little more convenient. Traveling in Thailand is incredibly easy. You could turn up at an airport with nothing but a passport, a ticket to Bangkok, and some money, and have an amazing trip.